14 Tourists Killed and 27 Injured in Bus Crash Near Nagano Ski Resorts
January 15th, 2016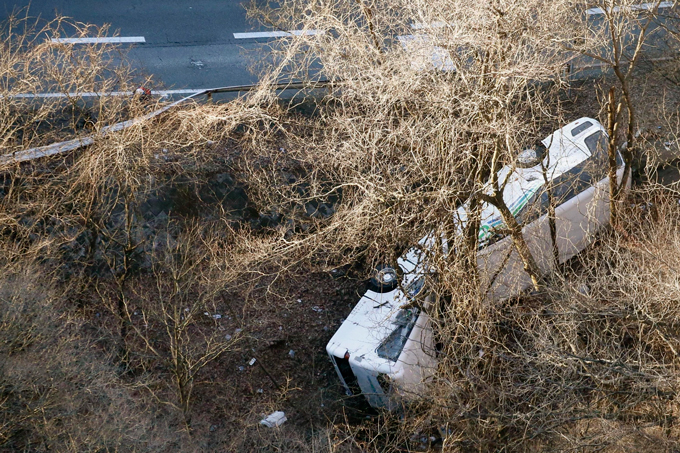 It's been reported that snow and ice were not present and it's unknown what led the bus to veer on the wrong side of the road before plunging down the embankment. Image:: Via Associated Press
Mountainwatch | News
It's been widely reported that at least 14 tourists are dead, and 27 others are injured – some seriously – following a single vehicle incident that has taken place in Nagano Prefecture, Central Japan.
According to a statement released by Japanese Chief Cabinet Secretary Yoshihide Suga, there has been a crew of crash inspectors sent to the site to confirm the amount of people injured, as well as launch an investigation into what may have caused the crash.
The images released by the Associated Press appear to show that the bus has crashed through a safety barrier before careening off the road, down a steep embankment and into a ditch. The crash occurred near Karuizawa, central Japan, not far from the popular ski destinations in the Hakuba Valley.
At this stage, it is unclear whether any Australians have been injured in the incident. Information available in news reports suggests that the tour had been organised by a domestic travel agency specialising in low-cost ski holidays. We urge anyone with concerns to contact the Department of Foreign Affairs 24-hour Consular emergency service by following this link.