A Story of Aussie Alpine Adventure, Mount Townsend 2209 – Video
September 16th, 2016
Mountainwatch | Video
With the Australian ski season coming to the end, I joined Australian sisters and pro skiers, Anna and Nat Segal, for one last push for the hills. Filmed in October last year, Mount Townsend 2209 follows Anna and Nat as they spend five days camping and touring together under the peak of Mount Townsend, together with their American/Canadian skier friend, Holly Walker.
Ski touring is undergoing a rebirth; a new form of free skiing, attracting people to the great outdoors and encouraging people to venture beyond the boundaries of ski resorts. There is no better way to explore the vast terrain Australia has tucked away than to camp out under the stars and experience the magic of the sunset on the western faces.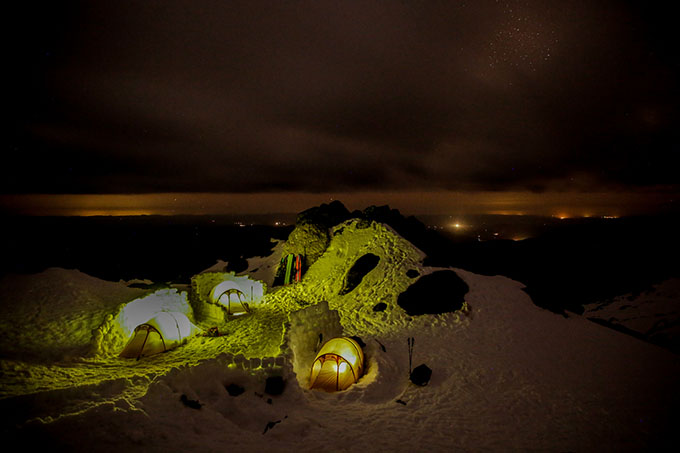 Camped under the stars, is there anything better? Image:: Lachlan Humphreys
The sisters' mission was to nut out a plan for their upcoming ski film, Finding the Line and they felt Mount Townsend was no better place to do so.
Anna Segal has spent ten years competing on the international freeski circuit in slopestyle skiing, achieving many podiums including gold at the X Games in 2009, first at the AFP World Tour Finals and fourth for slopestyle skiing at the 2014 Olympics in Sochi.
Nat Segal took a different path and travelled the world competing on international big mountain skiing circuits, all the while pushing her limits in ski mountaineering. Nat has competed on the Freeride World Tour and is currently ranked fifth on the Freeride World Qualifier.
Holly Walker competed on the Freeride World Tour until 2007, when she broke her leg and tragically watched the death of a fellow competitor. Since then, she has switched her focus to travelling the world in search of pow, with a strong focus on ski mountaineering.
The three girls made a perfect crew for the five day trip, sharing stories and experiences of the mountains and their searches for fresh powder.
Keep an eye out for Nat and Anna's film Finding the Line, which they are now camped out in Australia filming.
Lachlan Humphreys
Cinematographer and creator of digital imagery
Clean Line Productions
Website: http://cleanlineproductions.com/
Instagram: Lachshapes