Snow Season Outlook 2017 – May Update – Australia – Go Big or Go Home
May 1st, 2017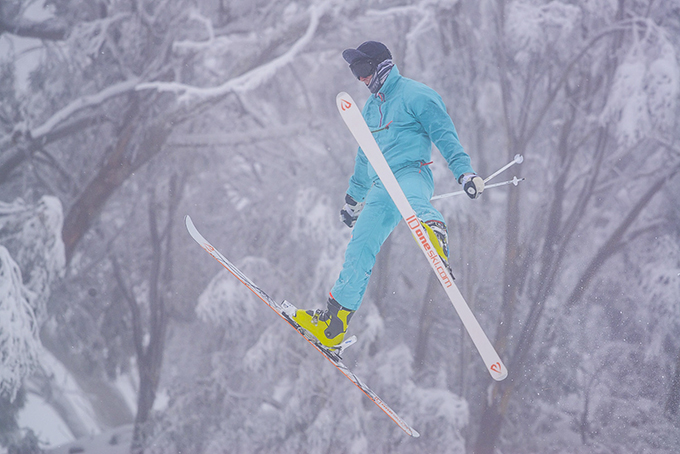 Image:: Pre-season snow falls have got us kicking out the jams, but will this winter look more like 2006 than 1981? The Grasshopper reveals. Image:: Harro
Australian Seasonal Snow Outlook | The Grasshopper
Brrrr, those lazy days spent on the beach are now a distant memory. That can only mean one thing, winter is around the corner and the excitement is palpable. We have just over a month to go until the start of the season and the first few flakes have already made their debut. In this outlook we are going to take a journey through time 'Back to the Future' style – step with me into the DeLorean. When we hit 88 miles per hour you are going to see some serious s–t. A legendary era when strange characters wore one piece ski suits and men with mullets were digging us out of huge snow drifts. We will then do an about turn before heading full throttle back to the future to see how things are starting to shape up for winter 2017…
"It was the best of times it was the worst of times."
So how good… and bad can it get? I've been trawling through historical snowfall as recorded at Spencer's Creek. "The Creek" is a legendary site nestled at 1830m (2km east of Charlotte Pass) which correlates well with snowfall across highland regions of the Aussie Alps. The snowfall record stretches from 1954 to the present day. The deepest snow ever recorded was in 1981, when a massive 361cm peak depth was measured on September 1st. 1981 was characterized by neutral ENSO (El Nino Southern Oscillation) conditions and a neutral Indian Dipole (IOD). Neutral ENSO years typically register higher peak snow depths and longer seasons than either El Nino or La Nina years, registering on average 23% more than El Nino years. If you need a quick refresher course on what ENSO is then click here . Winter 1981, perhaps unsurprisingly, was marked by a negative Southern Annualar Mode (SAM). A negative index means that we saw plenty of juicy lows swing in from the south-west pushing cold arctic air as far north as Brisbane. Interestingly, Mt. St. Helens erupted on May 18th 1981 introducing a vast amount of aerosols into the atmosphere, this could have had an additional cooling effect which gave us a record breaking season.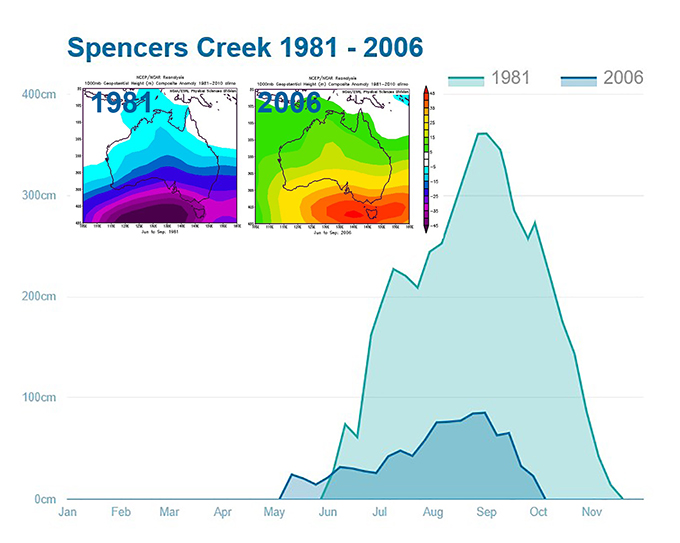 The difference between ecstasy and desperation in graph form. 1981 and 2006 saw peak snow depths of 361cm and 85cm respectively. Inset pressure anomaly maps: 1981 was characterised by lower than normal pressure to the south-west of the Aussie Alps while winter 2006 was KO'ed by a nasty high. Source:: Snowy Hydro & NCEP
The worst year for snow was 2006 recording a lame 85cm peak snow depth! 2006 was mainly dry and sunny, much of the precipitation that did arrive fell as rain. Even so, snowmaking kept the main runs open. 2006 was an El Nino year with a positive IOD. The SAM index was positive towards the beginning of the winter but turned strongly negative.
Studies have shown that the biggest factor contributing to a bumper snow year is a negative SAM index. This is perhaps unsurprising considering it measures how close snow bearing low-pressure systems get to SE Australia. The cool clear nights needed for artificial snowmaking (with wet bulb temps under -2c) do not necessarily correlate with neutral ENSO years. El Nino years are characterised by a lot of clear cold nights under monster highs which is favourable for snowmaking but bad for natural snow.

At first glance this image taken in August 1981 is unremarkable but then look down to the bottom left corner, the chairlift is buried in snow, holy hopper.
The Perfect Storm – the Ingredients Needed for a Big Dump!
It is the stuff of dreams – most of us pray for a 50cm + fall of snow during or just before our trip to the mountains. Huge dumps of snow don't happen every year, some years we get lucky and are spoiled. Other years, such as last year, we see a hodgepodge of conditions with decent weeks interspersed with rain and prolonged dry periods. So, what do we need in order for bumper snow to occur? First of all, look out for a high over Western Australia and a slow-moving low to the south-west of the Aussie Alps / Western Bass Strait. This will give us a deep cold south-westerly Antarctic flow. Ideally, we would also see additional moisture coming in from the north-west, this is more common in a negative IOD year. As long as a few beefy cold fronts are embedded in the south west flow we should get a decent dump. Occasionally, we get big dumps from other situations. One such event occurred in late August 2015. A low brewing over the centre of the country rode down the east coast picking up tons of moisture. If the centre of the low is positioned favorably to the east of the Aussie Alps and cold enough air is present to the south we can get decent amounts of snow, especially in NSW at high altitude in resorts such as Perisher and Thredbo.

Inset: A classic "big dump" situation. A low to the south-west of the Aussie Alps and a high over WA. Big pic: June 2014 in Falls Creek, one lucky worker gets to dig out the cars. Source:: BOM/Falls Creek.
Trawling through past records to find the biggest weekly increases in snow depth at Spencer's Creek a few events stand out from the crowd. The biggest dump of recent years was the well-publicized snowmageddon which occurred between the 19th and 26th of June 2014. We saw an 89cm depth increase in the space of a few days, some resorts such as Falls Creek unofficially reported up to 130cm of snow – take a look at the picture above and salivate. In 1996, we saw an incredible 110cm increase between August the 1st and August 8th. In 1981, the snowiest year on record, 101cm fell between June 18 and June 26. Taking the crown however is 2001 when we saw a 111cm increase between Aug 16 and Aug 23rd. So please, oh please, can we see some of this snowy goodness this year?! I will be a good hopper I promise!
The Latest Developments
In the first outlook this year I forecast a slightly worse than average season. This was based on a moderate chance of a developing El Nino going hand in hand with a positive IOD event. We continue to see a warming trend in the tropical Pacific. One development since my previous update is that a couple of the international climate models have backed off the chances of an El Nino event occurring during this winter. The Bureau model has us staying in neutral conditions all summer. Nevertheless, if we take an average of all international models they still have us slipping into an El Nino by September (with some international models such as the European model putting us in El Nino's grip by July). What's more, it still looks like we will see a positive IOD state by mid-winter.
I've said it before and I will say it again, there is still a lot of uncertainty in the climate model's forecast at this time of year. If an El Nino does show up we don't know what flavor it will take, we could end up with a dastardly "classic" blocking high situation or a juicy "wrong'un" year.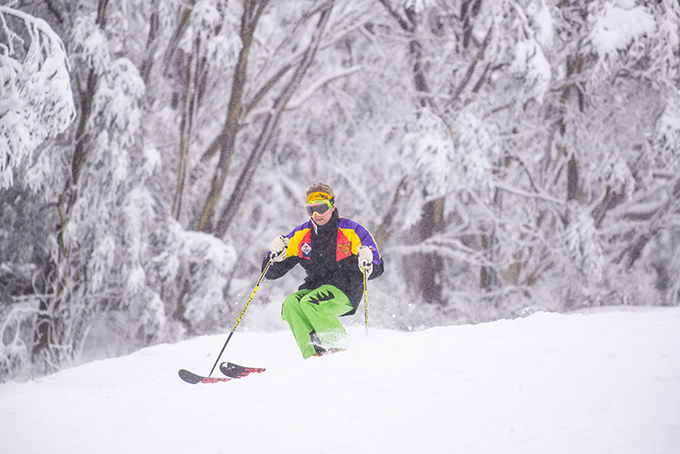 line" /> New age fun with a vintage feel, this skier is summoning those 1981 vibes at Mt buller last season. Image:: Harro
Summary
So, quoting Marty McFly from Back to the Future- what happens in the future? Do we become assholes or something? That may be the case, but more importantly, will we be assholes gloating about a 50cm+ snowfall?
Things have not changed much since the last update. Sure, there is just a slight tendency for the models to delay the El Nino but we will have to wait and see how this develops on the next update. We have already seen a few early season flakes but it is still a bit too early. What we need are a few nice cool nights nearer to opening weekend which will allow the snowmakers to start to build a base and a decent dump… or two.
The last three metre year we had was 1992, the last two metre year 2012. It feels like we are overdue for a bumper season. Unfortunately, the climate doesn't have a memory and the key indicators still show that we are likely to have a slightly worse than average season so I am going to stick with the 160cm peak snow depth of my first forecast. Taking into account the recent snowfall I will end with a word of warning! Early season cover is not a reliable guide as to how good the season will be. 2006 had 20cm of snow on the ground on opening day and turned out to be the worst season ever while 1981 had no snow at the start of June – go figure! Please, if you have any pics of past snowstorms then share them on my Facebook page.
That's all from the Grasshopper. We'll update this outlook at the beginning of May as the excitement builds. If you've got a different theory on what's going to happen this winter, or just want to share your snowstorm stories, then please hit me up on the discussion below. Or you can follow me on  Facebook.
Perisher forecasts,
snow reports and
live snow cams.
Falls Creek forecasts,
snow reports and
live snow cams.
Mount Buller forecasts,
snow reports and
live snow cams.
Charlotte Pass forecasts,
snow reports and
live snow cams.
Thredbo forecasts,
snow reports and
live snow cams.
Mount Baw Baw forecasts,
snow reports and
live snow cams.