A NEW ZEALAND Spring Fling
September 21st, 2011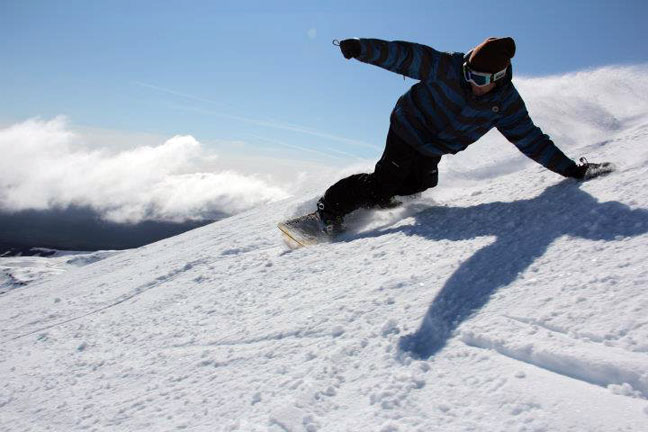 Spring snowboarding at Mt Ruapehu. Image:: Mt Ruapehu
Rachael Oakes-Ash
Is there anything better than spring skiing? T-shirts and ski pants, sunnies not goggles and cocktails on a mid mountain deck come mid afternoon.
Winter may be winding her way north in search of alps to play with but there's still time for a final spring snow fling on the mountains of New Zealand where she's still teasing the slopes with flakes and the mountains are celebrating with spring festivals and mayhem.
What is it about longer days and lingering dusk while the snow is still on the ground that sends people crazy? The madness of spending months on end in colder temps always comes to a head in the final month of snow season.
Whakapapa and Turoa at Mt Ruapehu kick it all off with the Rip Curl Bikini Downhill. Enough said.
Coronet Peak in Queenstown celebrate the onset of daylight savings on Sunday September 25 with their Summer Daze when skiers and boarders are encouraged to wear summer outfits with their ski boots. Mankinis are optional.
If you haven't checked out Cardrona's impressive new terrain accessed by the Valley View quad chair then there's still time. The Cardrona Grom Prix is part of the NZ Freeski and Snowboard Junior Nationals and is held from September 26 to 30 and is well worth watching as they crown the new champion.
The Remarkables three day Spring Carnival kicks off on Saturday, October 8 with the usual pond skimming, Chinese downhill, dummy downhill and Air Bag. The Streets minishred in the beginners terrain park happens on October 9 for kids under twelve, under fourteen and under sixteen.
The almighty Treble Cone's closing day (October 4) is legendary in the South Island. Around fifteen hundred people make the most of the remaining snow with a DJ spinning discs on the courtyard deck. TC will re-open for one day only on October 8 to raise funds for Search Dogs and Wanaka Rowing Club.
The ski access town of Methven (gateway to Mt Hutt and the Canterbury clubfields) may be small but it's big on spring with an annual festival which runs from October 8 to 16. Bikinis for Breast Cancer is exactly what it says, girls and guys skiing in bikinis to raise funds for breast cancer. You can join in or watch from the sidelines (pervers must pay for the privilege) at Mt Hutt.
Expect eight days of Ice Pool Challenges, shred fests, film festivals, Old Geezer-Young Gun ski races and the Peak to Pub.
CLOSING DATES:
The Queenstown fields of Coronet Peak and Cardrona and Wanaka's Treble Cone have set their closing date as October 4. But me thinks if the snow keeps coming and the All Blacks keep playing they may well extend. The Remarkables (also in Queenstown) closes on October 9 and Canterbury's Mt Hutt will flick the switch on October 16.
The active volcano of Mt Ruapehu, the belly button of the North Island, is calling October 24 as closing day though we suspect a few lifties will fail to show depending on the RWC Final the night before.
Getting there:
Air New Zealand may be rugby mad right now (check out their hilarious Safety Video featuring the All Blacks below) but the airline has still got the ski fields covered with daily flights from Australia to both Auckland and Wellington for Mt Ruapehu, daily to Christchurch for Mt Hutt and connecting flights to Queenstown or four direct flights from Sydney to Queenstown each week.
Visit
Air New Zealand or 13 24 76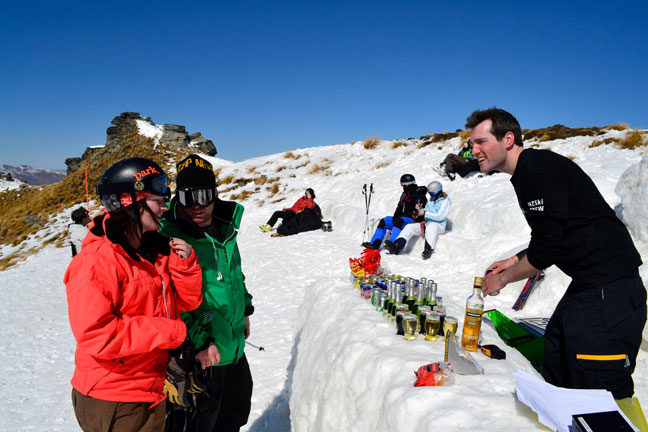 Springtime, time to enjoy long afternoons at the snow bar! Image:: Coronet Peak
The Remarkables forecasts,
snow reports and
live snow cams.
Treble Cone forecasts,
snow reports and
live snow cams.
Cardrona forecasts,
snow reports and
live snow cams.
Coronet Peak forecasts,
snow reports and
live snow cams.