A Weekend With Bernie, The Local's Tour of Mammoth – Travel
February 2nd, 2015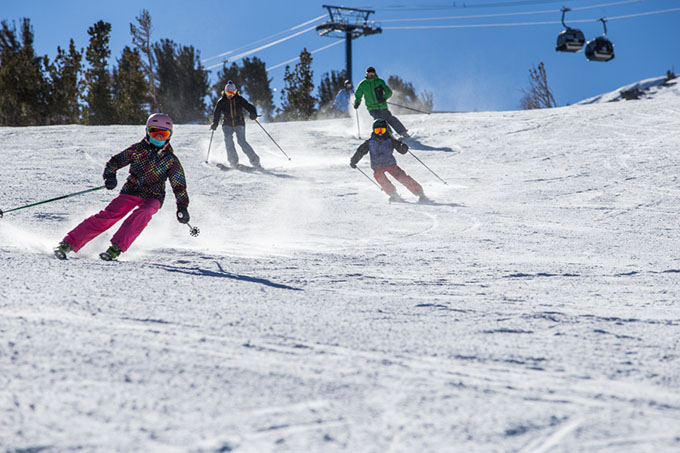 Reggae and his family skiing the Mammoth piste. Who do you reckon's fastest? Image:: Westenbarger/Mammoth
Chillfactor | Reggae Elliss
One of the best elements about skiing an unknown resort is the sense of adventure you get through not knowing what lies around the next corner. I never grab a trail map, simply figuring that if you're in-resort and head downhill, you'll always end up at a lift that will take you back up. However, if you really want to get to know a mountain, you need some inside knowledge: you need a local.
Bernie Rosow, my local contact at Mammoth Mountain, knows the place better than most. He has been a groomer at Mammoth since his first winter there in 2001. He's also one of Mammoth's best skiers and he knows the place like the back of his hand. For the past four Aussie winters, Bernie has also been grooming in Thredbo, and as one of the most experienced groomers there, his expertise is invaluable. To top it off, Bernie was also on the cover of the 2014 Chillfactor magazine, so the connection is all there.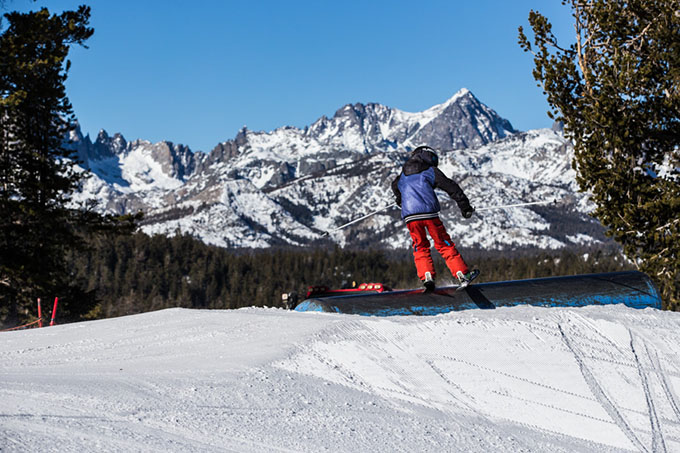 Young Joey Elliss samples the local rails Image:: Westenbarger/Mammoth
Hooking up with Bernie made for an epic day's skiing at Mammoth. The piste was perfectly groomed, with a layer of dry corduroy after a big night of snowmaking and cold temps maintained the snow all day long. At the moment Mammoth has three terrain parks open, ranging from small intermediate features, through to the main park where the Mammoth Freeride team train. Bernie took us through the Forest Trail park where the kids followed him into the jumps and features, and apparently it was, "the best park ever".
While Mammoth may not be 100% open right now, there is still plenty of accessible terrain and the off-piste terrain is holding dry chalky snow that's firm, but easy to get an edge in. Through the day we did a few top-to-bottom runs, heading off the top of the Panorama Gondola a few times – which at 944 vertical metres is a real leg burner.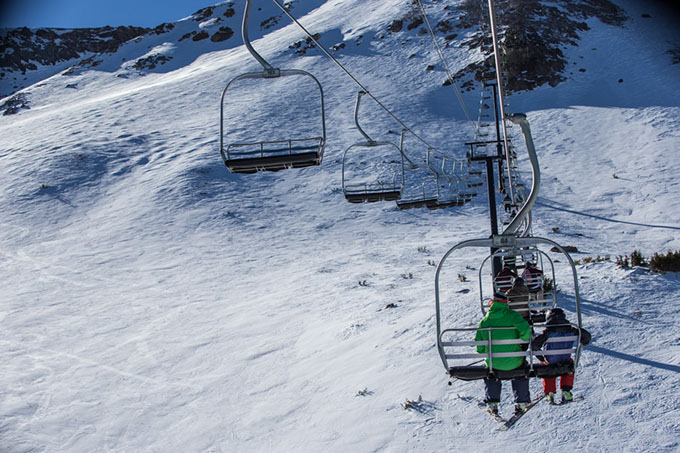 Wide and open, can you imagine it on a powder day? Image:: Westenbarger/Mammoth
Everywhere you look at Mammoth you think about how good it'd be in fresh snow and with storms usually coming through the are all the way up till May, the locals get in plenty of fresh turns each season. "One of the best powder days I've ever had was on April 26 last year," said Bernie. "It was cold, deep and dry, and there weren't even many people here. So it was fresh turns all day. It was a nice way to round things out before I headed to Thredbo six weeks later."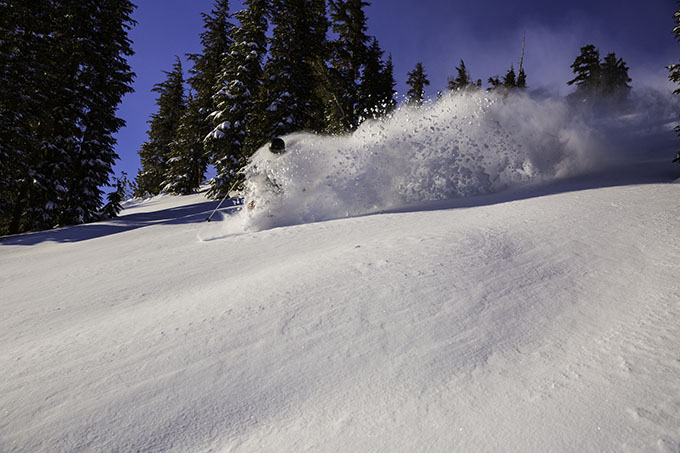 Bernie wasn't lying when he said it was one of the best powder days he's ever had Image:: Westenbarger/Mammoth
The rest of the day really rounded out another awesome day's skiing.
Mammoth Mountain is complemented by a cool village and a bigger close-by town. Mammoth Village is well served by a gondola that runs from the village centre, straight to the base of the mountain at Canyon Lodge. The village comes to life in the afternoon with live music, open gas fires and a variety of restaurants, bars and shops all within a short stroll of each other. The town of Mammoth Lakes is only a few minutes away, and with free shuttles running around the entire area from 7am until after midnight, it's easy to get around without a car. That also makes it easy to access the huge variety of accommodation available, from large stand-alone luxury houses, smaller condos and a number of hotels – like the Westin where we stayed for the last few nights of our week, just across the road from the Gondola base station.
While Mammoth has an obvious attraction for core skiers and snowboarders, it is also the perfect destination for a family. The huge amount of terrain offers great skiing and snowboarding regardless of your ability. The ski school caters for all ages and standards and there are also a number of specialised programs available. Mammoth has also always been a destination of choice for Australian freeskiers, snowboarders and racers during training season.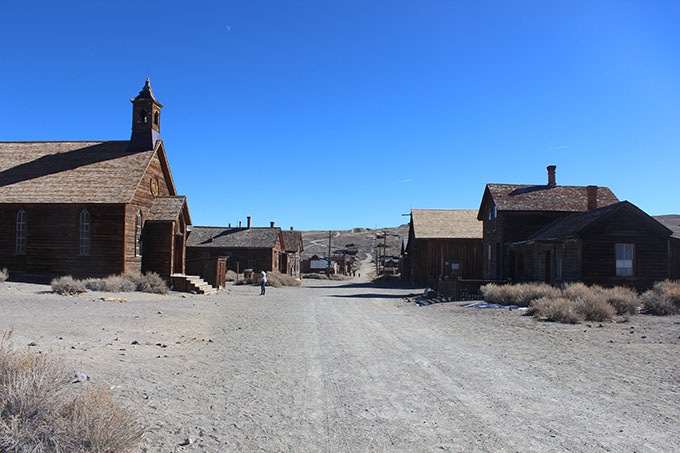 Bodie, an abandoned mining town nearby Image:: Elliss
If you wanted to spend a few days off-snow, there is plenty on offer with snowmobiling and tube parks available, plus the Sierras offer incredible scenery with their alpine lakes and hot springs. In addition to our time skiing, we also had the opportunity to visit an old ghost town nearby called Bodie. It was once a thriving mining town of 10,000 people, but was abandoned in the 1930s. Much of the interiors of the buildings are still eerily intact with furniture and former resident's possessions.
Mammoth usually gets an average snowfall of about 20 metres and while we didn't cop epic powder during our stay, we had an awesome week. Throw in easy access with twice daily flights from LA airport or a five hour drive from Los Angeles through the Mojave Desert, and it is the perfect destination for Australian skiers and snowboarders. Don't forget, for Thredbo season pass holders it gets even better, as Thredbo and Mammoth are both members of the Mountain Collective, which means pass holders get to ski for half price.
There's a lot of choice out there for Aussie snow lovers, but Mammoth rates up there with one of the best destinations in North America. One thing I know after our short visit – we are already planing for a longer one next time.
Mammoth forecasts,
snow reports and
live snow cams.