After a Few Lean Years, El Nino Turns on a Trip to Remember – Squaw Valley
January 29th, 2016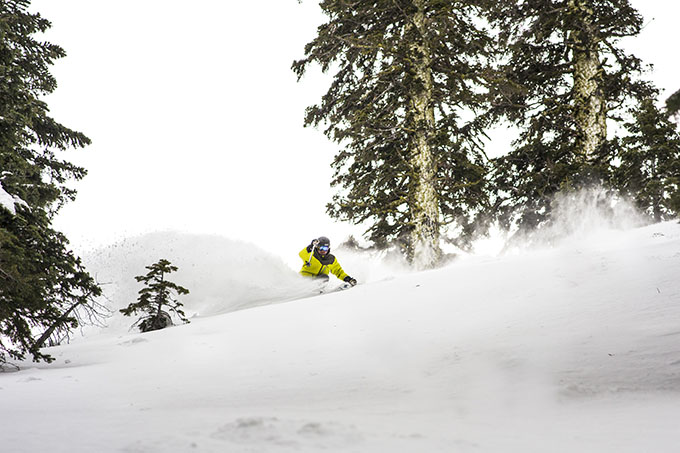 I bet the Californians don't hate El Nino. Image:: Squaw
Mountainwatch | Reggae Elliss
When your nine-year-old son tells you he just had the best day's skiing of his life, you know the destination you've chosen for a family ski holiday is the right one. When that destination is Squaw Valley and it's a powder day, it takes it to another level – score a foot of fresh snow on this mountain and you are in for one of the days of your life. It is world class.
I arrived in Squaw with my family – wife Amanda, daughter Arkie and son Joey – five days ago and have had two storm days followed by fresh snow and two perfect days of sunshine and light, dry snow. Another storm is due in two days. After four lean years, California is enjoying a good winter, with consistent snowfalls since late November. Squaw currently has a cumulative snowfall of six metres and is on track to reach its usual annual average of 11 metres.
Is this the result of the current El Nino, the prime topic of discussion in North America for the 2015/16 season? Probably, and despite a couple of storms that started out with rain ahead of snow, this season in California is looking, at least, to be an "average" one.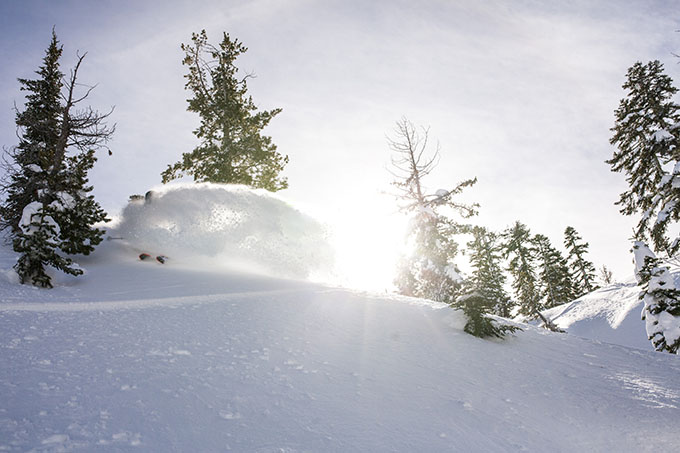 There's been plenty of this to keep Reggae busy. Image:: Squaw
The result is Squaw has 100% of its terrain open and at the moment, to quote local pro skier Cody Townshend, Squaw is, "insanely fun and playful. It's all filled in with sweet chalky butter".
While Squaw is home to some of the world's leading big mountain skiers and snowboarders, like Cody, Michelle Parker and Jeremy Jones, you don't have to be a "hardcore" expert to enjoy it. Sure, Squaw is famous for its big steep bowls, chutes and cliff drops, but there's also plenty of mellower terrain including a massive beginners area, cruisy, long groomed intermediate runs and a number of terrain parks.
That is the beauty of Squaw – regardless of your ability, expert or intermediate, you can stay in your comfort zone or climb out of it and progress. For the experts, drop into anything off the top of the KT 22 chair and you're in heaven, 2000 vertical feet of challenging steeps, a mix of chutes, bowls, gullies and cliffs. We had a run down Chute 75 on day four of our visit, a blanket of 40cms of fresh on top of 400 metres of steep fall line, which was worth the trip alone.
If you're after something mellower check the groomers and playful off piste around the Shirley Lake and Solitude chairs, an area of tree glades, fun roll overs and early morning corduroy.
It takes a while to explore Squaw Valley, as it is big. Even bigger when you consider the resort now includes Alpine Meadows, a short shuttle bus down the road – access to which is included in your pass. Squaw Valley itself is 3600 acres while Alpine Meadows, is 2400 acres, so we're talking a lot of terrain to skiable terrain on the one ticket.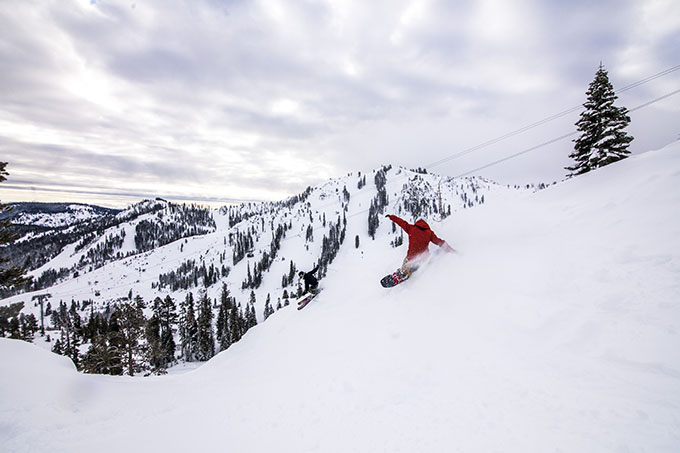 Slashin' on Broken Arrow Image:: Squaw
For Australian skiers, Squaw Alpine is easy accessible, United Airlines having daily direct flights from Sydney to San Francisco. Then, it's an easy four-hour drive to the resort via the I-80 freeway. Alternatively you can grab a connection from LA or San Francisco to Reno, which is a short one-hour drive from Squaw and the other Lake Tahoe resorts.
Squaw Valley is located near the north shore of Lake Tahoe, one of the most beautiful areas in the US and it's worth taking some extra time to explore the Tahoe area. There's also plenty of off snow attractions with the close-by towns of Truckee and Tahoe City offering a mix of retail, restaurants and bars.
For me, Squaw is a destination that offers everything you'd want in an overseas destination, but the main ingredients are quality snow and good, challenging terrain. There's another storm on the way and it looks like the place will be going off again in two days with two feet of snow in the forecast.
As I said, when this place is on, it's hard to beat. And this winter, it's on.
SQUAW STATS:
Base Elevation: 6,200'
Peak Elevation: 9,050'
Vertical rise: 2,850' / 869 m
Six Mountain Peaks:
Snow King – 7,552'
Broken Arrow – 8,030'
KT-22 – 8,070'
Emigrant – 8,774'
Squaw Peak – el. 8,885'
Granite Chief – el. 9,006'