ASPEN – An Aussie Expat's Local Guide
October 24th, 2011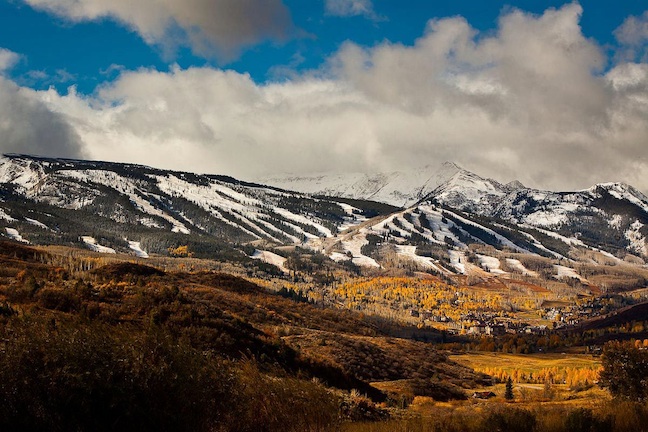 Winter creeping up on Autumn at Snowmass, 19 October 2011. Image:: Jeremy Swanson
Living Aspen | Christian Manie
Do you have three friends with a little spare cash willing to take advantage of a flagging greenback dollar? You want to drop into some gnarly chutes and float soul arcs through untouched morning powder? Fancy spending the afternoon hot tubing with an après beer before catching a power nap, a meal and some fun?
It was sometime in September 2003 when, with nothing particular to do in the way of employment and no girlfriend, I saw an ad in the Sydney Morning Herald touting work in Aspen, Colorado.
Had I of known at the time that Aspen is full of Australians, perhaps I would have gone somewhere different – but I doubt it.
You really can't go anywhere in the world these days without bumping into at least some Aussies, and besides which, I kind of like the little ex-pat community. Living right alongside all the South Africans, Brazilians, El Salvadorians, Argentinians, Israelis, Mexicans, English, Irish, Kiwis, Germans, so many Swedes… and of course, Americans. Which is to say that Aspen isn't really your average American town, no more than Colorado is your average American state. A lot of people in Colorado seem to be from somewhere else, drawn by its rugged beauty. Those that are born here tend to stay, or at least come back. And all bar none do something. They ski, bike, rock climb, hunt, hike, kayak … something. And asking why they live in Colorado inevitably involves at least one of those things in the answer. But the most common denominator involves the snow. Coloradoans live for the snow and can't get enough of the outdoors.
The old Colorado saying is "You come for the winter and stay for the summer".
And in so many ways I see Aspen as the best of America. It's more cosmopolitan than most towns. For a town of little more than 5000 full-time residents, it has a thriving arts and cultural scene, hosts many national and international conferences and events, and throws a damn good party – be it the Aspen Food and Wine Classic, any of the numerous festivals, The X-Games, or any number of free concerts held through out the year.
And if your only knowledge of Aspen is announced in the voice of Robin Leach from "Lifestyles of the Rich and Famous," or from "Dumb and Dumber" (which wasn't even filmed in Aspen), then let me dispel and confirm a few myths:
Aspen is the playground of the rich and famous. You occasionally do run into them at the bars and see them sitting next to you in the restaurant. Be cool.
Aspen isn't just for the rich and famous. It's a town full of locals and not many of them are rich – though fame and infamy are easy to come by in a small town, so beware.
So now that I've assured you that it's a place full of cool snow-obsessed locals who scratch and save the same as (or more than) the rest of the world, and not just a place for the upper echelons of the socially superior, let's get you here. Because with 5,300 acres of skiable terrain and 329 marked trails across four mountains linked by free transport – featuring technical Aspen, the Highlands Bowl, Buttermilk's X-Games-grade superpipe and terrain park, and the cliffs and steeps of Snowmass – a great restaurant and nightlife scene, lots of super-cool people from all around the world and a strong Aussie dollar, it's too good to miss.
And I'm here to let you know you can do it cheap, because Aspen locals have been perfecting it for years.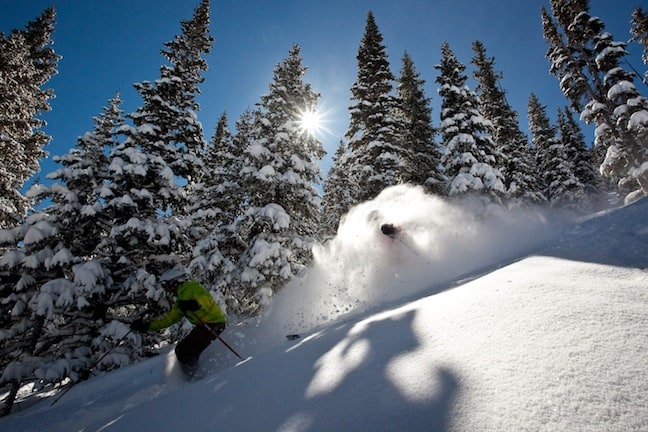 Powder turns 5 April 2011. Image:: Jeremy Swanson
Best time to go
Before you begin you need to figure out when to go. Obviously you want to avoid Christmas and substantial public holidays. As a seven-year local, I would recommend arriving in early April – especially if you like to party. This traditionally is a less busy time of year and most hotel rooms drop into low-season rates starting April, but there is still great snow. In addition, you might be in Aspen for the Highlands' closing party. It's the biggest and best party of the year, every year, and if you like getting dressed up in the stupidest grab you can muster and partying with thousands of other carefree individuals for ten hours, it's definitely something you'll not want to miss.
The Aspen Skiing Co. is touting April 22 as the official 2012 closing date, though it has traditionally been earlier in April. Aspen and Snowmass always close April 15. Low season rates also apply from opening day in late November (Thanksgiving holiday) until the first week of December, if that suits you more.
Data abounds on Aspen's snowfall. Different websites give different numbers – not forgetting the different numbers that also occur depending on where and how high the falls are measured – but they all point to the same trend, which is basically this: The highest snowfall is generally in March, followed in order by February, January and December. The definitive source is the Pitkin County figures, as they've been at it since the 1934-35 season. So, you could say that the Aspen season is a ramp up to March madness, followed by a sudden decline in snowfall in April, and this is true to a certain extent. However, all that snow makes for an excellent base, and the truth is, it doesn't always stop in March. In April 2009 Aspen Mountain had 231 cm near the top and 2008 April saw a near record of 290 cm. April 2011 saw about 142 cm at the Aspen water plant (at 8,161 feet), so the total higher up near Aspen's 11,212 foot summit measured closer to 240 cm. So it's kind of a potluck, but regardless of how many powder days you get (and you will), March upper-mountain snowfalls of between 2 to 3 metres ensure great conditions. Add to that some bluebird skies, cheap rooms and some awesome parties, and you start to see why it makes sense to come in April.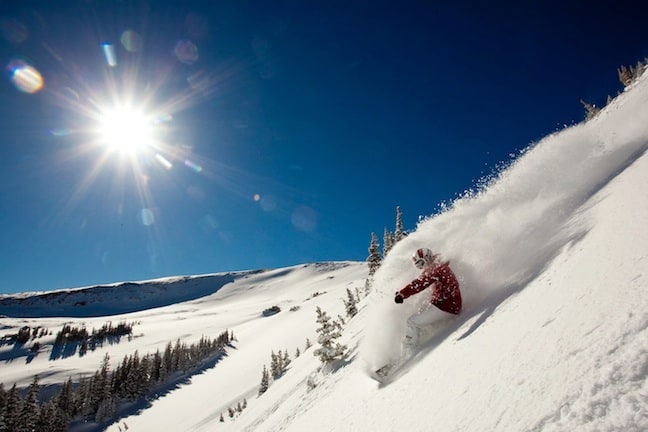 This is April, not bad! Image:: Jeremy Swanson
Getting there
Great deals come and go on various travel websites (a search will return fares between the $900 to $1900 range), but the going average for a return airfare from Sydney to Denver is about AUD $1500. Shopping around for the best deal can be time consuming but it's worthwhile to save a few hundred bucks.
To be safe, you want to terminate in Denver and not Aspen. So you want to set aside roughly another $240-odd (includes the return) for the four-hour shuttle ride from the Denver International Airport to Aspen. This sucks, indeed, and you might wonder why you'd do this when you can fly and be there in the time it takes you to settle in to your seat. Well, for a start, you will likely sit around DIA for a while between flights. Then there's the cost, and despite the fact that you can get great deals from Denver to Aspen that make it seem worthwhile considering the drive, there's the snow thing. It's a catch-22. You come to ski but if it's really dumping you can't get in. And you don't want to. Pilots have compared it to landing on an aircraft carrier, and when it snows it can be shut for days. So plan ahead and contact Colorado Mountain Express and get a shuttle ticket, and be on your way to the pow pow that's stranding those less bright than yourself at the airport. If that doesn't convince you to shuttle it, think of getting to see Colorado from a van for five hours. Snow covered hillsides and craggy red-stone canyons, rivers and massive mountains for as far as the eye can see. It's pretty spectacular, unless it's blizzard-like, in which case it takes forever and you can't see a thing, but still better than being stuck at Denver airport with all flights cancelled. (However, improvements and a runway extension at the Aspen/Pitkin County Airport might well make it easier for flights to land in the 2001/12 season. But it's up to you; flights can be hit and miss.)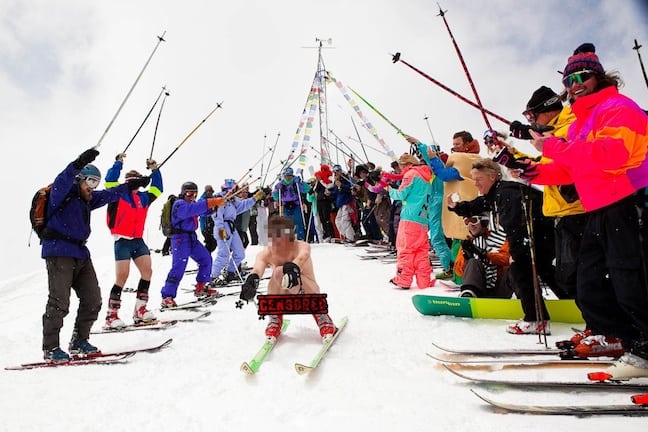 Highlands closing party – crowds at the top of Highlands Bowl. Image:: Jeremy Swanson
Where to stay
Despite Aspen's reputation for being hyper expensive, you can get away with cheap accommodations. With four people you can get away for $50-plus per night. There are a number of lodges and hotels in Aspen that can accommodate four people, and most of them are in town or on the free public bus routes.
A search of a few of the major travel websites for April turned up rooms that can sleep four people for as little as AUD $200 per night, at the Mountain Chalet Aspen Mountain Chalet Aspen , which would be cramped, but hey, it's Aspen for about $50.00 a night – not to mention it's one block from the gondola and almost every bar in town. There are two bedroom apartments sleeping four with advertised rates of AUD$348 per night. In addition, if you want to go super budget, there are bunk-room beds for AUD$53. (Remember that in the USA everything has tax added to the price you see, so that pack of gum is a few cents more, and that room for USD $175 a night is probably closer to $200, when all is done and said, and some hotels will add $10 or more for every additional person over two people.)
The St. Moritz Lodge St. Moritz Lodge is definitely one of the cheapest and is reasonably comfortable. It is about a ten-minute walk from the gondola or one block from the bus that will get you there in three-odd minutes. It's a quasi-hostel scene, with lots of young people and older economy travelers, and two bedroom condos sleeping four peeps run about AUD$241 per night.
Also check out Aspen Mountain Lodge and Hotel Aspen. The Molly Gibson lodge, just one block from the downtown core and close to the gondola, is advertising rates for a two bedroom apartment for eight nights in April from AUD$3,737 (For those who can't be bothered doing the math, that's AUD$116.78 per person per night, or AUD$934 for the eight nights.)
In addition to these great places, it is well worth your while to Google condominiums for rent in Aspen. There are a few places that manage and rent private residences in town (Aspen Destinations on the web at Aspen Destinations ) and you can find a place in town to sleep four for between AUD$400-600 per night, which is a little bit beyond our budget here, but worth considering, especially if you have more than four people. Also, I'm only talking about Aspen here. There are some good deals to be had in Snowmass and Highlands too. And if you're not already familiar with the website of "Air bnb," I highly recommend you get familiar. It's a fancy couch surfer-type thing, and well worth the extra time in organizing for sweet private accommodation around the world.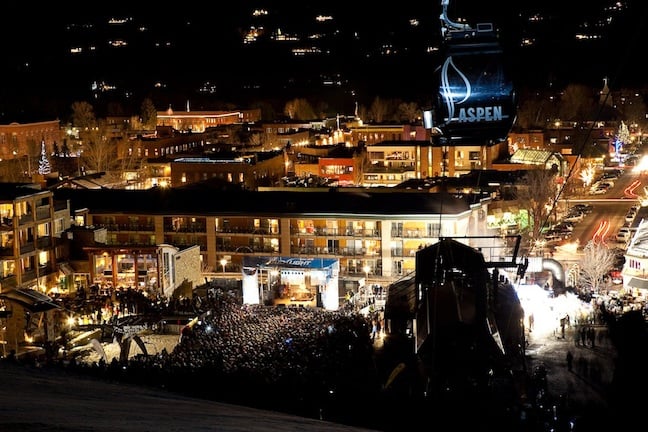 Aspen knows how to party – a Bud Light Series concert at the base of Aspen Mountain. Image:: Jeremy Swanson
Getting on the hill
Lift tickets are your next concern. Sure, they are pricey, but they run about the same as Australian tickets (not accounting for exchange) and you get so, so, so much more for the money. In Aspen a lift pass for a single day will cost you about US $110, and it gives you access to all four of the mountains via the free buses, so if you tire of Buttermilk's superpipe, then fifteen minutes on the bus and you're heading to drops and chutes in Snowmass.
There isn't much to say about the skiing, that's for you to discover. But some things need highlighting: First off, the terrain can be pretty extreme, so be sure to keep to terrain within your abilities. If you are a beginner, stick to Buttermilk and the base of Snowmass. Aspen and Highlands have no easy runs and if you're planning on going out of bounds, remember that every year sees many good people killed in avalanches – experienced backcountry skiers, nonetheless. However, if you are a good skier/boarder, then there's no limit to variety. If you are good enough, don't you dare skip the Highlands Bowl. You go all the way up Highlands and start hiking. The Bowl on a good day is as good as the best skiing anywhere. Aspen has many gated runs that generally are open. Skiers' right are some technical and steep runs bottoming out onto a short cat track. On the left side of the mountain, hidden behind a gladded area behind Ruthie's chairlift, is Trainers. This is super steep with lots of trees and boulders and drop-offs, but it's hardly ever open and if it is it's guaranteed waist-deep powder. Snowmass is a must too. It's so large that you just go from run to run looking for things that rock you. Keep an eye out for open gates from the top of High Alpine lift.
Insider tips
There are ways to save money that seem obvious and simple, and they are, but you just have to make the effort. The most obvious is to make your own lunch. A good plan is to grab a tasty slice of New York Pizza on your way home from the bar at 2 am, wrap it and stick it in the fridge. Not really making your own, but way cheaper than eating on the hill. Throw in a power bar of some description for a couple bucks. If you have the motivation and time, make sandwiches, eat them on the chairlift or gondola.
If you don't already have a Camelbak, I strongly advise getting one. A tiny one takes a liter or so of water – needed when you can ski a mile-long run – and will carry a camera, wallet, phone and lunch.
One of the most important things is where to eat. There are a lot of great restaurants in Aspen, but if you're on a budget, you probably aren't going to them. What you want to do is check out the bar menus. They are way cheaper. You'll find tasty cuts of steak with veg and mash for around $17. Check out local faves like Elevation, and get the massive $14 green chicken curry, or a $17 Pad Thai. They also have great bar steaks and pasta. Always check out Jimmy's American Restaurant. The bar menu rocks, and it's worth knowing when they do certain specials, like Alaskan king crab night. Other than that the bar rocks, has awesome tequilas, and they clear out the dining room late night for things like bands and salsa nights. Downstairs from Jimmy's and across the street from Elevation is Brunelleschi's. They have great pizza, pasta and salads for a good price. If you're on a budget then definitely check out La Cantina for great Mexican. Su Casa is also pretty kick-ass and cheap. Almost everywhere has a burger for between $9-$15, and most are pretty decent. For the authentic American dining experience for a reasonable price you have to check Little Annie's, and you can't go past the awesome ribs at The Hickory House. They import the pork from Holland because it's raised on tulips – in short, very tasty.
Other notable mentions are The Wild Fig, Pacifica, and Mezzaluna. All have good bar menus.
You're Australian, so you probably want to go out and drink. Follow this formula and you can't go wrong: Get off the hill and do après. If you're on Aspen then you need to go to the Sky hotel, to the 39 Degrees Lounge. This is the most pumping place for après drinks in Aspen. Wear your boardshorts or bikini too, as the bar incorporates a heated public pool and hot tub. Draft beers run about $4 and the bar menu has good munchies to sustain you until dinner. Also, right next door and just as busy is the Ajax Tavern (Ajax being the local nickname for Aspen Mountain). On the pricey side of après is The Little Nell's Greenhouse Bar. This is an older and wealthier crowd, but always pretty fun nonetheless. All three of these are a literal stone throw from each other at the base of the gondola. Also, don't forget to check out the J-Bar at Hotel Jerome. It's fun at all hours and a favorite haunt of locals; an Aspen favorite of the late-great Hunter S. Thompson and many of the that era's old-school guard. Also, relatively new kids on the block are the boys from the Aspen Brewery. They've been around for a few years now and seem to plan on staying around. Located just opposite Jimmy's and upstairs from Elevation, it's a quaint affair with awesome Aspen-made beers.
Later in the evening you will find numerous options for shenanigans.
If you want live music, Aspen has the Belly Up. It's a world-class venue with the bonus of being intimate, and it hosts numerous big names year round. Tickets can be a little on the pricey side, but they also have many free nights with local talent that are always raucous good times.
Eric's is the clear option a bit later in the evening. There is a main bar, a Mexican restaurant (Su Casa), a pool hall and a cigar/smoking lounge. The service is fast and friendly and it's generally pretty busy. Everyone ends up at Eric's, is how the saying goes, and come midnight it seems pretty true.
Aside from Eric's, there is Hunter Bar, The Regal and Escobar for late-night drinking and dancing. Escobar is a thumping dance party most nights, and the interior is a mock-up of the fuselage of an airplane, which is interesting. Hunter Bar is a fun spot and sometime South American haven. The music is loud and the drinks are cheap and it has pool and shuffle board (one of the great unknown American pasttimes). The Regal is a thumping subterranean club and the clientele are in the early-20s range (though there are new owners, and it is being remodeled, so who knows what it will be). It's fun and cheap and has a DJ most nights. Also, don't forget to swing by Little Annies for a pitcher of beer and five shots for $10, and The Red Onion is another place that rocks from about 4pm until 2am
And something worth noting: All the bars in Aspen close at 2am It's an odd thing if you're coming from a big city – or from pretty much anywhere but Aspen – but you soon learn that it's a blessing, especially if your time is limited, because you have no real excuses not to get up at 8am. You'll notice that if it's dumping the bars are way less busy as most locals are home sleeping in anticipation of an epic day.
And despite the fact you are tired from drinking and skiing/snowboarding all day, don't forget to grab a couple slices of New York Pizza on your way home for tomorrow's lunch … unless you're getting up and making sandwiches.
Aspen Mountain forecasts,
snow reports and
live snow cams.