AUSSIE SEASON WRAP UP – Remembering Season 2011
October 5th, 2011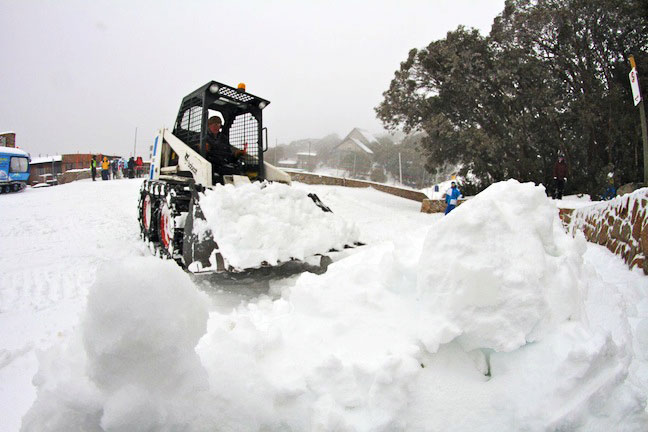 Falls Creek 6 July: When the bobcats get called in, you know it's serious – Falls Creek 6 July. Image:: Falls Creek
Season Wrap | Reggae Elliss
How to define this past season, one that promised so much but in the end delivered … disappointment.
Sure Thredbo, Perisher and Falls Creek kept running until the closing weekend and we went out with over 40cm of fresh snow in the last week, but when you consider the warm, snow-deprived August, it was a frustrating year.
Of course the pre-season snowfalls had the resorts talking about how it meant a great season coming up. But as we all know, when you talk up a May snowfall you are jinxing the winter. However, by the time the season opened the optimism seemed reasonable with a 25cm snow storm on 7 – 8 June setting the lifts turning at all resorts – helped by some big nights of snowmaking. The next big storm came through on 21 June with 40 – 50cm and there was more terrain opening every day. In my snow report on June 23, I described the previous day as "one of the best early season powder days for a long time."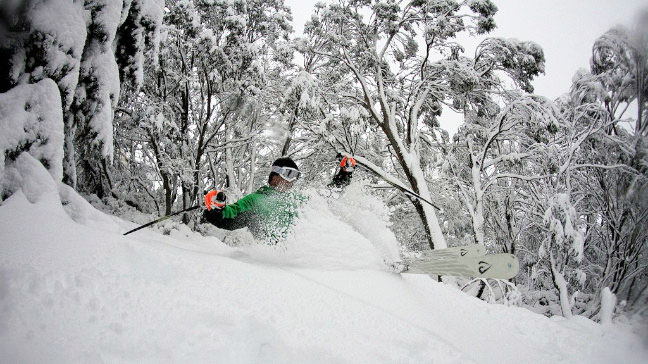 Chris Hocking enjoying what looked set to be one of many powder days back in June. Image:: Chris Myers
A few solid nights of snowmaking in late June built base as the peak school holiday period approached but all eyes were on an approaching cold front, which was due to hit on Monday 4 July. Overnight rain slowly turned to snow but at 6am there was still only a few centimentres and the anticipation was palpable. At last the temperature plummeted, delivering 30cm in the first 24 hours, and it just kept snowing. On Thursday morning 7 July we'd had over 95cm since Monday and the day was epic.
In his blog on Mountainwatch, Chris Booth described that day in Thredbo as his all time best day skiing in Australia. Across all the resorts it was amazing – light, dry untracked powder everywhere and even though it was school holidays it wasn't that crowded, the masses preferring to stay on the groomed runs.
We ended up getting over a metre if snow out of the storm. The official depth at Spencers Creek came in at 158.9cm – the deepest it had been at that stage of the season since 1990. No wonder every one was psyched for a great winter.
Unfortunately that was about it for decent snow for the season. It rained on 20 July, the start of an ordinary week with moist southeast winds, drizzle down low, poor visibility and snow showers around the peaks. Things improved for the last week of July with cold nights, good snowmaking and some windblown powder days making for some great days in most resorts.
The average depth at the start of August was 170cm; very healthy with what's usually considered the snowiest month about to start. Unfortunately it didn't pan out that way. Instead August began with an unseasonably warm week. Pre-dawn temps in Thredbo Village were 7 degrees on 2 and 3 August, My report on 3 August said it all: "Unfortunately this run of crap warm weather and northerly winds is set to continue and the deterioration of the snow cover continues with it…."
We did get some snow on 7 and 8 August with Monday turning out to be the best day of the month in NSW. Everyone got excited when it started dumping on the afternoon of 10 August, Falls and Hotham were reporting 40cm by 10.30pm. Unfortunately a wind change to the southeast saw the temps climb three degrees in a mater of minutes and the snow turned to rain; it rained all night.
That was the story all August, cold fronts that weren't cold enough pushed south by stubborn high-pressure systems. Mount Baw Baw didn't even see out of the month before closing for the year, Selwyn was only just hanging in and Buller was a relying on man-made snow, the off piste areas done for the season.
While there were some fun days on the hill, overall it was the worst August in 15 years and by the end of the month the snow depth in NSW had dropped by 30cm. My report on 31 August read: 'it's the last day of August and what can you say about the month? Only two snowfalls for a total of 25cm for the month and two weeks of warm weather, even a couple of mornings during the first week where it was +9 at 6am! The result was good spring snow, but six weeks before we want it, and very few people."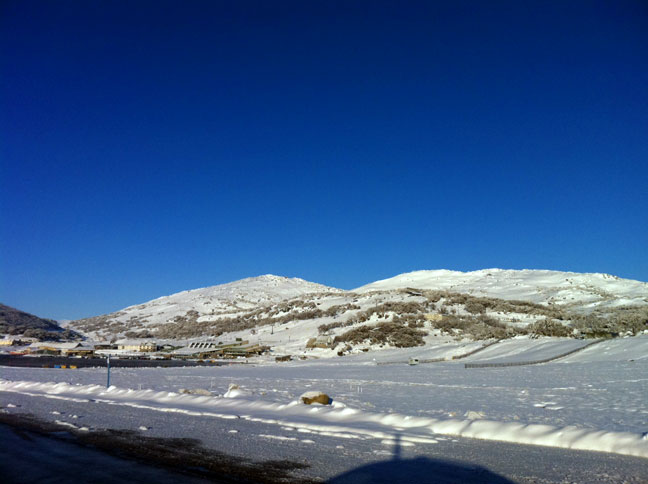 Perisher 3 October, looking better the day after closing than it had all September. Image:: Reggae Elliss
September wasn't much better, a couple of snowfalls helped maintain the cover, but by mid- September another very warm period did its damage and the meltdown accelerated. Selwyn was gone and Buller was just hanging in, Hotham faring little better while Falls was doing the best of the Vic resorts. The bottom of Thredbo was done and dusted which meant having to download, a rarity in these days of sophisticated snowmaking. Perisher was still surprisingly good, offering the best snow in the country, particularly around Mount P. Then on 27 September a 70mm overnight rainfall turned to snow and dumped over 40cm in two days. The closing weekend was the best skiing since July and the lifts have closed with a great cover of snow above 1600m.
Although good snowfalls bookended the winter it was all too little. After a very good late June and early July we ended up with a spring that started in August. While there was skiing from start to finish, the winter of 2011 will not be remembered as one of the great ones.
Check out some memorable moments from Steve Lee's wrap up from Falls Creek in Victoria this season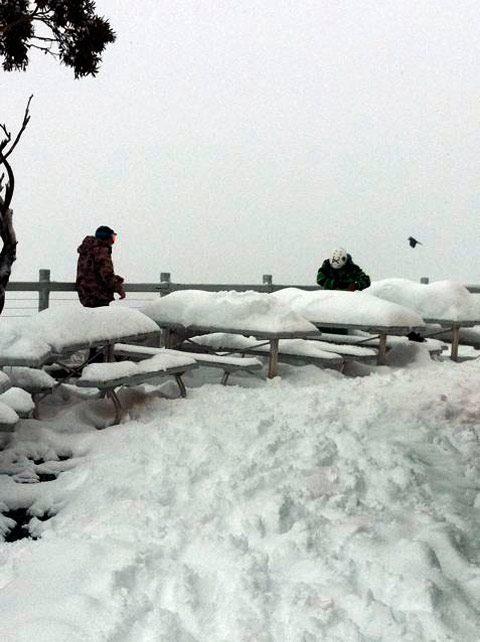 Perisher mid-centre 1 October. Ending the season as it began. Image:: Reggae Elliss