AUSSIE WEEKLY SNOW JOURNAL – Cold Blast Imminent
September 7th, 2011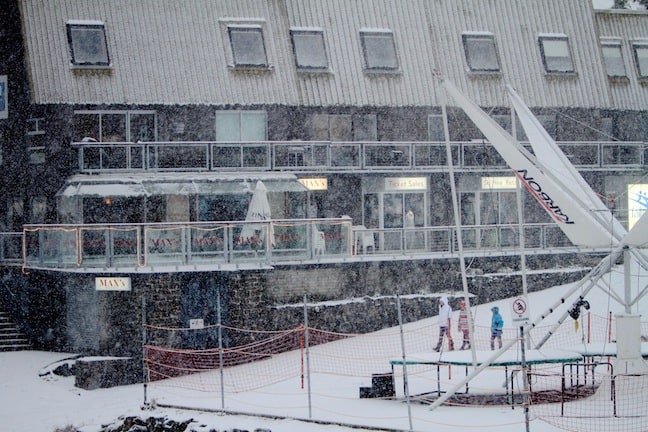 Heavy Snowfalls in Falls Creek yesterday afternoon Image::Courtesy of Falls Creek
Aussie Weekly Snow Journal | Alex Horvath
We should all feel very stoked to wake up today, check the weather and finally see some white on the ground. After a seriously warm few weeks in the Aussie Mountains it feels so good to finally write that yes, you heard right, it has SNOWED!
Yesterday panned out pretty much as well as it could have, yes there was some rain and yes we lost some snow, however at approximately 3:30pm temperatures plummeted as the cold air arrived perfectly timed with a nice fat band of moisture that resulted in some fairly heavy snowfalls until around 7:00pm.
So it will snow… How Much?
The best news that I have for you this week however is that this snowfall was nothing but an entrée, right now the skies are deceptively blue hinting nothing of the polar blast that is due to hit the hills approximately late Thursday evening. The system that is due to arrive coupled with the super cold air from the south will mean that we are set up for about four days of cold wintery weather before things settle back into a spring like pattern.
The big question on everyone's lips right now is just how much snow should we expect to get? The models right now seem to jump around quite a bit between updates. At this stage it is looking like we are in for 5-10cm on Friday and around 10cm on Saturday, this is could change however, the tightly spaced isobars on the maps suggest that wind speeds will be high, possibly gusting to around 70km/hr on Friday evening, strong winds like this always carry the possibility that uplifting motion caused by the position of the alps will lift the air squeezing out every last drop of snow possible.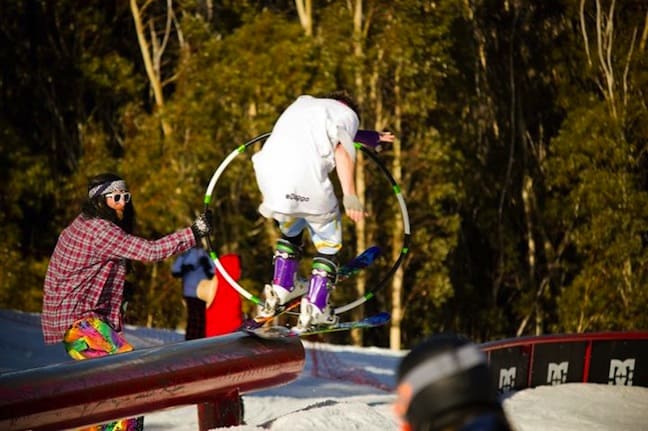 Springtime antics at Thredbo Parks Annual BBQ on Saturday Image::Courtesy of Steve Tognazzini
Seeding and Snowmaking
Snowy Hydro have a certain number of parameters keyed into their Cloud Seeding trials that determine which weather systems they can and cannot seed. Essentially the position of the seeders on the western side of the Alps mean that any seeded system must come from this direction, so far so good. The second parameter is that freezing levels must be under 1400m to avoid triggering rainfall over the mountains, this one gets a big tick as it is looking like freezing levels will remain below 1400m till Sunday morning. Hopefully this combination of conditions will mean we can expect a tasty top up after the main moisture bands pass.
As usual when temperatures are cold all resorts will be looking to operate their snowmaking systems, this will act to complement any natural falls and hopefully carry us through any warm spells later in the month.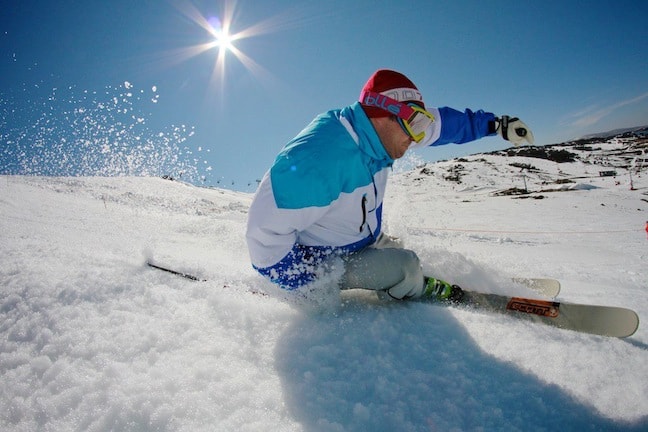 Falls local Laif Moegel slashing slush Image::Courtesy of Falls Creek
Weather for the remainder of the week
We are set up to have cold conditions with freezing levels fluctuating around 1000-1300m until Sunday. A weak high is bringing blue sky for the rest of today with fairly cold temperatures. Winds should stay light until Thursday night and into Friday where they will pick up as the fronts arrive bringing snowfalls into Saturday, easing on Sunday. The biggest decider right now is whether the moisture will arrive; luckily the southerly fetch is ensuring that the air will be very cold right through to Sunday.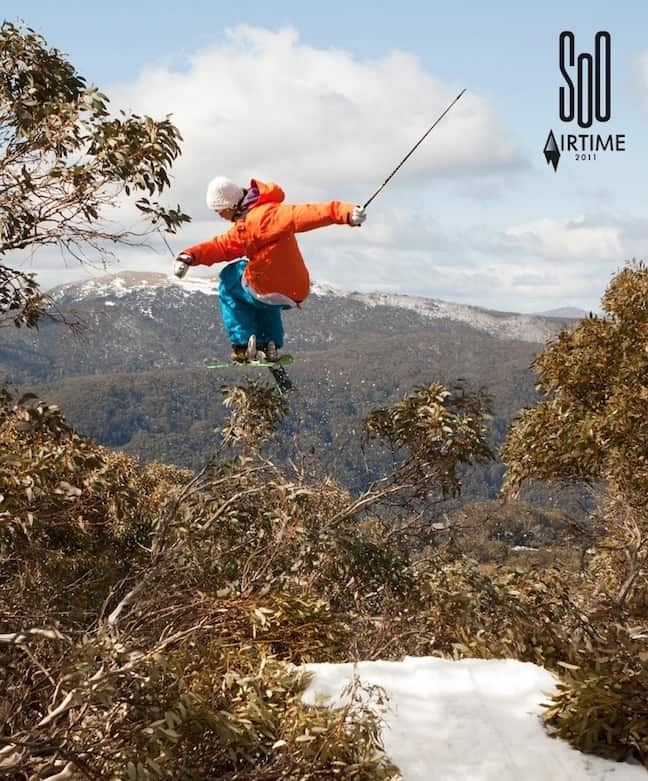 Just poppin some springtime eucalypts SoO Airtime Image::Courtesy of Joe Corcoran
Resort breakdown
NSW
Perisher is reporting 7cm of new snow overnight, temperatures are still cold so the new natural snow and the man-made snow from last night should remain in great condition today. It is packed fresh on a frozen solid base so stick to groomed areas to avoid any surprises. Sun Bowl and Mt Perisher are the places to head early over the next few days when the fresh snow falls.
Thredbo 5cm of new snow is reported from mid-mountain up in Thredbo, the guns fired all night and around 1cm fell in the valley, Reggae says Central Spur, The Basin and Karels are the pick today, keep an eye on the trees as the fresh snow over the weekend will fill it in nicely and there should be some good stashes around. The One Hit Wonder event is on today above the Cruiser so that will be impressive.
Charlotte Pass 5cm fell at Charlottes last night, the groomers are the pick for the next few days, some off piste areas will be tasty on Saturday, check out Over the Edge, Kosi Coaster and Equaliser until the snow falls.
VIC
Falls Creek 8cm of new snow has transformed Falls Creek into it's usual glory. Interschools kick off today in Falls over on Ruined Castle if you are looking for some race action. Stick to the groomers for the best snow, as more snow falls over the weekend some off-piste areas could be worth a look.
Hotham 5cm of snow overnight helped to repair some of the scars from the rain yesterday morning. The base is frozen solid which is good news for when more snow arrives. Stick to on-piste groomed areas till it snows again.
Mt Buller 3cm of new snow last night for Buller has helped to cover exposed grass and at least make it look like winter again. The base in man-made areas is holding steady at 49cm so fingers crossed snowmaking and more natural snow on the weekend will add to this.
EVENTS THIS WEEK:
One Hit Wonder Event will take place from today until Saturday 10 September, some of the world's best freeskiers will be hitting a 100ft jump, one to watch for sure.
Australian Interschools Snowsports Championships take place in Falls Creek September 7 – 11
So after a very disappointing August and a long wait, you could say it has finally happened, fresh snow is on the ground, passes are cheap, more snow is on the way, it doesn't get much better then that in September so if you can get out there for some laps!
Perisher forecasts,
snow reports and
live snow cams.
Falls Creek forecasts,
snow reports and
live snow cams.
Mount Buller forecasts,
snow reports and
live snow cams.
Charlotte Pass forecasts,
snow reports and
live snow cams.
Hotham forecasts,
snow reports and
live snow cams.
Thredbo forecasts,
snow reports and
live snow cams.