Australia's Hottest Snow Battle – Dew Hut Jam 3
July 12th, 2011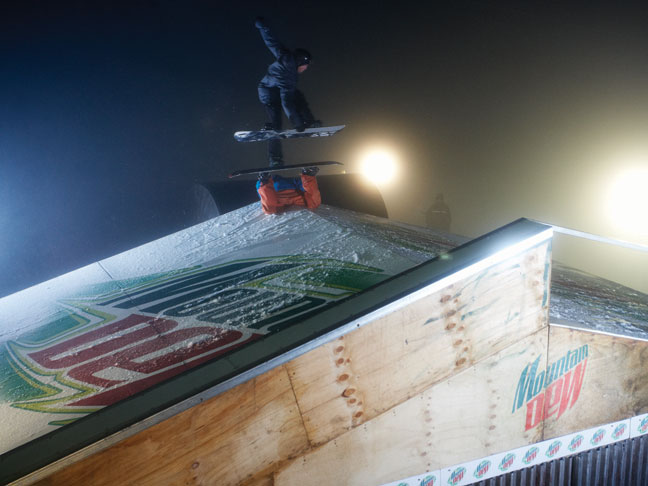 Image:: Rory Gardner
TEAMS SIGN ON THEIR BEST SNOWBOARDERS IN AIM TO TRUMP THE COMPETITION AT AUSTRALIA'S HOTTEST SNOW BATTLE: DEW HUT JAM 3
SAVE THE DATE: SATURDAY JULY 30th 2011 Mt Buller
The country's top freestyle snowboarding competition for Australian and New Zealand riders, the Dew Hut Jam hits Mt Buller's Bourke Street on Saturday 30 July 2011.
The fifteen invited teams have handpicked their rider line up to battle it out for their share of the $19,000 prize money and points for rankings on the TTR WORLD SNOWBOARDING TOUR.
The 30 snowboarders compete in two-rider teams vying for the overall title or the best (team) trick award, riding together to perform their best and most technical tricks over an annually updated course including features such as a purpose built hut and a disused oil tanker.
Key industry figure and event curator, Russell Holt, notes: "Some riders and teams have been hungry to get in this invite only event for a few years…there's a whole new crop of riders coming through in NSW. It's going to be interesting to see if they can take it to the big dogs".
Riders from New South Wales include Newport's Nate Johnstone, riding in the Dew Hut Jam for the first time for Nitro alongside Mt Buller's own Jarryd Williams. The team comes to the event having returned from successful 2010/11 seasons overseas with Johnstone making snowboarding history in March this year becoming Australia's first FIS World Cup half pipe World Champion.
The 2011 line up includes established teams such a the 2009 winning combination of Quiksilver's Nate Perry (NSW) and Tim Laidlaw (VIC), 2010 Best Trick winners, Billabong's Clint Allan and Robbie Walker as well as event first timers in Compatriot's Matto Smith (Vic) and Ben Fawcett (NSW).
Last year's winning team, Oakley's Jake Koia and Stef Zeestraten (NZ), set a new level for this year's competitors with a range of big technical tricks including a Double Method together over the hut with Zeestraten riding switch. Zeestraten returns with Oakley for 2011 and will be riding alongside Mitch Allan (NSW).
"Its great to have a unique and top level event that offers great prize money and something different", says Russell Holt.
The main Dew Hut Jam competition kicks off on the slops from 4.30pm on Saturday 30th July and is FREE to watch. Visitors may wish to catch the practice sessions: Friday 29th July 2pm-4pm and Saturday 30th July 12.30-2.30pm.
The course can be approached without requiring use of chairlifts from the Village Centre.
Dew Hut Jam Vital Stats
WHAT? Top Aussie snowboarders competing on a purpose built jib course
WHEN: Saturday 30 July 2011
WHERE: BOURKE ST, Mt Buller, Victoria
TIME 4.30pm – 6PM
WHO? See below
More info: dothedew.com.au
DEW HUT JAM – TEAMS, RIDER LIST 2011
TEAM RIDER 1 RIDER 2
OAKLEY Mitch Allan 23 Berrara, NSW Stef Zeestraten 26 Wanaka, New Zealand
DESTYN.VIA Darragh Walsh 25 Jindabyne, NSW Cohen Davies 25 Woonona, NSW
BILLABONG Clint Allan 25 Berrara, NSW Robbie Walker 26 Richmond, Vic
DC Ryan Tiene 21 Port Macquarie, NSW Dane Tiene 23 Port Macquarie, NSW
BURTON Chris de Campo 18 South Yarra, Vic Jye Kearney 17 Jindabyne, NSW
RIDE Kieran McLaughlin 23 Falls Creek, Vic Andrew Roth 19 Vermont, Vic
FORUM Mitch Williams 27 Eltham, Vic Michael Trotto 21 Torquay, Vic
NITRO Nathan Johnstone 21 Newport, NSW Jarryd Williams 21 Mt Eliza, Vic
QUIKSILVER Nate Perry 25 Carringbah, NSW Tim Laidlaw 17 Hawthorn East, Vic
LIB TECH Tom Pelley 24 Wollstonecraft, NSW Jason Maxfield 19 Gough's Bay, Vic
K2 Nick Wood 19 Ivanhoe, Vic Andy Lloyd 24 Sutherland, NSW
FYVE Marc Triffitt 24 Mt Buller, Vic Owen Newman 28 Trevallyn, Tas
3CS Jason Currie 30 Torquay, Vic Daniel Currie 22 Ballarat, Vic
STEP CHILD Matto Smith 32 Torquay, Vic Billy Hayman 16 Jindabyne, NSW
COMPATRIOT Mathew Galina 30 Falls Creek, Vic Ben Fawcett 24 Frenchs Forest, NSW