Backcountry Condition Report – Spring – Australia
September 28th, 2017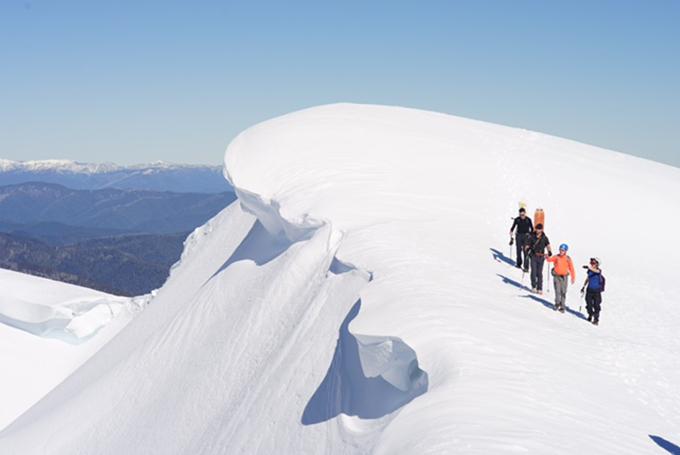 Some monster cornice action on Mt Feathertop following recent blizzards. Image:: David Inabinet
Australian Seasonal Update – Backcountry | David Inabinet
With blizzards dumping metres of snow in the backcountry earlier this month, Australia is well and truly set up for a long and memorable spring skiing season, that go beyond resort operations. Looking at the historical records from similar years, we should be skiing backcountry corn-ramps all the way into November this year. But with all this snow on the ground we'll need to be a little more careful out there than usual over the next month or so.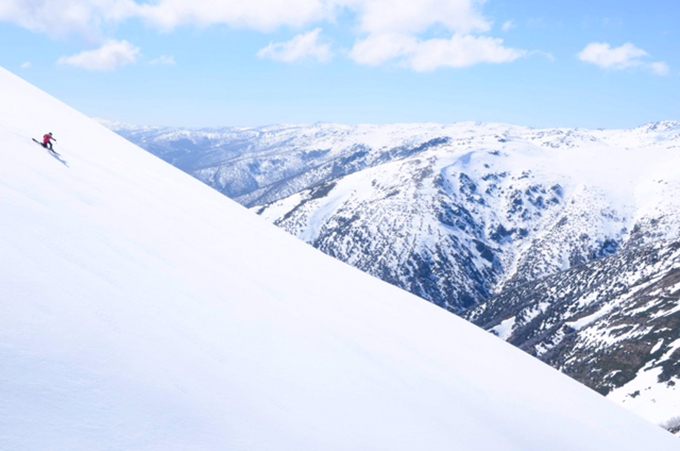 Wide open corn ramps await during spring. Watson's Craggs, NSW. Image:: David Inabinet
Since my last report in early August, we've had two more major snow events (#Blizzardofoz 2,3) in Australia. The first event in mid-August started with a whole heap of rain, which helped stabilise a very dodgy layer in the snowpack that had caused numerous avalanches on around 6 and 7 August. Then in early September we got another metre of snow in one go – the now infamous "BlizzardOfOz03". Fortunately, this most recent snow event was "the right side up" and was relatively stable – although I did see remnants of a big avalanche on Mt Feathertop that looks like it went mid way through the blizzard.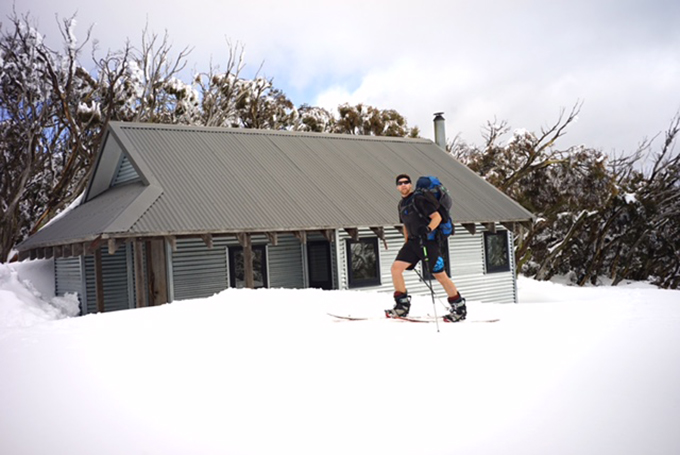 Split board and board shorts; getting ready for a long Aussie ski season. Image:: David Inabinet
So now in spring we have a deep (by Aussie standards) snowpack with a few layers of interest but overall looking relatively stable. When it finally stops snowing this spring, backcountry riders should be cautious around those huge cornices that are out there who tend to drop when the sun gets going.
The most common avalanche hazard in Australia during spring are "wet loose" slides, which are generally small point release slides that wouldn't normally be big enough to bury anyone but could take you on an unexpected ride down hill – and over any rocks/trees/branches/cliffs that might be below you. You can tell when you're at risk of these slides because the snow will be slushy and you'll start seeing pinwheels dropping from rocks and cornices on sunny aspects.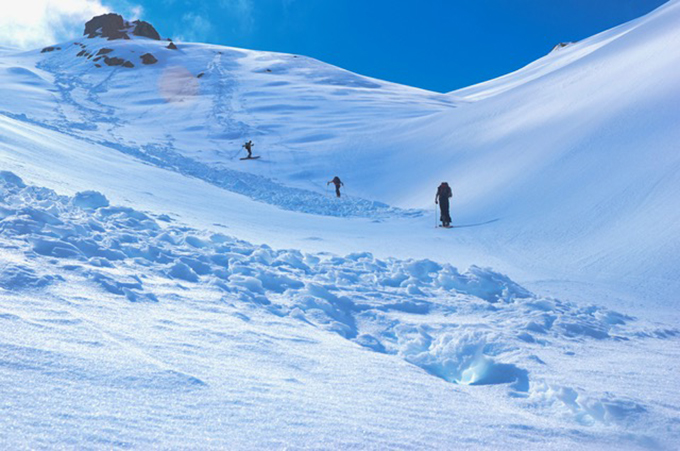 Classic springtime pinwheels and wet loose avalanche activity on the NSW Western Faces. Image:: David Inabinet
More rare in Australia, but even more dangerous, are wet slab avalanches. These bad boys are caused by rain or persistent warm weather causing water to upset an existing weak layer in the snowpack. With a few suspect layers hiding deep down there in this year's snow, we could start to see a few of these if we get an abrupt and persistent warm spell this spring. If wet slabs do start occurring, it's best to avoid avalanche terrain until conditions improve.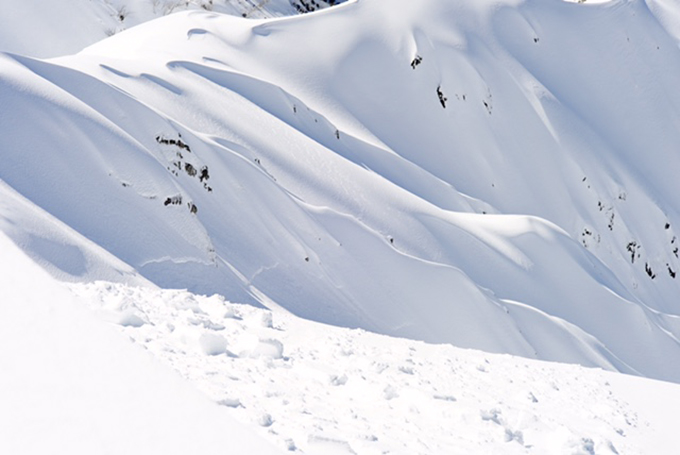 Remnants of large Avalanche activity and cornice falls on Mt Feathertop, VIC last Sunday. If you look closely you can see the avalanche crown from a slide that went mid way through the BlizzardOfOz03 and more recent cornice rubble. Image:: David Inabinet
If you're looking to get out into the Backcountry this year, spring's longer and warmer days, and safer snow conditions, make it a perfect time to get out and explore. In early Spring, northern and western aspects that get the sun are in top condition after a few freeze/thaw cycles. Later in spring, as the north/west aspects start to melt away, the southern and south-east aspects will soften up and become rideable. Just take a hat, sunscreen and board shorts, watch out for pinwheels and cornices, and you'll have a great time out there ripping the "hero snow".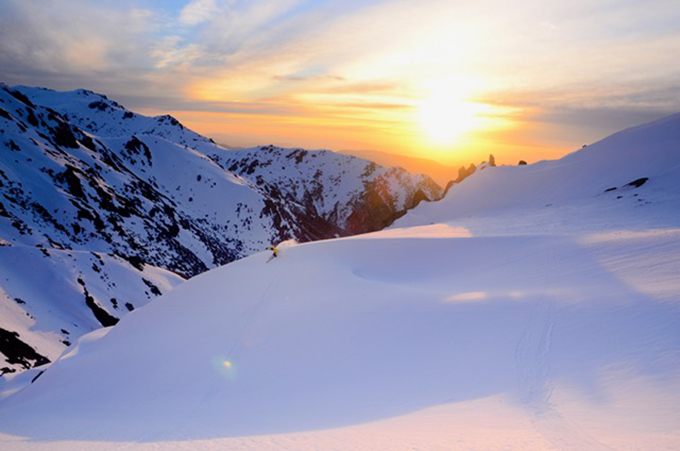 Spring skiing on the Western Faces. Image:: David Inabinet
There are plenty of shops now discounting their gear, which means it's the perfect time to pick up a good deal on mandatory backcountry-wares, check out Transfer guide to what gear is worthy of your hard-earned dollar here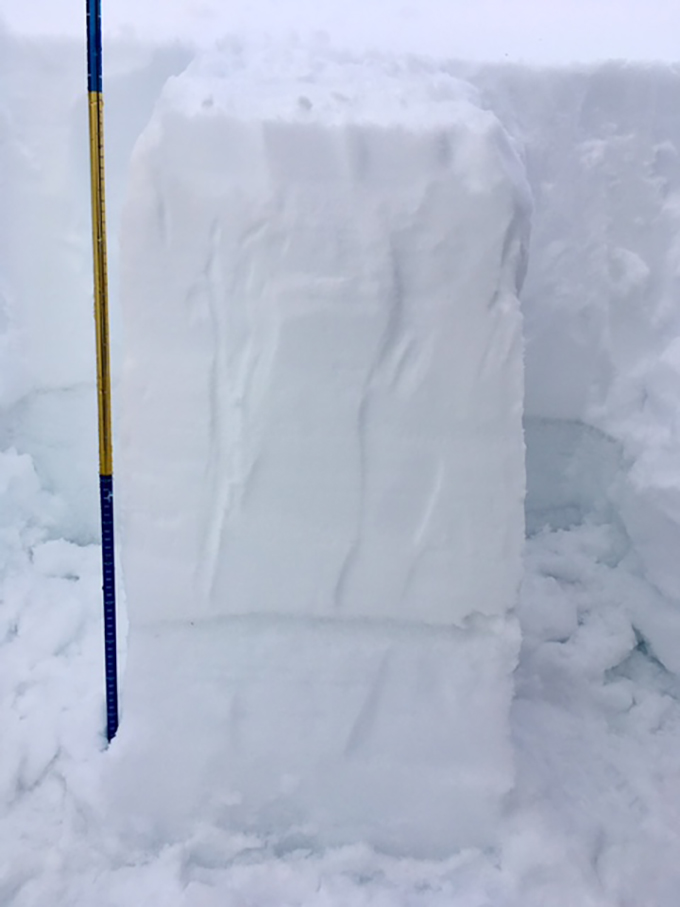 Big snow events this year have left us with a few layers in the snowpack to watch out for this spring. This is the most recent blizzard bonded relatively well to the firmer snow beneath. Image:: David Inabinet
Perisher forecasts,
snow reports and
live snow cams.
Falls Creek forecasts,
snow reports and
live snow cams.
Mount Buller forecasts,
snow reports and
live snow cams.
Charlotte Pass forecasts,
snow reports and
live snow cams.
Thredbo forecasts,
snow reports and
live snow cams.
Mount Baw Baw forecasts,
snow reports and
live snow cams.