BLOG – Nat Segal – FWT Stop in Chamonix
February 5th, 2013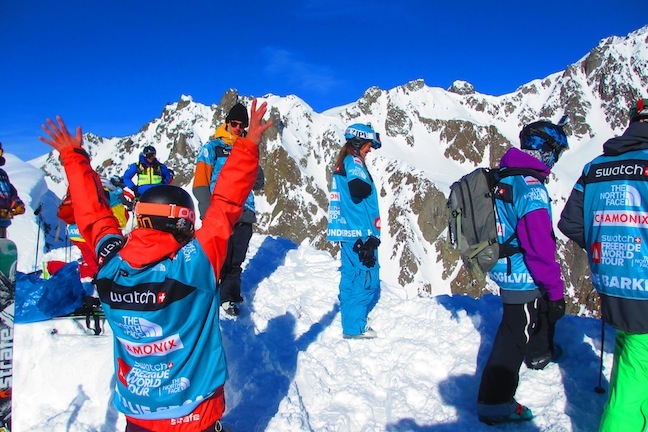 All set and ready to go, on top of the course Image:: Nat Segal
Mountainwatch | Nat Segal
Chamonix, a place of ice and rocks; where fondue is the norm ; Scandinavia's youth will cram small communities into miniature apartments and your next après ski will most likely be full of topless, sweaty man-boobs pressed against your face.
More commonly known as one of the world's meccas for freeride skiing and mountaineering, it's fitting that the third stop of the Freeride World Tour takes place here.
It has been over three and a half years since I was last in the Alps. In the winter of 2009 I found myself in Chamonix with a pair of park skis, surrounded by incomprehensible mountains and people who actually wanted to ski them. I spent two winters exploring and I didn't even come close to scraping the surface of what is possible in this town.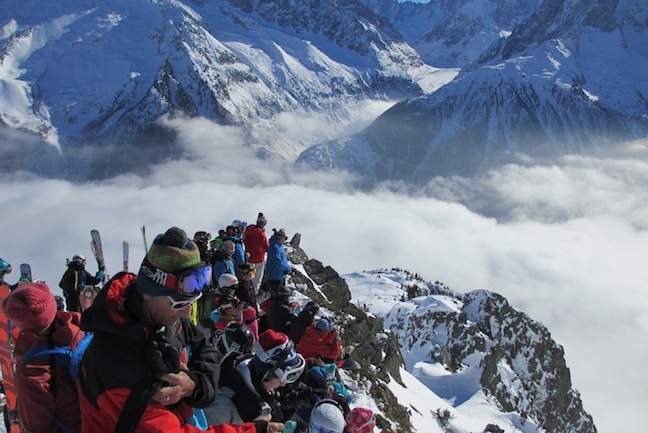 The athletes listen closely at the on course meeting Image:: Nat Segal
Nevertheless, Chamonix taught me how to ski big mountains. I learnt about avalanches and glaciers. I jumped off my first cliffs at Grands Montets and competed in one of my first big mountain competitions just down the road in Flaine. It's funny how the world works, three years later I am back in the same place, riding in a competition I used to watch with awe.
I was less nervous about competing in Chamonix than I was in Canada, I was too excited about skiing. So it wasn't until the day of the venue inspection that it actually dawned on me that I was competing and that I needed to find a line.
The venue, Aiguille Pourrie, while not the standard competition face used in Chamonix was a great substitute for the venue at Brevent, where the snow was much more variable. The skier's left offered shady aspects filled with pow and some steep, rocky chutes which could be taken as an air in multiple directions. The skiers right had a mix of steep spines and open boulder fields.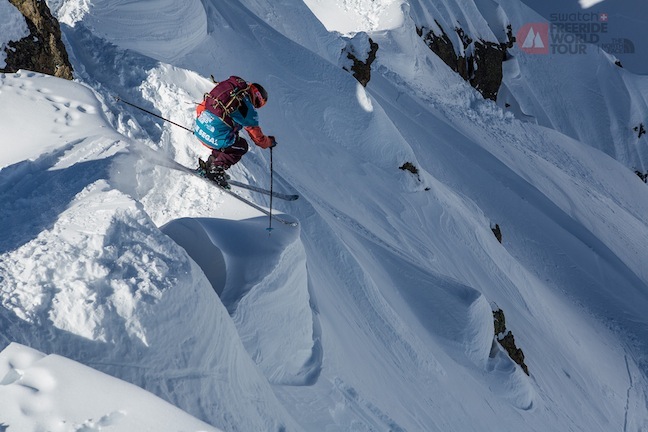 Nat drops in over the lip into her line Image:: FWT
Straight away my eyes were drawn to the skier's left. I liked the idea of skiing pow and riding the rocky chute. I also decided that less of the men's field would ski down there as they would be attracted by some of the bigger cliffs on the other side. In some ways it was a good strategy. Many of the male skiers stuck right but not so much for the snowboarders. Hiking up I watched several men, drop into my rocky chute and bomb out my landing. There's not much you can do if you are skiing behind them, except change your line.
I tried to keep this out of my mind and hike to the top but I couldn't help feeling a little bummed. However, the hike up was super fun and helped me to forget the tracks. It was a boot-pack up the side of the venue through a couloir. At the top of the hike we traversed across the ridge-line to the start. On gaining the ridge the snow looked anything but disappointing. It was soft, deep and ready to be shredded.
We started hiking quite early so I was lucky enough to stand at the top of the ridge for quite sometime, taking in the view and basking in the sun. It's not everyday that you are about to drop into a competition run with Mont Blanc staring straight back at you.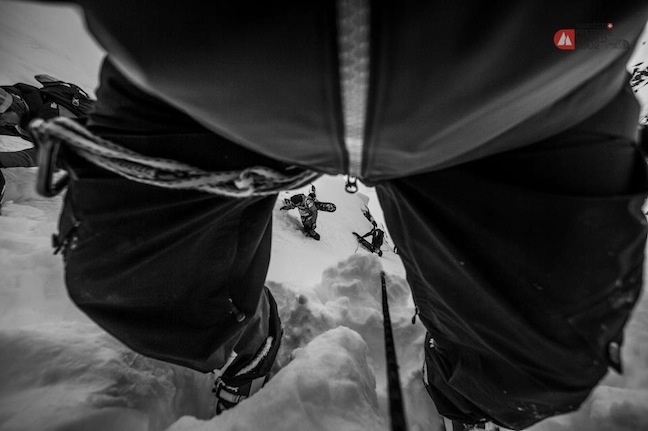 An interesting perspective of the hike up to the drop in point Image:: FWT
While I had decided where I was going to ski down the face, I still hadn't chosen a drop in zone. For thirty minutes I paced, boogied and searched along the ridge for a place to ski down, weighing up my options. At one point I had chosen some small spines which I would air over but at the last minute I watched Oakley White-Allen take a sweet drop of the far skier's left wind lip. I went out investigate and found a beautiful steep air straight above my line. It was meant to be.
So there we were again, all the women at the top of the course. Something I have always loved about the women in these competitions is that while we are competitive, we want to see each other succeed, because we want to see our sport progressed. So just before I dropped in, I pulled Lorraine Huber over to my entry air and asked her opinion. She told me to send it and with that I bolted back to my skis and got ready to drop in.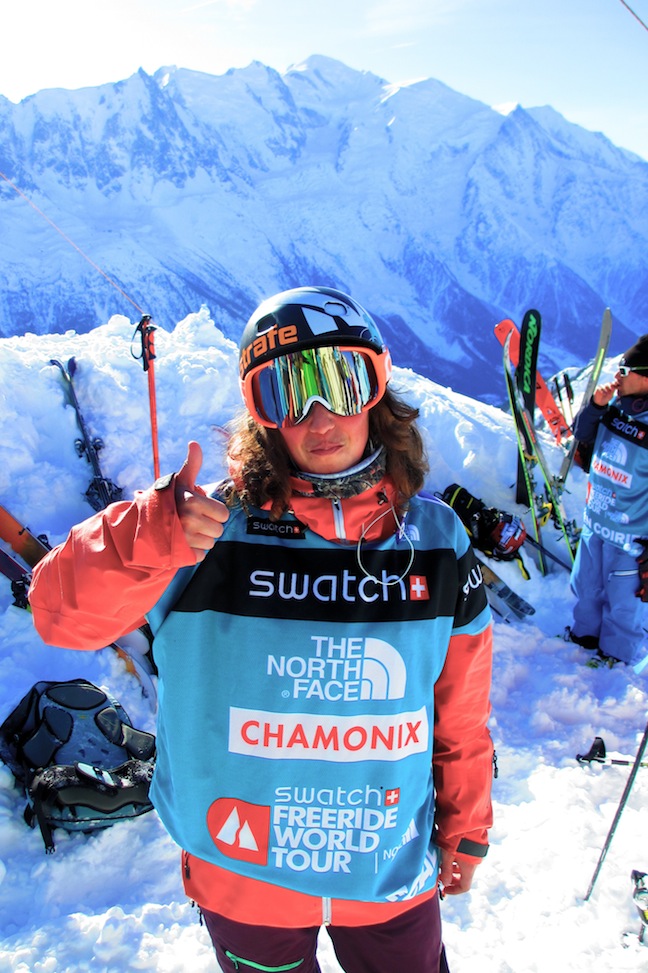 Psyched and ready to go! Image:: Nat Segal
After such a big build up you would imagine that I stomped the crap out of my line and won the comp. Oh, if only life was so simple. In fact, I did stomp the hell out of my first air, I even got a shifty in to boot. But two turns after my entry I somehow managed to run into what I now know was a manky, deep section of snow just before a wind lip. My ski tips dove and before I even knew what was happening, I was upside down, my eyes looking through my legs with snow flying everywhere. I tried to jump straight back up after the first flip but the snow was moving too much. After two rolls I finally stopped, full of anger because I had felt so strong and regret because you only get one chance.
Luckily I have learnt from my past experiences. I now know that anger gets you nowhere and positivity takes you everywhere. It was just bad luck. Somewhat frustrated, I skied through the chute, keeping it simple and missing my last air. At the finish line I started to imagine what would have happened if I had avoided the snow bank, where I would have placed. I pushed it from my mind, there is no comparing, no ifs and buts, I just had to wait until next time.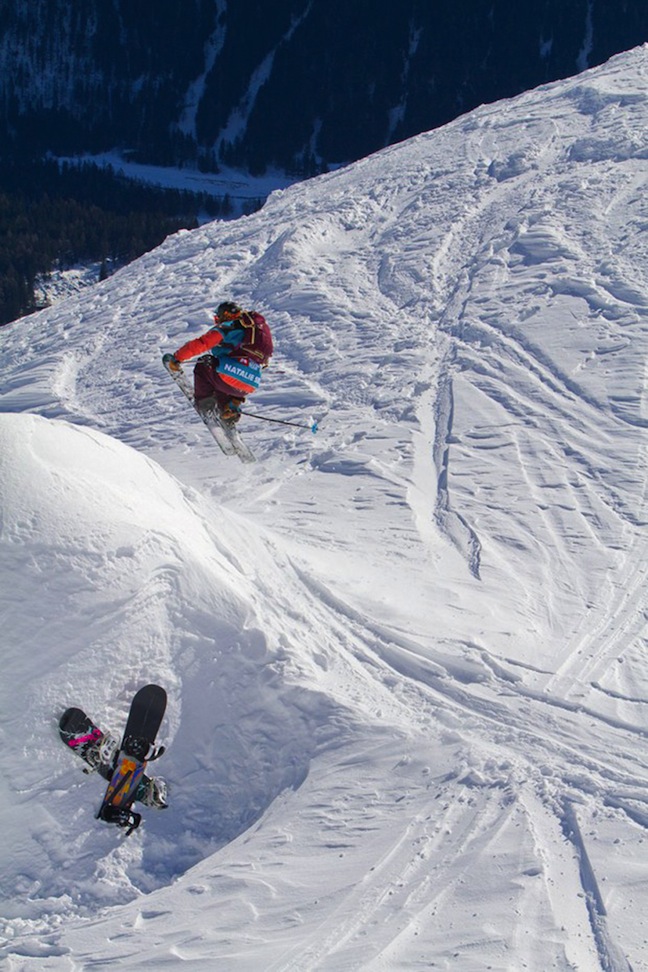 Nat makes the most of her run, post tumble, and pops off a hit Image:: Tom Humpage
The following girls skied strong, bold lines down the skiers right, taking nice open airs and making ripping GS turns through the pow and chop. They killed it and with a super fluid run Christine Hargin took out first with Nadine Wallner in second and Pia Nic Gundersen in third.
I have learnt my lesson- check for wind lips in your run out and just keep on charging. Despite the crash I felt so strong dropping in and skiing the top of my line that I know next time it won't happen again….. Oh and I'll try to avoid raclette before the competition day. It's deadly.
Now I have three days left of skiing in Chamonix before heading back to Jackson Hole for two and a half weeks of long needed rest and some powder skiing. The weather has been somewhat bothersome here so far, with high winds and warm temps but a huge system is coming through tonight, which is promising anywhere from 30 – 60 cm of snow. Pow pow pow pow!