BOOTHY'S BLOG – The Best Day Ever
July 11th, 2011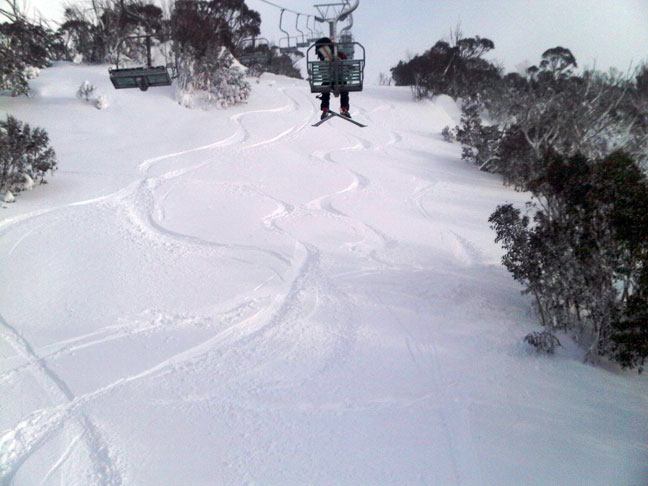 First tracks under Snowgums. Image:: Chris Booth
Blog | Chris Booth
Thursday the 7th of July was the best day I've ever skied in Australia.
I'm not kidding: I had a classic day in 2003, another one in late July 2008, and a ripper as young bloke in 2000. But I've never had a day quite as good as Thursday. It wasn't the deepest snow I've skied here ('08), nor the driest ('03) but it was by far the best. Here's why.
After three days of fierce weather laying down a heavy layer of snow across the resorts early in the week, the wind stopped, the flakes got bigger and the temperatures dropped on Wednesday afternoon. By Thursday morning we had 30cm of dry, light, skiable powder.
It was still dumping as I loaded Snowgums Chair at 8.15am that morning, it was a cold ride up. For those who were there early, the abundant fresh snow that had billowed into Bushranger provided skiers and boarders plentiful laps whilst the Kosciuszko Chair was being de-iced at the top of the hill. Bushranger is split into three sections; section one starts from Back Sallees and drops into the tree line, section two rolls a little steeper and the trees start to tighten, section three – between the Catwalk and Bunny walk – is the last, short pitch. Sections one and two were about as good as it gets here in Oz, but section three was all time. Those who have been to Japan would have recognised it, as low shrubs became bulbous, joyous powder pillows that stretched all the way to an abrupt end on the bunny walk. Pillows in Australia? Oh yes.
Kozi chair opened at about the same time as Bushranger became tracked out (which was within the hour). That's the thing in Thredbo, you're not the only one who knows where to go. If you want to get first tracks here, you have to stay ahead of the pack who stays ahead of the pack.
Usually once Kozi opens, the whole mountain opens, and that's that. But Thursday was different. After the torrential weather that came through earlier in the week, much of the upper resort wasn't ready to be opened, like the Basin and Karels T-bars, which give access to boundary runs like the Golf Course and Funnel Web. With those lifts out of action for a few hours, (those who didn't mind the traverse/hike to Funnel Web got to enjoy something that happens only very rarely: top-to-bottom freshies on Funnel Web, without moguls.( This is something I have always dreamt of doing, and to be [one of] the first people on it, making GS turns down the undulating pitches, getting face shots in the deeper bits, was a blissful first for me, and maybe a last. Funnel Web is a legendary Aussie run, and in conditions like that, easily rivals Mary's Slide at Mt Hotham as the Country's most exhilarating.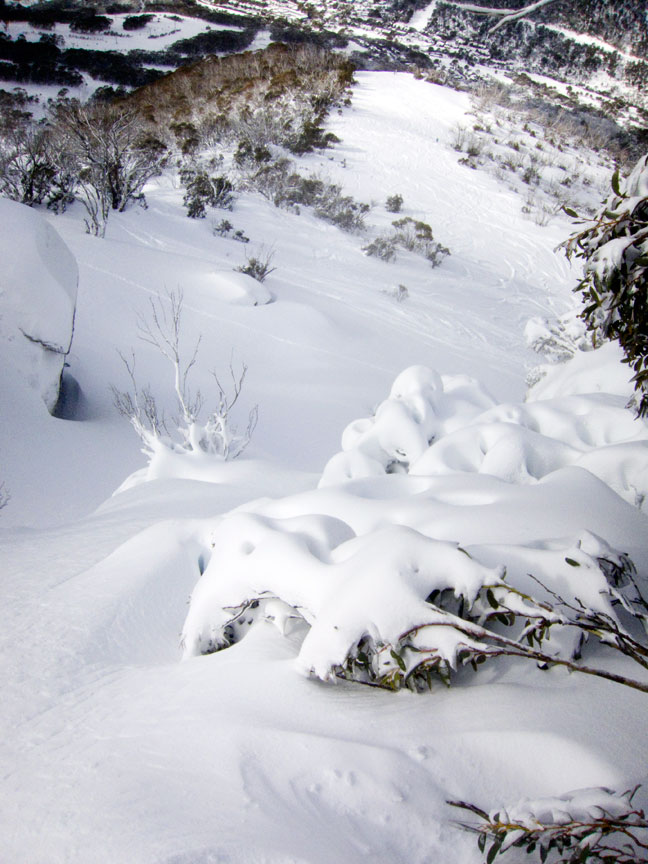 Funnel Web deserted and deep. Image:: Chris Booth
The Basin and Karels lifts soon opened, and Funnel Web was soon shared by everyone. That was fine with me, because a beautiful thing about Thredbo is that the next epic spot is never far away, and if you play it right, as I discovered, you can find yourself getting first tracks all day.
The Golf course bowl, located to the skier's right of Funnel web, is another one of those classic 'know where you're going' Thredbo spots where, if you go too far right, you'll end up in the scrub but if you go too far left, the trees will be too tight. Somewhere in the middle though, not too left, not too right, is a sweet spot. This zone opens up, rolls into some nice pitches, rocks and corridoors that, just when you think you're finished, keeps on giving you more. Eventually you find yourself on the traverse trail at the 'don't go past here point' (anyone who has will know why) that takes you back to the main trails, where you pop out back into the real world, and no one knows for the better where you have been. That's another thing about Thredbo, everybody is carrying around a stash of secrets, and nobody's telling.
Thursday morning was one of those classic powder mornings, those mornings where if you're brave enough to put on the high-vis goggles, layer up and get out there, you get the goods. The goods were certainly up for grabs, and even the most hardened non-believers could find a smile on their faces (somewhere below their furrowed eyebrows and long noses).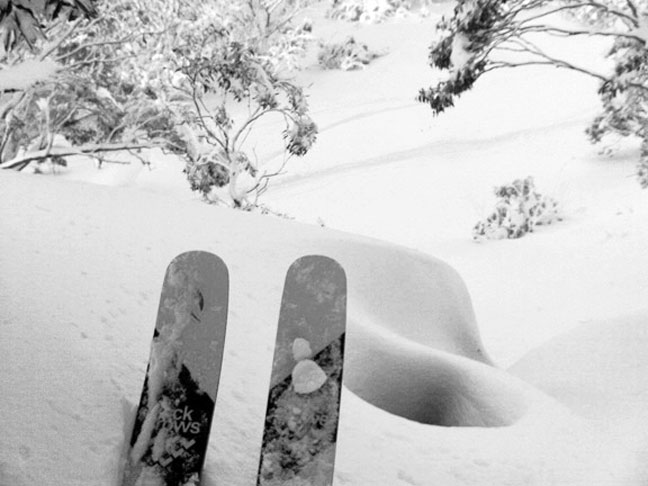 Chris ready to drop in. Image:: Chris Booth
Then the sun came out.
Thursday afternoon was a completely different day to Thursday morning. The air was clear, the sky was blue, the wind was gentle and fresh. A classic powder morning had turned into a classic powder day.
With the change in weather, a change of tack was needed. There was still plenty to be had in the Golf Course, and I could have stayed, instead I headed in the opposite direction – towards the cruiser, a ridiculous choice to most on a powder day. But like I said, here you have to stay ahead of the pack who stays ahead of the pack, and I know something they don't.
There is something called the School Holidays paradox. During the first two weeks of July, parents and families are too busy getting their kids organised for interschool races or booking private lessons to get out there and enjoy the fresh stuff themselves. So, while the resorts are teeming with keen skiers and boarders from Sydney, the best of the resort is left comparatively untouched, and no where is this more prevalent than the Cruiser Chair.
For the remainder of the afternoon I skied the boundary line between the Bowl (located directly under the chair) and Stanley's (an out-of-bounds slope on the other side) and was met with powder deeper and less tracked than earlier that morning. My day reached a crescendo at 4.10pm, about the time of last lifts on the Cruiser, when I dropped in, made three or four turns that went over head, popped over a drop and into an open tree coridoor. At the bottom I stopped. The sun was now behind the main range, illuminating some passing clouds into a dusty gold, like an ad for Hermes. I had snow caked on my face, in my hood and down my neck. My legs were buggered, my socks were wet, and I realised, that those were the best turns of the day.
What? Best pow run of the day at four in the afternoon? In Thredbo? During School Holidays?
Oh yes.
Despite skiing here all my life, Thursday was a day filled with firsts. First time skiing pillows in Australia, tick. First time skiing untracked Funnel Web, tick. First time skiing powder in an Aussie resort 'till last lifts, tick.
And that's why it was my best day ever.
Thredbo forecasts,
snow reports and
live snow cams.