Buller X Announces Contenders for Elite Competition
July 21st, 2016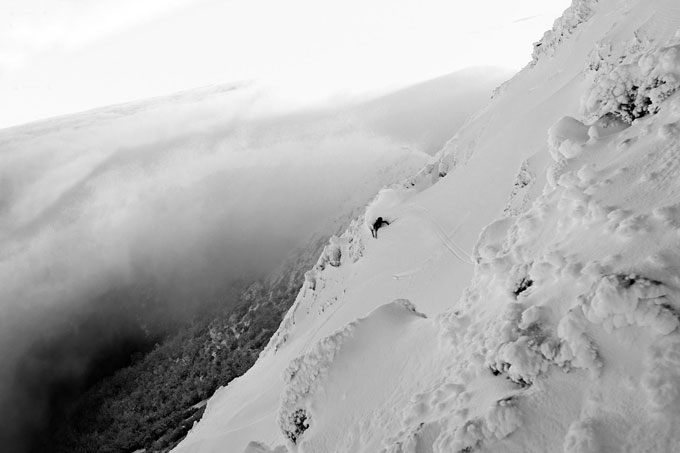 Watkin McLennan in the Buller Chutes Image:: Harro
Mountainwatch | Press Release
Ten elite Aussie skiers have been chosen as contenders in Australia's most exciting new elite ski event – Buller X.
The skiers are:
Layla Lee (Falls Creek)
Coen Bennie-Faull (Hotham)
Sam Robertson (Thredbo)
Anton Grimus (Mt Buller)
Watkin McLennan (Mt Buller)
Katya Crema (Hotham)
Nat Segal (Mt Buller)
Ryley Lucas (Mt Buller)
Harrison McInnes (Jindabyne)
Adam Kroenert (Jindabyne)
Alternates:
James Phillips
Ryan Cooke
Danny Foster
James Mort
Oscar McLennan
Dan Rogers
A buoyant crowd packed the back bar at the Ski Club of Victoria for the announcement and every skier was cheered and toasted by the crowd as their names were drawn. The confirmation of the line up followed an intense ten-day voting window that drew well over 11,000 votes from fans and supporters across the country.
"The support and passion Buller X is generating is incredible," said event founder and director Tony Harrington. "The community here at Buller is really fired up but as we've seen from the voting and the support flowing in online, so are people all over the country."
"Buller X is all about extreme skiing and most importantly it honours the seriously rich pool of skilled Aussies who love freeskiing.  The chutes at Mt Buller where we will hold this competition are as rowdy as it gets for skiers, so when we put this challenge up we were smashed with skiers keen to rise to the occasion," explains Harrington.
The winner will enjoy a first prize suited perfectly for a big mountain skier – a week of heliskiing in British Columbia with Last Frontier Heliskiing who offer 'the largest single heliski area on the planet'.
The event is run following the model used for big wave surf competitions like the Eddie Aikau competition at Waimea Bay in Hawaii.  There is a weather window for all of August and September for the event and the organisers will monitor snow conditions and weather to find a suitable time to call the event on.
"The mountain calls the day," says Harrington.  "The event zone is super steep and rocky so we need a couple more good snow storms like we had last week to get the levels of snow cover we need in there."
Once there is approximately a 1 metre snow base in the resort and a window of clear and calm conditions the event organisers will give the athletes the 'amber light' to get ready and the event will be called on.
The athlete profiles are posted at www.bullerx.com.au
For more information call Harro on 0427 427 761 or email ride@bullerx.com.au
Mount Buller forecasts,
snow reports and
live snow cams.