Burton Snowboards Announces the 12th Annual Cattleman's Rail Jam
July 4th, 2017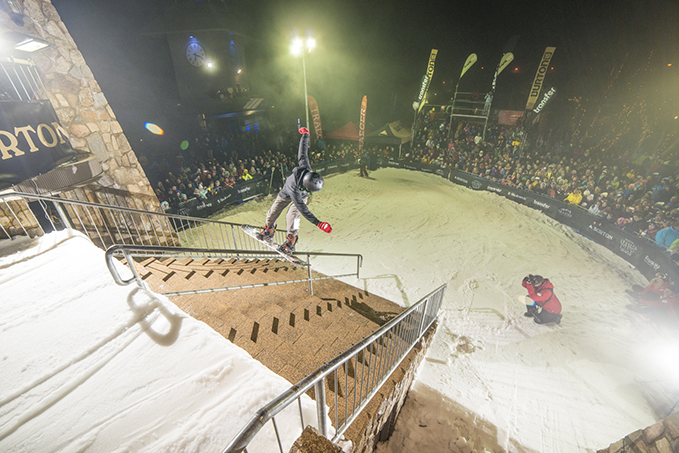 Grip the reins and get ready to kick in the spurs, 'cause Australia's most prestigious rail rodeo is about to be let out of the gate. Image:: Burton
Transfer | Press Release
Burton Snowboards is pleased to announce the return of Australia's premier rail event, the Burton Cattleman's Rail Jam, happening Saturday, July 22nd.
For the 12th consecutive year, Australia's best snowboarders will descend on Mt Buller to compete in the country's longest-running snowboarding rail event for a share of $10,000 worth of cash and prizes.
In 2017 Burton welcomes new partners, new awards and new viewing experiences to the Cattleman's event, combined with the same mind-blowing display of snowboarding talent seen for over a decade. This year's event will once again offer the country's best up-and-coming riders a chance to prove themselves on Australia's most famous snowboarding stair-set, with qualifiers taking place throughout the day on the rail itself.
From 2pm, the Mt Buller Village square will transform into a qualification battleground, with a qualifying jam session taking place on a refined Cattleman's rail set up. The top 10 qualifiers from the day's heats will then compete against previous competition winners, including four-time champion Jye Kearney and 2016 champion Sam 'Reddog' Nuemann, for a share of the $10K prize pool, as well as the Monster Energy Best Trick award.
Transfer Snowboard Magazine will be also offering the 'Show Up and Blow Up' award, a brand new accolade offering the most impressive up-and-coming rider on the night a printed feature in the magazine and a series of Transfer prizes.
2016 CRJ Recap – Watch Now
Finals kick off at 6pm with free entry, crowd giveaways, music and more.
For the first time, our friends at Corona will be offering a full VIP experience at Cattleman's Bar & Café with a live-feed of the event, live DJ and plenty of Coronas to go around. Corona are also proud to presenting the famed Burton Cattleman's After Party at an all new venue; Moosehead, Mt Buller – featuring a roaring live set by renowned Australian DJ duo Yolanda Be Cool.
Burton Cattleman's Rail Jam partners include Corona, Monster Energy, Transfer Snowboard Magazine and Mt Buller.
Keep up to date on the event at Transfer's Facebook and on Instagram: @burtonaustralianz and @transfersnow #CRJ12