Dirt Track to Powder – The Barry Way to Mt Hotham
July 31st, 2012


The impressive bowls below the Hotham Peak are officially out of bounds, but tempt many with some of the best powder turns you can grab in Australia.
Words & Photos by Russell Holt
The Barry way is a shortcut 4WD track from Jindabyne to Mt Hotham. Appealing? Hell yes, who doesn't love a shortcut, and what's more – who doesn't love to sneak a powder day in at Australia's premiere freeride/ski destination? With powder on the forecast we set out to take on the road late one night to score the promised goods.
The Barry Way is steeped in local legend, this 'secret' dirt track winds through the Southern NSW highlands, Kosziusko's National Park and into Victoria's Alpine Park, finally emerging on the East side (ocean side) of the Victorian mountains. And the reward for those who don't get lost is a short 3-hour drive instead of the usual 5-6hrs via Albury-Wodonga.
Ask any snow-loving adventurer about the Barry Way and you'll receive a descriptive spray about backward, toothless hicks full of malice. "They hang dead dogs on their fences", they'll tell you, "they're ready to devour the flesh of any wayward adventurer unlucky enough to sprout a flat tire along the way." "You'll need a chainsaw to go the Barry Way". They'll say.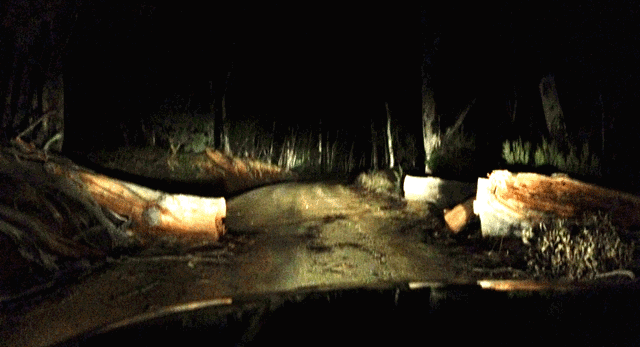 Lucky one of those people that carry chainsaws came through before us, otherwise it would have been a long drive back to Jindabyne.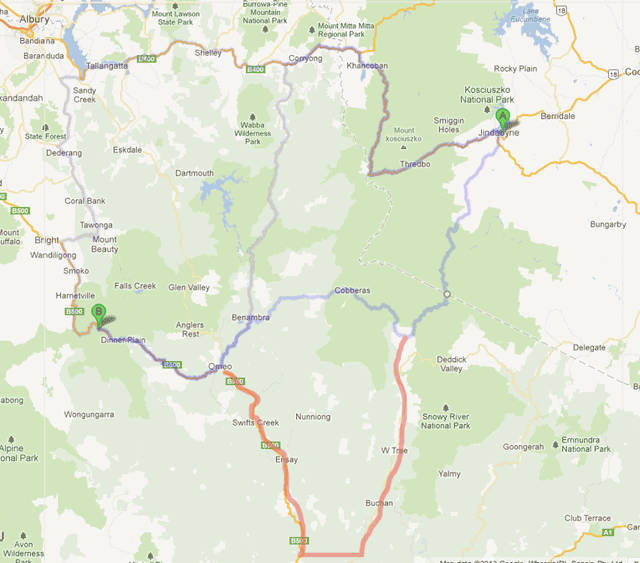 The map shows three disctinct options to drive to Hotham from the NSW resorts. (Left to Right) The long way, The medium way via Corryong & Benambra, then the fun way/Barry Way on the right. Note the red line is where we went by missing a little right turn, adding an hour and a half to the trip.
Being a medium red-blooded adventurer type from the Northern Beaches of Sydney. We dove at the opportunity to finally take on the Barry Way and what better way to do it than rolling in one city-slicker SUV at 7pm from Jindy – nice and dark. The hicks will be out with their trip wires for sure! But with the promise of powder day ahead at Mt Hotham and only a 3-hour drive it was all too easy. Or so we thought.
The Barry Way starts at a round-a-bout in Jindabyne and heads out past The Station Resort, within a few short minutes the dirt road begins and continues for another 100 km's or so. Although it's known for its dangerous blind corners, collapsing rock walls, falling trees, impassable snow and deep trenches that eat the very best Dakar 4WD driver and vehicle – we found it a surprisingly mellow drive and easy to navigate.
2 hours into the drive (at 40km/h) we made it to the Victorian border, not the fastest time and definitely behind the Paleton, but stories of those glorious-deep powder days at Mt Hotham kept us amused, motivated and focused. We cruised our way through the Barry Way, which had turned into a one-car wide, dark, silent and beautiful adventure. Thankfully for us there was no snow-storm that affected the road at its elevation, and there was also low winds, which meant a low risk of trees falling, and to top it off the weather had been relatively dry for the past few days and the track was not boggy at all. I would even go so far to say we could have driven it in a sedan!
But if you ever are silly enough to attempt driving a sedan through the Barry Way, remember to take the bloody first right-hand turn after you get through to Victoria! That road takes you to Omeo and onto Hotham. We missed that one!!! Too busy talking about the powder at Hotham we'd be blasting from the base of our boards and skiis the next morning. That little right turn towards Cobberas and Benambra – which is sign-posted – cost us about 140kms and an extra 90 minutes. With that kind of rookie error, it made the Barry Way a slower drive to Hotham than the traditional roads through Corryong. It was a rookie move, but with a car of 3 city-types in a city car that was posing as a 4WD – it was probably the best of the worst that could have happened.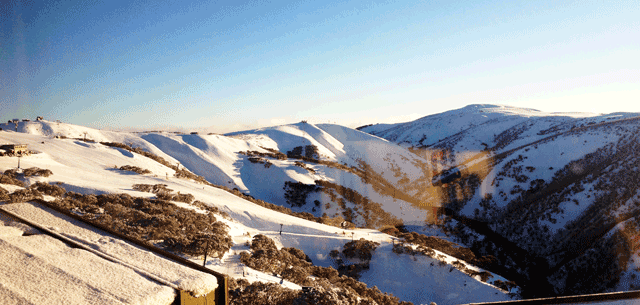 On blue-sky powder days it's hard to beat the vertical drop of Mt Hotham and the view when you wake up on top of the mountain.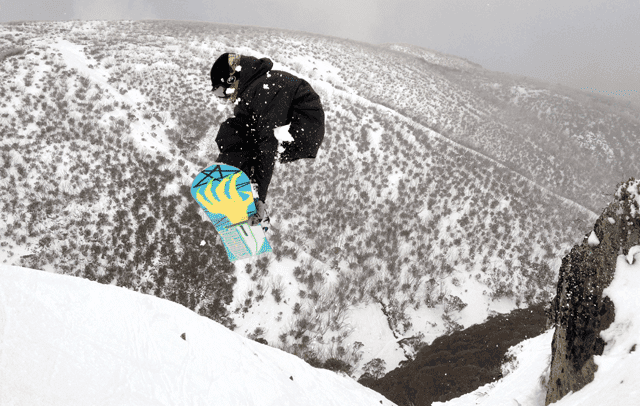 Transfer Snowboard Magazine Editor enjoying the 10cms of powder that awaited our group. Maybe not the best powder day – but it was still enough to ride the steeps and drop a few small rocks.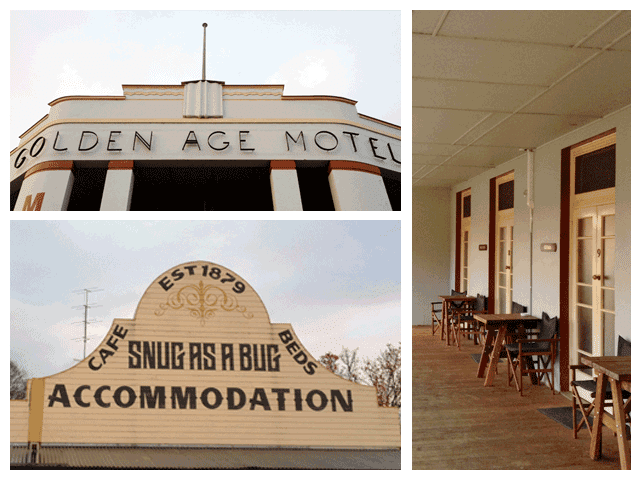 Omeo is a short 30 minute drive from Mt Hotham. We stayed in the cosy Golden Age Hotel, which is full of character and history – a great start to a day at Hotham and a cheaper alternate option to staying on the mountain.
We rolled into historic Omeo at 12am and dove straight into a perfectly cosy sleep (electric blanket pre-warmed and all) to get some energy for Hotham the next day. Only 45kms from Omeo, it's a not a bad alternate option for affordable accommodation for a Hotham weekend. The town has some great history and just drips of folklore and Australiana – you could spend days there just chatting to the friendly locals. We stayed for only $65 each with our own room and breakfast – not bad, then bolted for the hill after a brekky yarn about the ins and outs of the town's new wi-fi tower with Margie.
Mt Hotham is arguably the best mountain in Australia to ride on a powder day, with serious vertical on a constant pitch on runs like Mary's Slide, Aussie Drift and One-Tree. Snowy roads, low wind and 10-15 cms of Australian powder were waiting for us when we finally got to Hotham. Overall we considered our short-cut attempt and unsuccessful mission (due to the missed turn-off) but by the time we were ripping airs down into Gunbarrel in fresh pow and dropping some mini-cliffs in Mary's Slide all was forgotten and another epic mission to Hotham was under the belt. We'll be back next year – look out Suggan Buggan.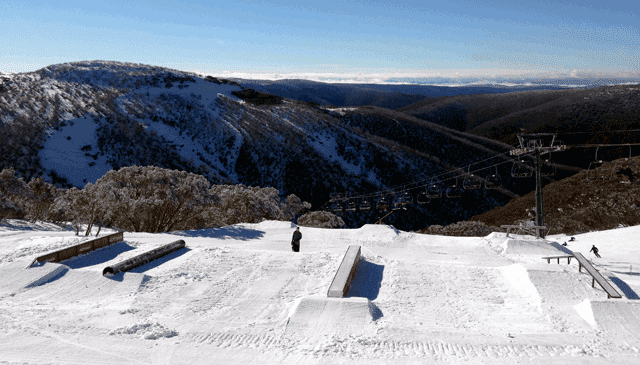 Tucked behind Hotham Central and perfectly placed for a few afternoon beers is one of Hothams terrain parks. Great for stepping up and testing or refining your freestyle skills while the other half sits in the sun with a beer or coffee using your failure as entertainment.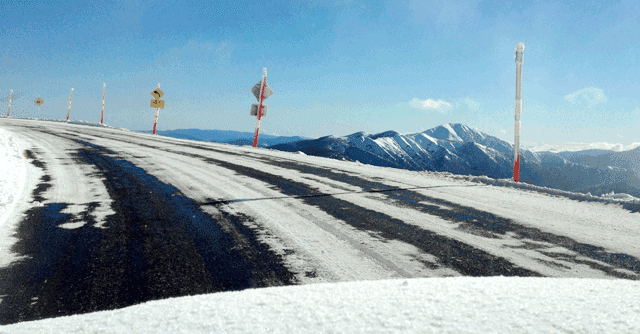 One of the best things about Hotham is its unique village that sits on top of the mountain instead of in the valley. It's quite a cool experience to step out of the lodge strap in to your sliding sticks and push off – instead of the usual – park the car – line up for the lift jazz, that goes on at most resorts. You really feel on-top of the world at Hotham. The drive is one of the most scenic in the country.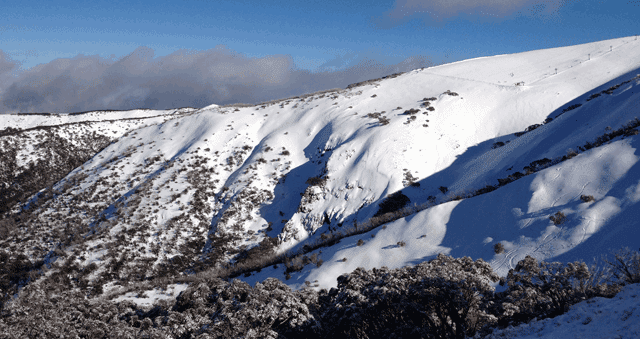 Some of the Hotham side-country has big mountain skiers and boarders frothing at the bit and is known as some of the most dangerous and extreme in the country. Don't worry its out of bounds – you won't accidently up here, but on a good powder day you can stand on the side of the carpark (where this was taken) and watch contenders huck for glory.
Hotham forecasts,
snow reports and
live snow cams.