Discovering the Ultimate South Island Short Break at High Peak Heliski – Travel
July 21st, 2016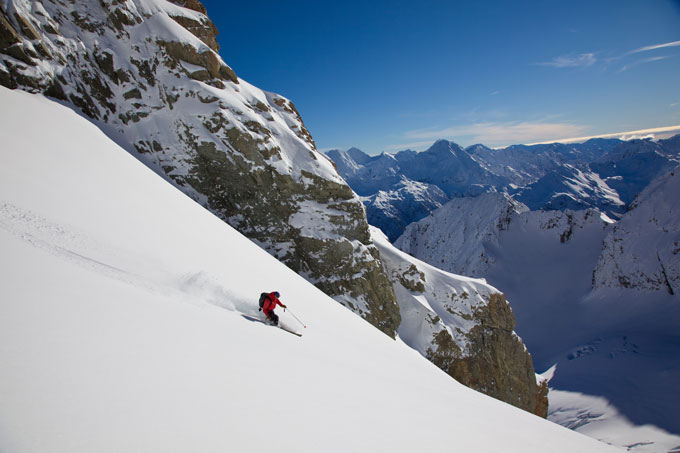 Skiing above the Reischek Glacier with Methven Heli. This could be you. Image:: Kevin Boekholt
Chillfactor x High Peak Heliski | Alex Horvath
The Canterbury Club Fields are the last frontier of New Zealand skiing. Located far from the glitz and glamour of Queenstown – known more around the world for its abundance of hotels, lively bar scene and adrenaline-fuelled adventure activities rather than its skiing – Canterbury offers a ski-travel product filled with discovery and a more authentic ski experience in the real Southern Alps. Most skiers would have heard whispers of the infamous "nutcrackers" and the steep and deep terrain of places like Temple Basin, Mt Olympus and Broken River. However despite their notoriety in Aprés bars all over the world, only those intrepid enough can claim to have skiied them. I've often wondered why this is, why does a place with so much to offer, fly relatively under-the-radar?
Simon Guild, owner-operator of High Peak Heliski has made it his mission to challenge this perception. "Most who visit Canterbury do so on a self-drive itinerary, in a rented vehicle with little knowledge of local conditions, recent snowfall patterns and even a basic idea of where to head," he explains. "What we offer at High Peak takes all the stress out of the experience, letting you enjoy time with us knowing full well that we'll deliver you the best ski product available." As a life-long Cantabrian, Simon knows the region better than most, and he spends his days sharing the best of what the area has to offer.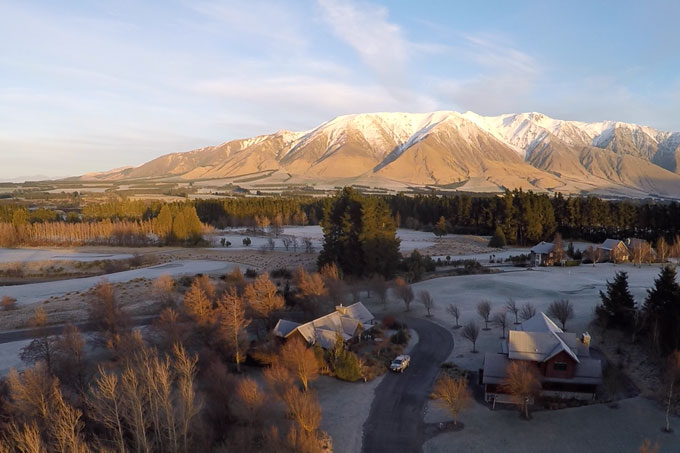 The High Peak Chalet sits literally at the foot of Mt Hutt on the Terrace Downs Golf Resort Image:: Dan Coolahan
Lying in the foothills of Mt Hutt and in sight of both the Craigieburn and Arrowsmith Mountains, High Peak sets a new benchmark for a Canterbury High Country experience. It may be a long way from the commercial ski fields in Queenstown and Wanaka, but it's exactly this that gives it such a distinct sense of authenticity. Guests at High Peak are welcomed with a luxuriously appointed boutique chalet, complete with gas-fired hot tub and distinctly Kiwi hospitality that includes home cooked meals, locally sourced produce and nothing but wide open spaces in every direction.
Simon and his crew at High Peak work closely with Methven Heliski who're widely known as the premier heli-operator in New Zealand. With a huge tenure in the mighty Arrowsmith mountains, Kevin and his team at Methven Heliski are able to find skiable snow in almost any conditions, even when the ski fields are suffering – so a poor season at the ski fields shouldn't be taken as any indication of heli ski conditions. This means that when conditions are in their prime, guests of High Peak are able to access some of the best skiing in the Southern Hemisphere.
Once guests have had their fill of high-alpine av-gas fuelled skiing with Methven Heli, Tom Dunbar, Simon's brother-in-law and ex-professional Freeride World Tour skier, is on hand to guide a few days in the Canterbury club fields. With Temple Basin, Craigieburn, Mt Olympus, Broken River and more all within a two-hour drive, there's enough skiing to keep anyone entertained for at least a week.
We all seek an authentic travel experience and Simon and his crew at High Peak will deliver it in spades. All you need to do is Arrive at Christchurch Airport and let High Peak look after the rest – it's that simple.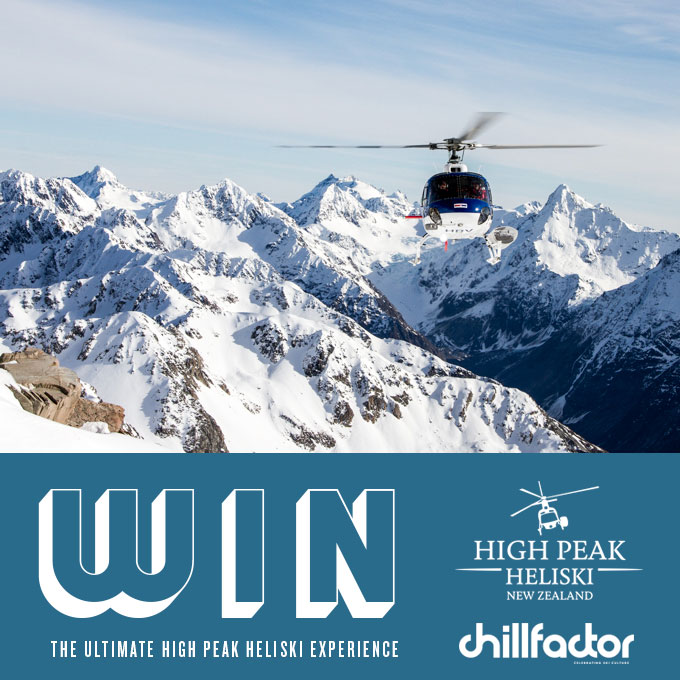 Thanks to High Peak Heliski we're giving our readers the chance to win the ultimate High Peak experience. Entries will be open from July 21, through until August 19. To enter, all you need to do is fill in the form below. The winner will be drawn at random and they will receive:
Airport transfers from Christchurch Airport.
Three nights lodging for two people
One guided Clubfields Ski Day for two
One Heliski day with Methven Heliski for two (classic five-run day / Approx 15,000 vertical feet)
Total value: $5230 NZD
The prize winner will also have the opportunity to bring along some paying friends or extend their trip. Fill the lodge with up to 8 people, and get the 4th night free for all!
CLICK HERE FOR AN INSIGHT INTO LATEST SNOW CONDITIONS AT HIGH PEAK
Competition closes August 19, 5:00pm AEST | Licence #: LTPS-16-0562
ENTRIES HAVE NOW CLOSED