EDITOR'S BLOG – Fat Skis for Everyone
November 29th, 2011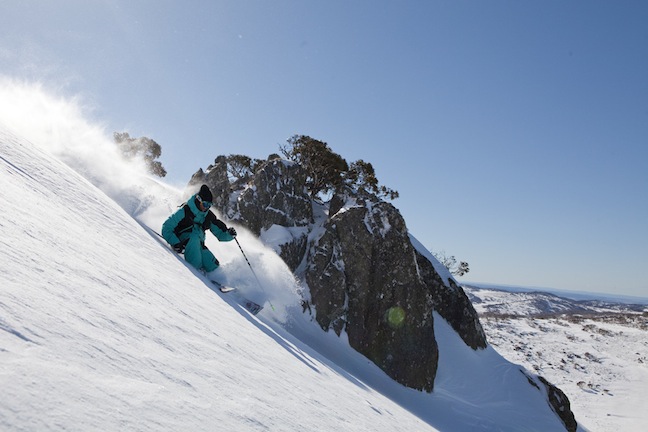 Liberty team rider Simon Blondel in the Australian powder. Image:: Dominic Kieler
Editor's Blog
Myth: Fat skis are hard, and only for expert types
Fact: With modern shaping, fat skis are more than easy to manage, some ski easier than the traditional piste-ski
Myth: If you're a serious skier you need to take several pairs of skis OS
Fact: Again, with modern shaping, fat skis are more than easy to manage on pistes. Unless you're doing activities as disparate as park skiing and backcountry touring one all round pair of fatties should be more than sufficient!
Confession: I believed both those myths. Personal experience has debunked them – as the weight of my ski bag now attests
If you're northward-bound this snow season you may be mulling over the fat-ski question. Whether you're wanting to take a first time leap into the fat ski world or you're a serious snow-wo/man wondering whether it's time to invest in some powder planks; whoever you be, there's a ski out there for you – yes, whoever you be, because fat skis are NOT just for experts and powder skis CAN give you the oomph you need on piste.
If you're worried the canoe-lookalikes are going to get away from you, know this; the same features that make them all floaty-like in deep snow make them steer-friendly on the slopes. Namely some flex forgiveness and useful rocker – the banana-shape effect, which shortens the amount of ski touching the snow.
And if you think only a pair of World Cup issue GS skis will handle speeds on piste then know that today's top powder skis have all the stability you need to transition from back to frontside.
Need to know:
Measurements
Fat skis are wider underfoot than a piste ski and will sometimes have a nifty hourglass style shape. As a general rule, the deeper the snow the wider the ski. While fat skis are a joy to ski, the really wide ones take some getting used to. Something in the mid-fat range, around the 100mm underfoot mark, is a good starting point.
Camber
Traditional camber skis touch the ground at the tip and tail, with the waist elevated – until the skier puts weight on it. Reverse camber is, yup, the reverse. Traditional camber increases carve performance; reverse camber increases floating in powder. Rocker is a combination of both and it's the most versatile of the three camber styles.
Sidecut
Sidecut is the relative difference in width between the tip/tail and the waist of the ski – with the waist being smaller. Sidecut makes turning easier and a little touch of sidecut in fatties makes them more pleasurable on the piste. Some extreme powder skis have reverse sidecut; they're fatter at the waist – great for floating but not quite as easy to manage on the groomers!
Most of us want something between 105mm and 120mm underfoot, with a bit of forgiving sidecut and some rocker – those are the skis that'll do you proud everywhere. Stiffness, torsion and the like are a matter of personal preference.


Armada JJs, Liberty Mutants and Liberty Envy Powders
few favourite picks
Crowd pleasers everyone will love:
Armada JJ – Armada's flagship fattie is one of the most versatile and popular skis around, for good reason. It handles excellently, goes everywhere and is an all round hero.
Liberty Helix & Double Helix – Destroying the myth that twin tips and powder skis are too soft for speed, the Liberty range are as stable on the groomers as they are fun in the deeps. Being designed for hard work, these skis have a zero noodle factor, if you're just finding your fat ski feet, these may be the skis you work up to.
Rossignol S7 – Another fat ski legend, the S7, like the JJ, is a lovely ride. Fun, maneuverable and everything you could want in a fat ski.
Next level:
Liberty Gemone – Similar to his younger brothers the Helix and the Double Helix, the Genome is a no nonsense powder charger with plenty of grunt.
Armada JJ AK – Like the JJ but super-sized, the Alaska version…
Atomic Bent-Chetler – A ski that shows how possible it is to be both firm and stable and light and floaty. Serious and serious fun.
Something a little out-there:
Armada ARG – Armada made the biggest, floatiest pair of planks they could imagine, then threw in a little sidecut to make them handle the traverse back to the chairlift.
K2 Pon2oons – Sporting a reverse sidecut shape that sees them taper at the tail the K2 Pon2oons are built for deep deep snow.
Liberty Mutant – To quote the Liberty website: "A huge powder specialty ski only available in a 192cm. If you need this as your everyday ski, consider yourself lucky. You know who you are." Enough said.
Ladies!
Liberty Envy Powder – Same measurements as the Liberty Helix but with some feminine refinements – at last a ski for serious girls!
Armada VJJ – Yup, same as the JJ, but again, tweaked for girl chargers. Impressed with Armada for going with the name VJJ.
Note: technology advancements mean skis with a reputation for being over-the-top extreme like the K2 Pon2oons – known as the skis that started the fat ski revolution – are now much more versatile. And the skis that'll please everyone are by no means noodles!