First Snow as NZ Resorts Build up for a Big 2010
March 26th, 2010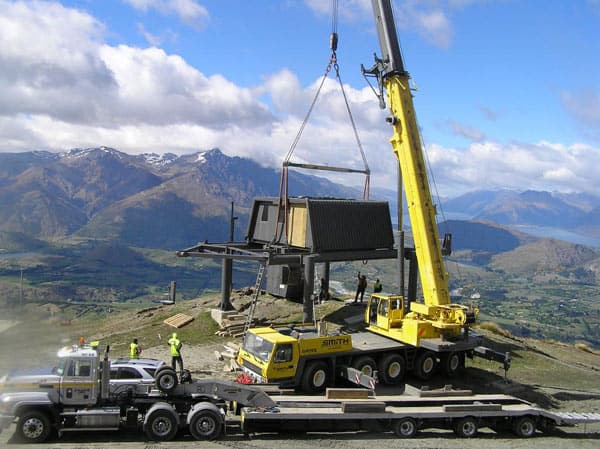 Coronet Peak's high speed chair will be ready for a big 2010. Image – Coronet Peak
Words – Aaron Cook, Mountainwatch.com Meteorologist
A cold change swept over the South Island of New Zealand over the last few days, delivering a few centimetres of snow to ski resorts around the Southern Lakes and a dusting to the Canterbury High Country.
On Thursday, The Remarkables were still sporting around three centimetres at 1750m, just above the base building. A spokesperson for Cardrona also confirmed a couple of centimetres on the upper mountain there.
"The weather is still cool today and the mountains are looking marvellous," said the Ski Area Manager of The Remarkables, Ross Lawrence, on Thursday. "It's doing all the right things towards a good winter ahead."
Bob McDavitt, Weather Ambassador for the New Zealand MetService, said the snow blew in from the Southern Ocean, but that this can happen at any time of year with the right weather pattern. "The skiffs of snow in the recent southerly changes will not last long," he said, explaining that any snow on the ground would melt quickly due to warm ground temperatures.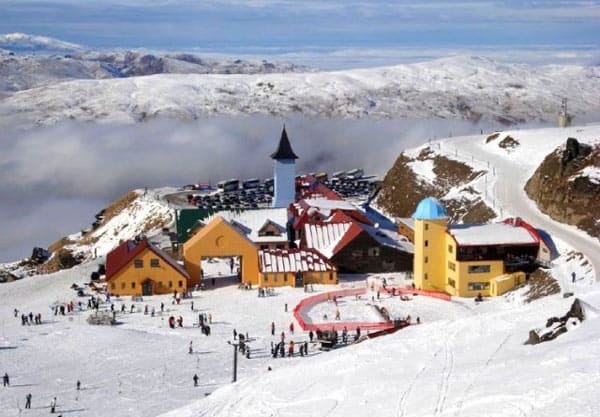 A snow covered Cardrona. Image – Cardrona
Although the snow might not stick around – the cold weather is a reminder that winter is on the way, and when the season finally opens in late June South Island resorts will be showing-off a number of new developments.
Coronet peak will have a new high-speed quad chairlift with automatic loading carpet and the base building at The Remarkables has been upgraded with new dining facilities. Meanwhile, Cardrona has shifted one of it's chairlifts to open up more terrain and Snow Park is buying a new 22 foot laser guided half-pipe cutter.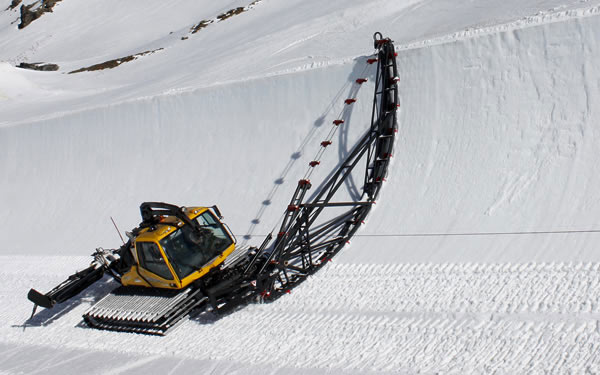 Snow Park's moving to a 22ft pipe with its new pipe cutter. Image – Snow Park
"It has always been a part of our long term plan to move to 22ft for our half-pipe," said Sam Lee, Snow Park NZ General Manager. "It's the new world standard, offers increased capacity for performance and makes riding half-pipe easier for any level of snowboarder or skier."
Further north, Mt Hutt has upgraded its beginner's area, as well as the Sky High Café, and in the North Island work is well underway towards replacing the Knoll Ridge facilities at Whakapapa on Mt Ruapehu. These were burnt down by arsonists last year but will hopefully open a few weeks after the start of the season.
So what sort of weather will the winter hold? How much snow will we see? The National Institute of Water and Atmospheric Research (NIWA), based in Auckland, has released an outlook for March through May which predicts normal or above normal rainfall but also average or above average temperatures.
But the crystal ball is still cloudy for June and beyond; it's just too early to tell.
The Remarkables forecasts,
snow reports and
live snow cams.
Snow Park forecasts,
snow reports and
live snow cams.
Cardrona forecasts,
snow reports and
live snow cams.
Coronet Peak forecasts,
snow reports and
live snow cams.
Mount Hutt forecasts,
snow reports and
live snow cams.