FREEbom Mt Buller – Putting the Free Back into Skiing – Recap
August 25th, 2017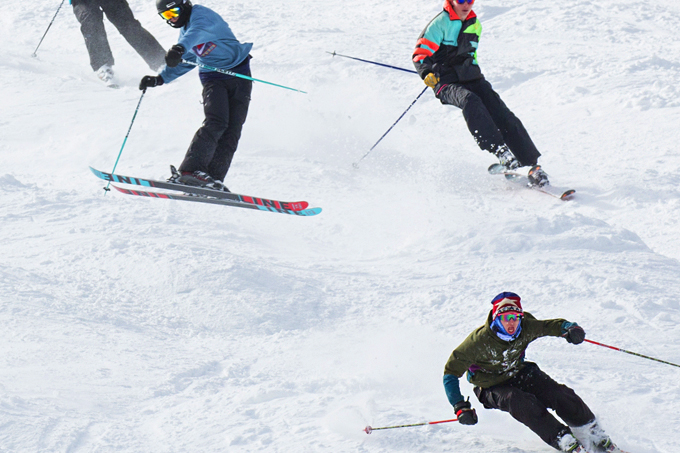 Freebom doesn't just embrace the chaos, it encourages it. This event is single handily reinstating rad in the skiing subculture here in Australia. Image:: James Thompson
Chillfactor | Reggae Elliss
This year's Freebom in Mount Buller was a big success last weekend, not surprising when the ingredients were 40cm of fresh snow, awesome natural bumps, unbridled enthusiasm and a bunch of very talented skiers.
Grassroots community ski events are few and far between these days and that's what makes Freebom such a fun event and for many, the highlight of the season. Held at Woodrun in Buller, Freebom embodies everything that is good about skiing – fun, freedom, energy, snow and the mountain.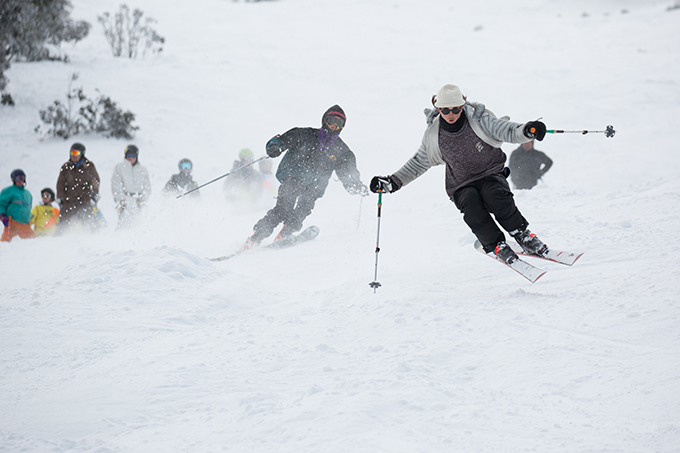 Knee-kockin', high-energy skiing down one of Buller's most whooped out runs. Image:: James Thompson
The first Freebom was held four years ago when Watkin McLennan and his crew from Team Buller Riders turned up at the bottom of Wood Run, Buller's spiritual home of mogul skiing, with a PA system, some refreshments and the idea to have fun. The event hasn't changed much since then with no set fenced-off course, no specific rules and no particular style of skiing being rewarded.
Freebom is a judged event but as the name suggests, the judging is not limited to some set criteria which focuses on hand positions, turning technique or speed. No, the Freebom judging criteria is about overall impression, who is ripping and who's having the most fun. Well, that's the criteria I was judging by and there were a lot of skiers of all ages who pushed that criteria to the limit.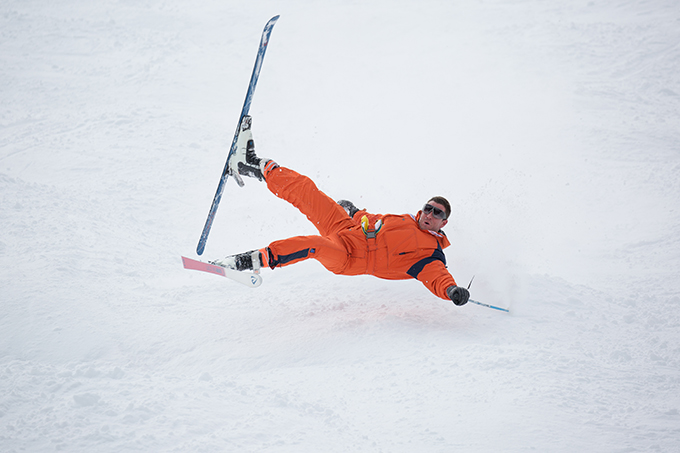 Limit breached. But with impeccable style. Image:: James Thompson
While the previous years have been touch and go with the snow cover, but always having enough, there was no such problem this year, last week's snowfalls coming in with perfect timing. The snow was soft and forgiving but as the day went on the bumps got bigger, waist-deep for some, shoulder-high for the "Pygmy Possums" (Under 12s).
That didn't stop the performances and the skiing was a mix of traditional mogul skiing, high performance progression and some full on fast skiing that may have been more suited to a groomed corduroy run, not a mogul field. Christian Sirianni's massively high Cossacks, Johnny Lapser's back flips, Jock Gunn's switch skiing on teles and Mitch Reeves high speed GS turns through the bumps are just a few of the things that stood out.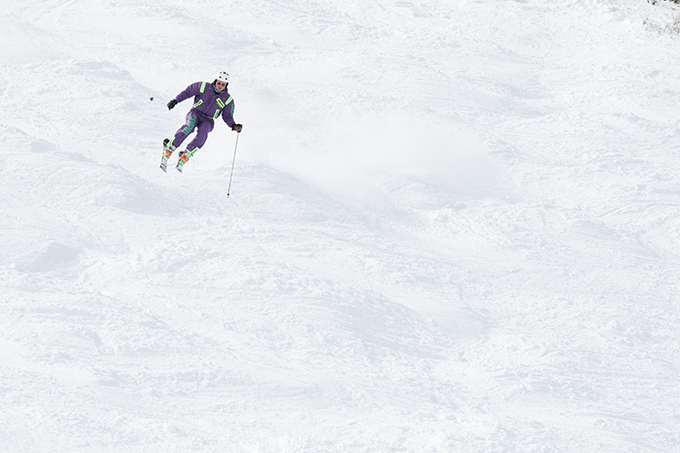 Think fast or finish last … Image:: James Thompson
"This is what is used to be like," said TBR legend Chris Schwarz, referring to the heady days of the early '90s.
In the end we saw the return of the prodigal son with Buller legend Christian Sirianni taking out the prestigious Spiritual Leader award, winning a pair of Dalbello boots and a custom boot fitting from the Boot Lab.
Freebom brings the Buller community out in force and it's a day that Buller's skiing soul shines through, a bunch of like-mined people celebrating skiing, its culture and, of course, their mountain.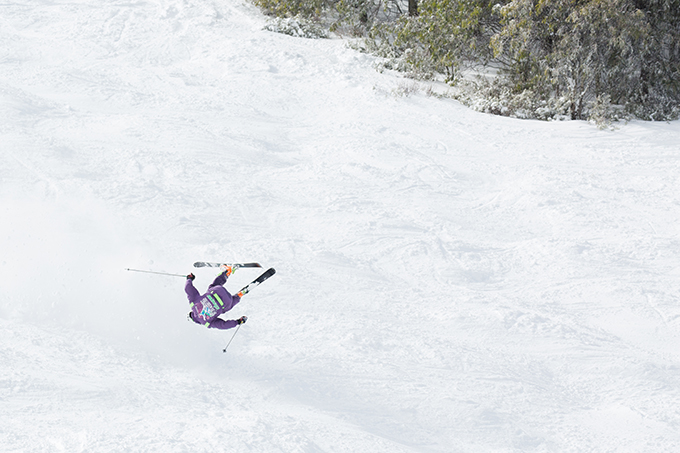 … you could do this too. Image:: James Thompson
Andrew Pattison, TBR program manager, summed it up nicely: "It was a fitting celebration of all that is great about Mt Buller".
I think he's right and Freebom is the kind of event every mountain in Australia should have.
Thanks: A big thankyou to the sponsors Oyuki, Dalbello, Rip Curl Mount Buller, the Photoshop, the Boot Lab and Mount Buller resort.

Christian Sirianni is the best, chuck out the rest. Not really, 'cause at Freebom – everyone goes home a winner. Image:: James Thompson
RESULTS
FREEBOM AWARD Spiritual Leader Award: Christian Sirianni
Kirstie Marshall Award for Best Female: Lisa McComb
Nick Cleaver Award for Best Male: Max Bernard
Pigmy Possum Best under 12 girl: Lucy Butler
Pigmy Possum Best under 12 boy: Banjo Burrel
Future Focussed Best under 18 female: Mia Kollveris
Future Focussed Best under 18 male: Ben Ashkanasy
Mrs Energetic Best over 40 female: Genevieve Kain
Mr Energetic Best over 40 male: Josh Laney
Best family performance: Cushan kain
Winkipop award for Best air: Johnny Lipzker
Client Liaison award for Best dressed: Alice Butler and Abbey Adams
Best crash: Paddy Calvert-Jones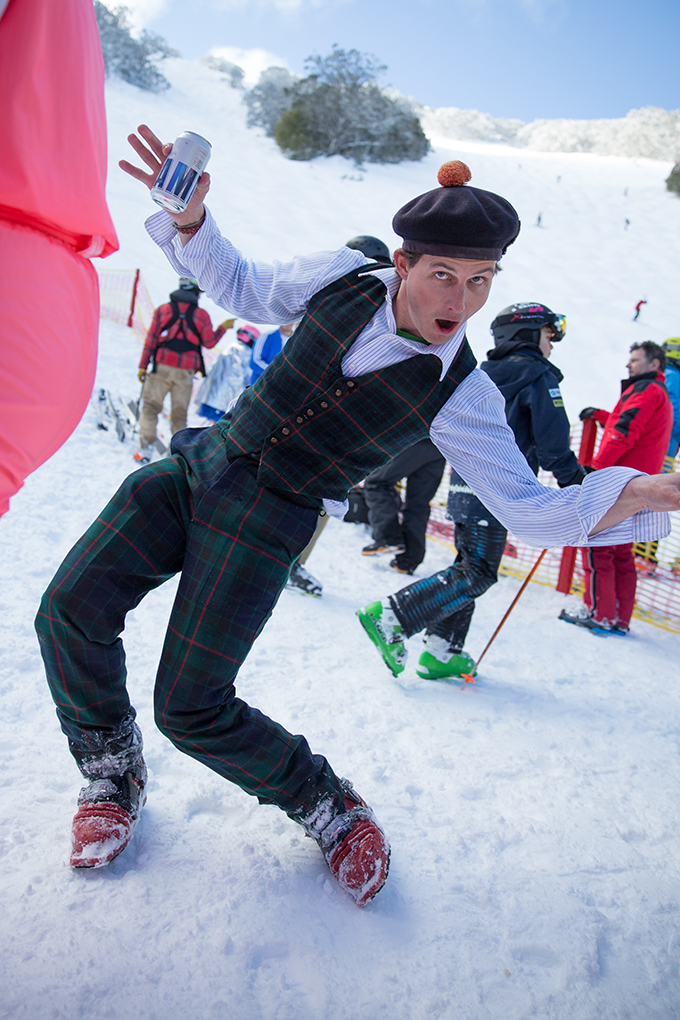 With the knee knockin' done, it was time to flex. Image:: James Thompson
Mount Buller forecasts,
snow reports and
live snow cams.