In 2016 the Chillfactor Freebom Returns
May 31st, 2016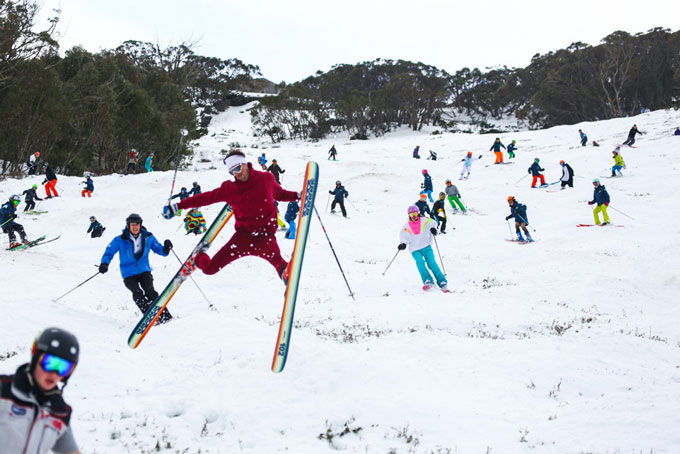 Mountainwatch | Reggae Elliss
The Chillfactor FreeBOM is for every skier. It is your chance to get a cheer from the lift, a high-five at the bottom of the run and a shout-out from an MC in a one-piece suit. It's not about how well you ski it's about how well you want to ski. This is theatre, this is action, this is the way skiing was meant to be before espresso coffee made it just another Saturday.
The competition is much like a big mountain event but instead of being held on the side of a steep rocky peak the event is located on Mt Buller's infamous Wood Run – birthplace of Aussie bump skiing and an achievable challenge for intermediate skiers and a blast for experts.
Please enable Javascript to watch this video
Skiers will be judged on their skiing fluidity, aggression, line choice and control. The format is relaxed and the judges are as much a part of the entertainment as they are looking at the skiing. Prizes will be awarded to all ages and genders based on skiing, dressing, airing, falling and FreeBOMing.
Prize categories include The Wise +40 y.o, The Young -16 y.o, Best Dressed, Best Fall, Best Male Skier – "Nick Cleaver" Award and Best Female – "Kristie Marshall" Award with awesome prizes from our sponsors The North Face, Oyuki, K2 skis, Mt. Buller and more!
So start growing those sideburns and stop shaving those armpits. It's time for everyone to get raw and express the true animal spirit of the hotdoggin' skier within.
When: Saturday 20th August 2016
Sign-on: 8:30am – 10am, Village Square
FreeBOM Event: 12pm – 3:30pm, Wood Run
Where: Mt Buller's Wood Run (Subject to change pending snow conditions)
Who: Intermediate skiers to Olympians of all disciplines. We invite you all to test your skills on this level playing field of slush, bumps and smiles.
Tickets: $40 + booking fee