JAPAN SNOW WRAP – Relentless Pow Continues
December 18th, 2012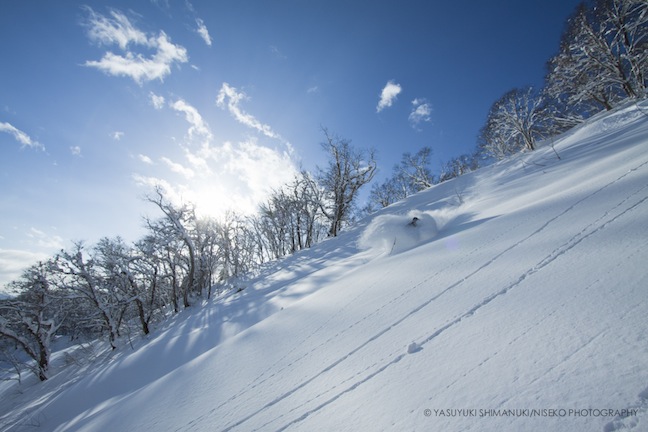 A rare bluebird day in Niseko last Wednesday enabled the locals to get out and enjoy all the new snow, it was quite deep… Image:: Niseko Photography
Japan Snow Wrap
The land of the 'Long Deep Snow Fall' more than deserves its on snow wrap… With a plethora of resorts large and small all over Japan this wrap could grow very long very quickly so here are a selection of the better known resorts, and their conditions are indicative of what can be found everywhere.
The third week of December is upon us and with only 6 days until Christmas it looks like it will be a very snowy holiday period for Japan. Honshu did quite well from the storm this time last week and racked up some impressive snow totals. The mild change came through as expected although luckily none of that rain did eventuate, instead Hakuba saw a few days running of blue sky and cool temperatures.
Hokkaido has of course been enjoying the incredibly consistent snowfall it is known for, When asked about conditions Rod White of SkiJapan.com said "The snow quality is absolutely superb, The groomed is silky quick and the trees / gullies are sheer magic. Quintessential Niseko powder!"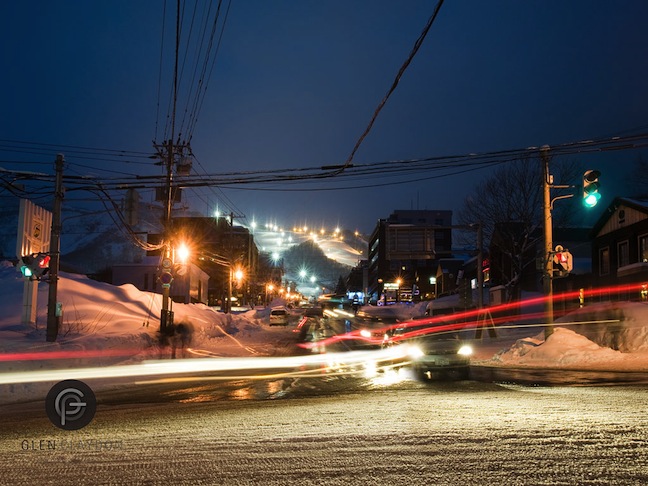 Niseko Hirafu under lights Image:: 360Niseko
Here is a synthesis of conditions across the majors…
Hokkaido
Niseko
Recent snow: The storm in the area has delivered 15-20 cm of fresh powder.
Coming snow: Some steady snowfalls are expected over the next 7 days. 40 cm over the next 3-Days with 80-90 cm across the next 7-Days.
Conditions generally: I am running out of superlatives…
Furano
Status: Open
Recent snow: 10 cm of new snow overnight, plenty of snow over the last 5 days with the consistent falls in the area.
Coming snow: Continual top ups this week as the cold stream flies in from the NW. 10-15 cm per day over the next 3-Days.
Conditions generally: Epic, off piste areas are now filled in so get out there and enjoy!
Rusutsu
Status: Open
Recent snow: Rusutsu saw about 20 cm of new snow across the last 24 hours. This was in addition to the falls of last week, plenty of fresh around.
Coming snow: Cold temps and consistent snow through this week as the freezer door remains open!
Conditions generally: The resort is looking more like January already.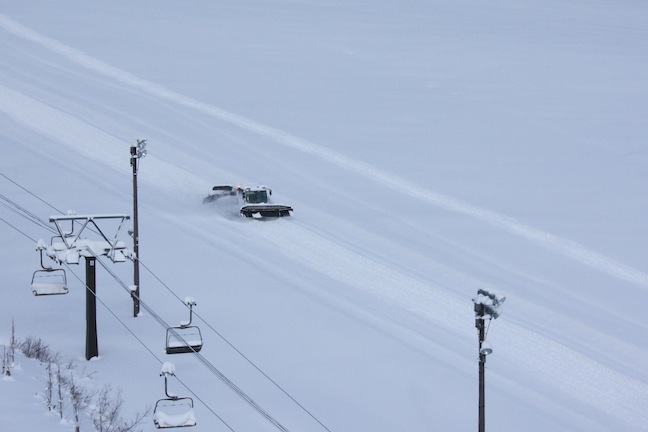 The Japanese skiers love for corduroy is one of the big drawcards for international riders, sometimes the fresh left by the groomers remains untouched for days Image:: Hakuba Cortina
Honshu
Status: Open
Recent snow: A fairly quiet week in terms of snowfall, blue skies and cold temperatures made for some great riding conditions while the snow remained quality.
Coming snow: Nothing significant this week in hakuba, perhaps a steady 5-10 cms each day which will make for some good cumulative totals by the end of the week.
Conditions generally: Amazing, caution needed in the backcountry after things warmed up a little last week.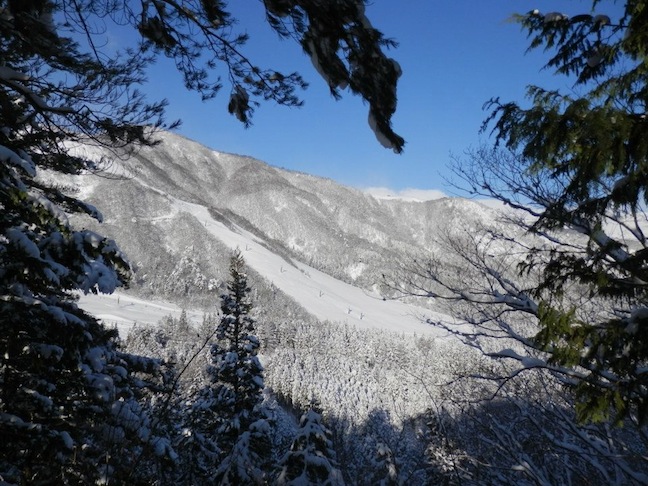 Iimori, the lower part of hakuba Goryu, one of the three resort areas that make up hakuba 47 & Goryu Image:: Bears Den Mountain Lodge
Shiga Kogen
Status: Part-Open
Recent snow: A small dusting of new snow overnight after a fairly clear week.
Coming snow: Possibly some snow coming on Sunday, mild temps between now and then
Conditions generally: Early season with very little open. Resorts are working hard to change this.
Nozawa
Status: Open
Recent snow: Nothing significant over the last period to report.
Coming snow: After a disappointingly clear week last week, Nozawa once again looks quiet until Sunday with some possibly significant falls ahead.
Conditions generally: Quite good in the upper mountain. More snow needed lower down.
Zao
Status: Open (just)
Recent snow: None, a little rain fell over the weekend leading to some sketchy snow conditions.
Coming snow: Some snow coming this week, not too much though.
Conditions generally: Still struggling a little, significant snowfall required…
Hakuba forecasts,
snow reports and
live snow cams.
Niseko forecasts,
snow reports and
live snow cams.