Lifehacking The Weekend Warrior Roadtrip – The QT Stopover
August 2nd, 2016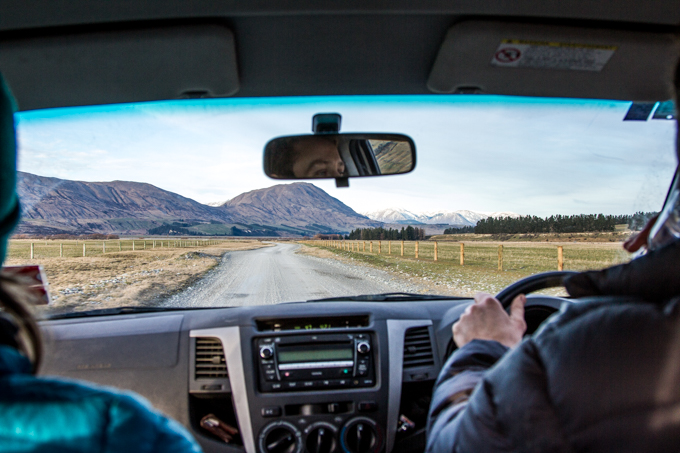 The pull of the mountains and the allure of the open road – every Weekend Warrior's dream Image:: Horvath
Mountainwatch x Thredbo | Alex Horvath
My friend Chris Booth once summed up the weekly affliction of the weekend warrior perfectly: "It's that giddy Friday feeling knowing you're about to get out of the city and embark on your adventure to the mountains. Crap playlists on repeat. Maccas drive thru. Shredding the mountain from first to last lifts, because each run is precious, and each run is epic. Coming home in the car in your damp thermals and smelly socks and not even caring, because you just lived a little. The weekend road trip is the essence of Australian skiing."
The weekend road trip really is the essence of Australian skiing. But why should we have to suffer through painful long drives and fast food? NSW readers who live anywhere north of Wollongong would sympathise with the five to six hour drive that can quickly turn into seven to eight by attempting to escape the Sydney CBD anytime after 3pm on a Friday afternoon.
Thankfully, the QT Hotel – a hotel chain owned by the same group as Thredbo – have the perfect answer. Thanks to their new Snow Trip Stopover package, you can now secure a room for two at the QT Canberra, including parking and an early morning breakfast pack for $189 per night.
Last weekend, my partner and I decided we'd "road test" the package. At 5pm sharp we had the car loaded in the office carpark and departed Sydney's Northern Beaches bound for QT Canberra. Thanks to some typical peak-hour carnage on the M5 southbound, it wasn't long until we hit traffic. But for the most part, we escaped the city lights relatively free from major delays. Fast forward three and a half hours later and we were pulling into the hotel's carpark and walking straight into the Capitol Bar and Grill to our dinner reservation while our bags were sent up to the room.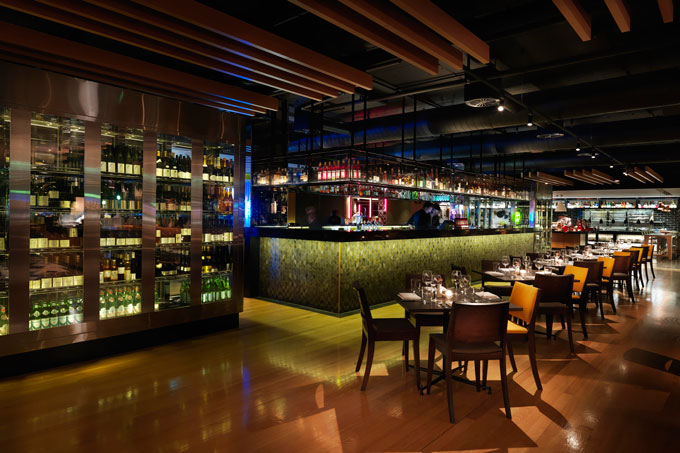 The Captiol Grill offers a premium dining experience Image:: Supplied
Far more than your standard hotel-lobby fare, the Capitol Bar and Grill is widely recognised as one of Canberra's leading steak restaurants and sits alongside a well-stocked bar and impressive wine cellar. With a chic yet refined look and feel, our dining experience was lot more distinguished than the options on the Hume highway. Presided over by Chef Robert Marchetti, the menu is made up of italian classics and an impressive selection of prime cut meats. If you have the time and stamina for an after dinner drink, make sure you check out Lucky's Speakeasy, a prohibition-era bar with skilled bar staff and an impressive selection of cocktails.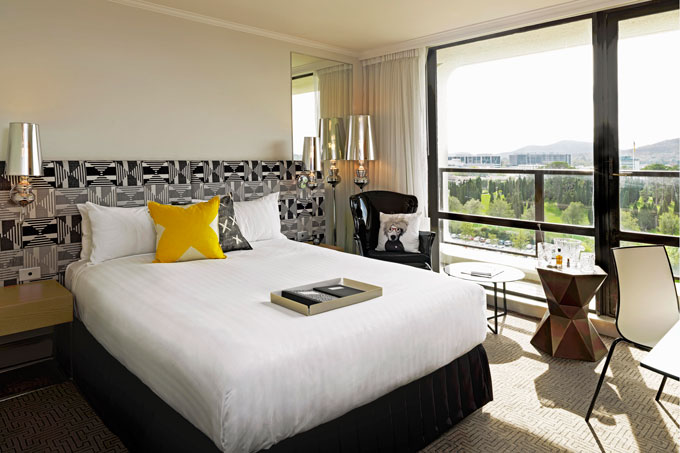 The rooms were comfortable and well-appointed. Image:: Supplied
Once in our room, we were able to comfortably unwind into a restful night's sleep. The following morning, we awoke to the buzz of a 6:00am wake-up call, checked out as quickly as we checked in and picked up our breakfast packs at reception before hitting the road bound for Thredbo. After a smooth run up the mountain we were uploading in Thredbo by 8:45am, caffeinated, rested and stress free.
THE VERDICT:
Overall we found the Canberra stopover to be a much more manageable drive, and we didn't have to sacrifice any skiing to achieve it. The hotel is comfortable, affordable and you don't even have to leave your room to enjoy a dining experience as good as any in-resort.
We stayed at QT Canberra as a guest of the hotel. Head here to book your Snow Trip Stopover now.
Thredbo forecasts,
snow reports and
live snow cams.