Nz Weekly Weather Blog – Dry in July
July 26th, 2012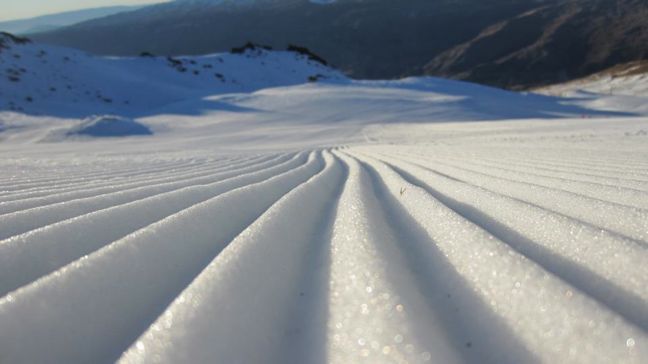 Fresh corduroy at Cardrona Image::Courtesy of Cardrona
Snow Journal | Matt White
Kia Ora everyone!
Its been another week of warm sunny weather.. hard to remember what winter is supposed to be like but I am still clinging onto hope that it will be upon us again soon. At the moment though it has felt as though we have skipped winter and gone straight to spring… but a storm is brewing.. and at the moment its looking like we will see new snow in the week to come!!
Heres how the weather is shaping up for this week:
The sunny spell looks like it will bow out for a bit whilst a storm rolls in from the North and will hopefully provide our mountains with a much deserved top up.
Turoa, Whakapapa, Tukino, Manganui: Fine and frosty through till Sunday where NE winds will bring in snow to 1500m, returning to sunny weather for Tuesday/Wednesday.
North Cantebury
Rainbow: Sunny/Frosty leading up to the weekend, cloud moving in Saturday via a N wind that should bring snow to 1200m until Tuesday from where the precipitation will continue but the freezing level may rise..
Hamner Springs, Mt Lyford: A foggy start to the weekend with snow showers developing on Sunday and continuing through to Wednesday
Cantebury
Temple Basin, Broken River, Cheeseman, Porters, Cragieburn, Mt Hutt, Mt Olympus: Foggy with light N winds, increasing in strength on Saturday, bringing snow showers for Sunday/Monday and possibly Tuesday if it stays cold enough…
South Cantebury
Fox Peak, Mt Dobson, Roundhill, Ohau: Foggy and frosty for Friday/Saturday with N winds bringing in rain/snow showers on Sunday/Monday winds changing from N-SE by Tuesday.
Southern Lakes
Treble Cone, Cardrona, Snowfarm, Snowpark, Coronet Peak, Remarkables, Queenstown snowcats: A foggy start to the morning on Friday with snow showers moving in Saturday afternoon and continuing through to Tuesday (could be patchy snowfall) becoming fine again for Wednesday.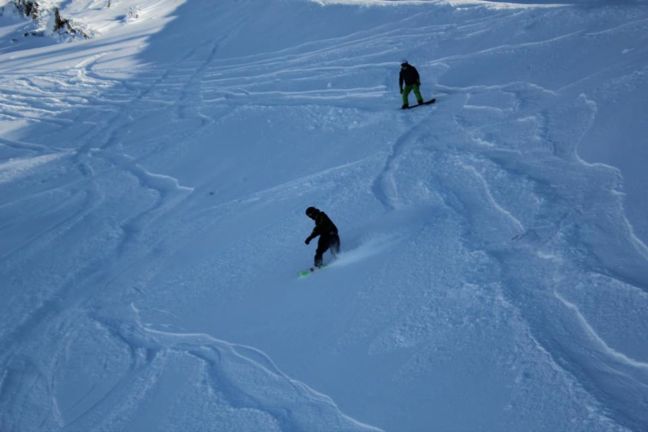 Little bit of fresh snow at Mt Hutt Image::Courtesy of Mt Hutt
Heres how the resorts are looking snow-wise (cm)
Whakapapa 50
Turoa 71
Tukino On Hold
Manganui On Hold
Rainbow 32
Hamner Springs 52
Mt Lyford 70
Mt Hutt 47
Porters 50
Mt Cheeseman 65
Mt Olympus 50
Cragieburn 50
Temple Basin On Hold
Broken River 50
Fox Peak On Hold
Mt Dobson On Hold
Roundhill 30
Ohau 60
Treble Cone 55
Cardrona 52
Snow Park 35
Snow Farm 20
Coronet Peak 45
Remarkables 45
Queenstown Snowcats On Hold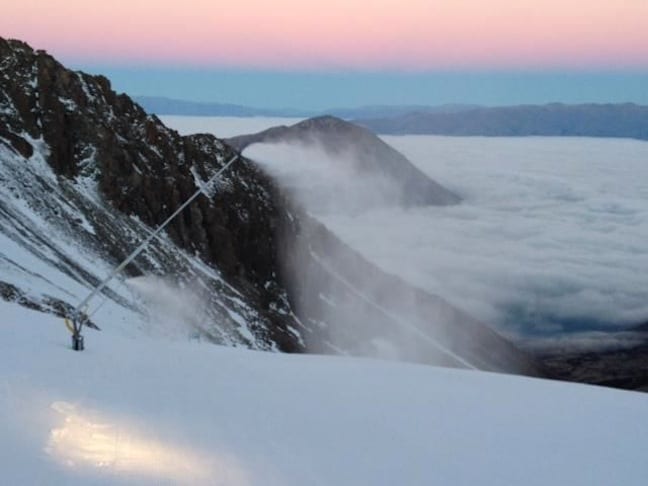 Snow-making wand in action at Ohau Image::Courtesy of Ohau
Local Knowledge
Whenever there is a dry season like this one has been so far, you can be guaranteed that SnowPark or Coronet Peak to have the best snow as their snow-making systems have the capability of producing massive amounts of snow as long as the temperature is cold enough. They both also do night skiing/boarding. Until the snow does come they would be my pics for the best snow.
This weekend is looking pretty packed on the event front too. The NZ snowboarder banked slalom at Treble Cone kicks off on Friday. Snowboarders of all ages will be looking to put their name to the fastest time down the course. On Saturday at Snowpark is the Electric 1/4 pipe jam where skiiers and snowboarders will push for the highest air and best trick.
Thats it from me for another week, hopefully we get some powder out of this storm!! pray for snow
The Remarkables forecasts,
snow reports and
live snow cams.
Treble Cone forecasts,
snow reports and
live snow cams.
Snow Park forecasts,
snow reports and
live snow cams.
Cardrona forecasts,
snow reports and
live snow cams.
Turoa forecasts,
snow reports and
live snow cams.
Coronet Peak forecasts,
snow reports and
live snow cams.
Whakapapa forecasts,
snow reports and
live snow cams.
Mount Hutt forecasts,
snow reports and
live snow cams.