NZ WEEKLY WEATHER BLOG – So Much Snow And So Little Time
September 21st, 2012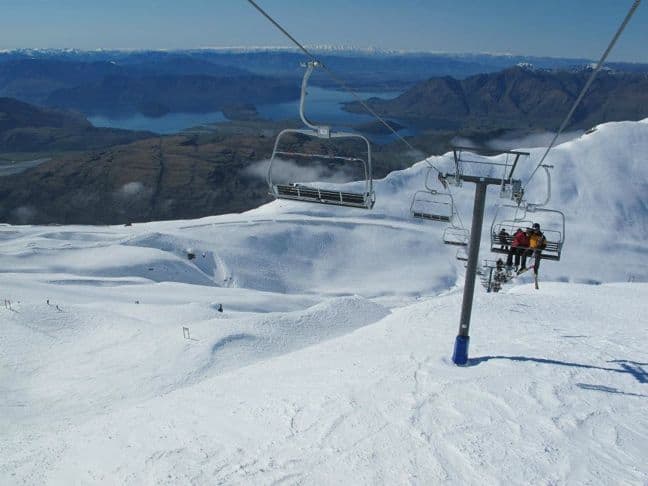 Now thats a view you cant get tired of! Image:: Treble Cone
Snow Journal | Matt White
Kia Ora Everyone
Its been a lovely warm week this week, a bit of fresh snow on the weekend but I think its safe to say that the cold and stormy weather is behind us now. It only just dawned on me last night that next weekend is officially the end of the season, that came around really fast, and looking at the mountains you wouldn't believe it as it there is so much snow up there we could squeeze another month into the season for sure. Looks like my splitboard will be getting a lot of use in the weeks ahead!!
Looking ahead at the weather for this week:
Its looking like a warm sunny week with a few showers forecast later in the week, plenty of sunscreen and spring wax should see you right!
North Island
Whakapapa/Turoa/Tukino – Looking like a beautiful sunny weekend ahead with light winds, this will carry through into Monday and even Tuesday where NW winds may pick up in strength late afternoon. Wednesday/Thursday may bring some rain patches but otherwise fine with light winds.
South Island
Rainbow, Mt Lyford– Saturday will be fine with light winds and this shall continue right through to to Monday. Tuesday will be somewhat cloudy with the occasional shower and N winds that will turn NW on Wednesday and bring more showers, this should clear up for Thursday.
Temple Basin, Broken River, Cragieburn, Cheeseman, Mt Hutt, Porter Heights, Mt Olympus– Saturday will bring fine weather with little or no wind, and this will carry on through to Monday evening. Cloud developing overnight with rain showers forecast for Tuesday with N-NW winds, forecast to clear for Thursday and remain clear and sunny.
Fox Peak, Mt Dobson Round Hill, Ohau– Another clear calm and sunny day in the mountains for Saturday and forecast to continue right through until early Tuesday morning where clouds and a few showers will creep in and continue in patches through until Thursday, where things should return to clear and calm.
Treble Cone, Cardrona, Snow Park/Snow Farm, Remarkables, Coronet Peak– Another stunner of a weekend ahead with clear sunny skies and light N winds for both Saturday and Sunday, Monday will see a few high clouds creeping in and N winds getting stronger. Tuesday may see some patches of rain and this may continue for Wednesday as well, Thursday is looking set to clear up and become fine once again!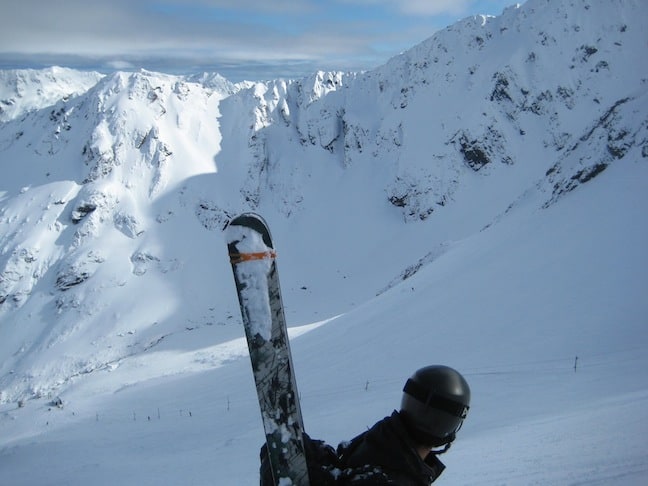 Some great hiking to be had still at Temple Basin! Image: Temple Basin
Here's how the resorts are shaping up snow-wise
Snow Bases across the country (cm)
Whakapapa 207
Turoa 228
Tukino 340
Manganui CLOSED FOR SEASON
Rainbow 80
Hamner Springs CLOSED FOR SEASON
Mt Lyford 110
Mt Hutt 215
Porters 110
Mt Cheeseman 100
Mt Olympus 145
Cragieburn 120
Temple Basin 145
Broken River 130
Fox Peak 52
Mt Dobson 180
Roundhill CLOSED FOR SEASON
Ohau 142
Treble Cone 185
Cardrona 95
Snow Park 40
Snow Farm 40
Coronet Peak 67
Remarkables 80
Queenstown Snowcats CLOSED FOR SEASON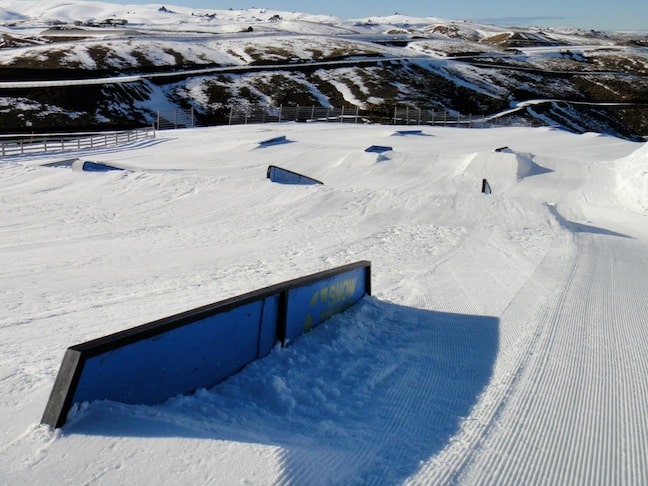 A fresh rebuild at SnowPark! Image:: Snowparknz
Local Knowledge
Chuck the portable barbie in the back of the car, slap on some sunscreen (maybe some wax too) and head up at a leisurely hour to your favorite mountain! If your in Queenstown this Saturday, head up to the Remarkables for the Burton Stash Gathering, followed by the premier of Burtons new movie "13". On Sunday the annual Base Triple Comp is on and consists of 3 events, Banked slalom, Expression session and Norwegian downhill, it is open to both ski and snowboarding disciplines. If competing (or spectating) isn't for you then maybe a trip to somewhere you haven't been before is in order, gems like the Canterbury club fields are a good start with a friendly laid back atmosphere and epic grassroots skiing to be had. Wherever you decide to go, make it count as the days are running out fast, its going to be hard to see the season end but at least we ended up having a good one by most accounts! See you next week!
The Remarkables forecasts,
snow reports and
live snow cams.
Treble Cone forecasts,
snow reports and
live snow cams.
Snow Park forecasts,
snow reports and
live snow cams.
Cardrona forecasts,
snow reports and
live snow cams.
Turoa forecasts,
snow reports and
live snow cams.
Coronet Peak forecasts,
snow reports and
live snow cams.
Whakapapa forecasts,
snow reports and
live snow cams.
Mount Hutt forecasts,
snow reports and
live snow cams.