NZ WEEKLY WEATHER BLOG – Spring Pow
September 13th, 2012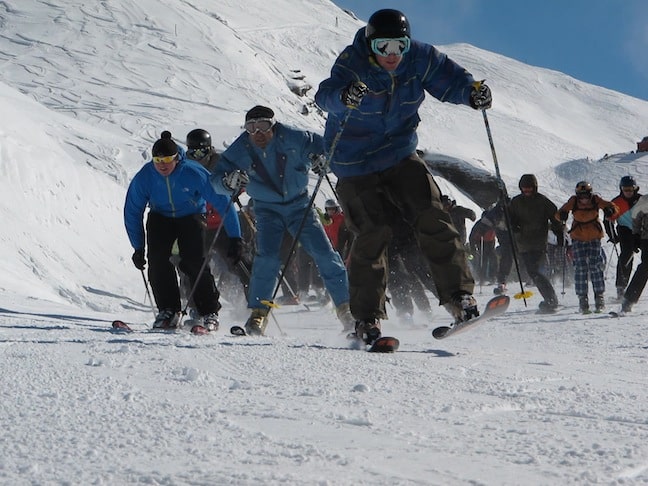 Chinese downhill for 60cm in the Treble Cone saddle Image: Treble Cone
Snow Journal | Matt White
Kia Ora Everyone
Wow what a week it has been… I have never seen so much snow come this late in the season, after many days of storming over the weekend the skies parted on Sunday and it turned into the best day of the season so far.. hands down! And the freshness has continued with another snow storm coming in Sunday night through to Wednesday where yet again a bluebird powder day was upon us. I had the privilege of 10 runs with Southern Lakes Heliski yesterday and it was beyond amazing, hard to believe we are mid September as there is so much snow in them there hills, and by the looks of things there is more on the horizon!
Looking ahead for the week, heres what we can expect:
North Island
Whakapapa/Turoa/Tukino/Manganui– Morning cloud and the chance of drizzle for Friday, Heavy snowfalls with gale NW winds from Saturday through till Monday where the wind should turn SW and snowfalls will lessen. Tuesday is looking like a clear fine day, continuing through Wednesday but a small chance of showers early Wednesday morning.
South Island

Rainbow/Hamner Springs/Mt Lyford– A cloudy start to the morning with patches of drizzle and moderate NW winds for Friday, this will turn into snow to 1100m with moderate-gale N winds. Sunday looks rainy with N winds dying out and the rain will ease off over Monday, Tuesday with Wednesday looking set to be clear calm and sunny.

Temple Basin, Broken River, Cragieburn, Cheeseman, Mt Hutt, Porter Heights, Mt Olympus– Friday will bring heavy snowfalls to 1400m with gale force NW winds and will continue through Saturday with snow lowering to 800m. On Sunday showers will die out but it will remain cloudy, Monday may see a few showers but clearing by the afternoon and remaining clear for Tuesday. Wednesday looks fine in the morning with showers forecast for later in the day.

Fox Peak, Mt Dobson Round Hill, Ohau– Heavy snowfalls to 1400m and gale NW winds forecast for Friday with the snow level lowering to 800m on Saturday. Sunday will see the snow/rain clearing but a thick blanket of cloud will still exist, Monday through to Wednesday are looking to be fine with the occasional shower.. Wednesday afternoon is looking set to rain again mid afternoon/night.

Treble Cone, Cardrona, Snow Park/Snow Farm, Remarkables, Coronet Peak– Snow forecast to 1200m with gale force NW winds forecast for Friday, Heavy snow to 600m with gale force N winds up high on Saturday. Sunday/Monday will see the snowfall and winds die off considerably but there may be periods of snow falling as low as 900m. Tuesday/Wednesday are looking clear and sunny and would be the ones to call in sick!!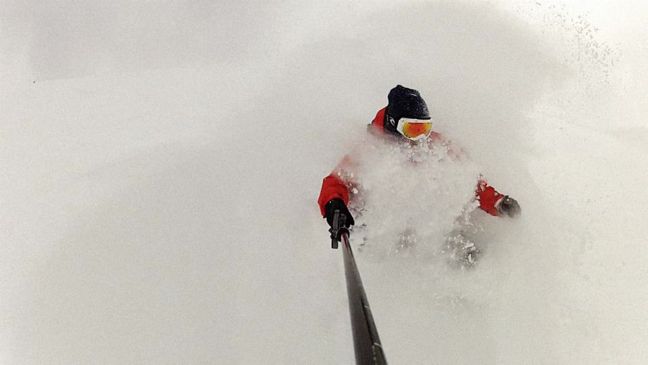 Deep powdery goodness at Southern Lakes Heli Ski Image: Southern Lakes Heli Ski
Here's how the resorts are shaping up snow-wise
Snow Bases across the country (cm)
Whakapapa 185
Turoa 258
Tukino 175
Manganui 55
Rainbow 80
Hamner Springs CLOSED FOR SEASON
Mt Lyford 145
Mt Hutt 205
Porters 110
Mt Cheeseman 100
Mt Olympus 145
Cragieburn 115
Temple Basin 102
Broken River 130
Fox Peak 47
Mt Dobson 180
Roundhill 90
Ohau 160
Treble Cone 170
Cardrona 92
Snow Park 60
Snow Farm 40
Coronet Peak 67
Remarkables 80
Queenstown Snowcats CLOSED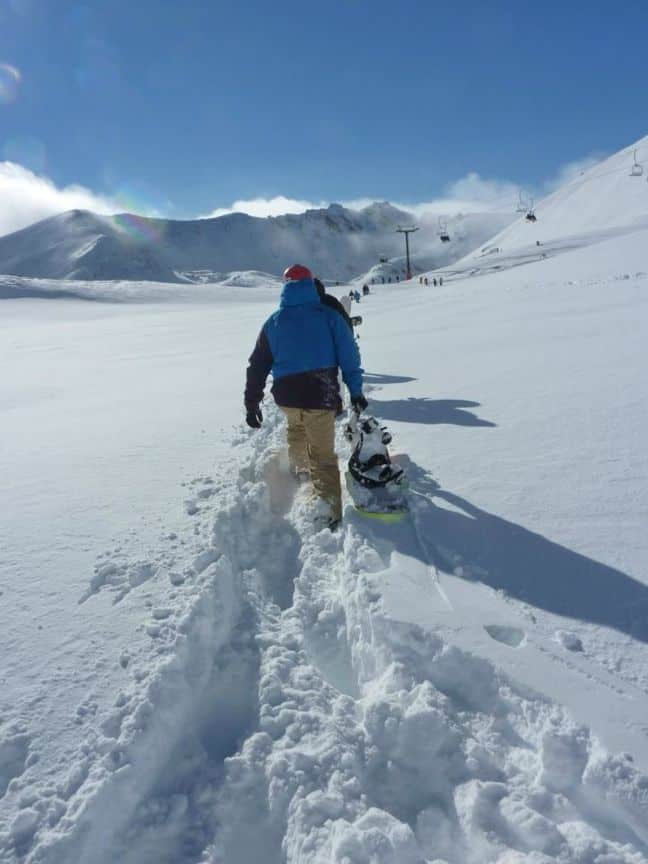 Hiking for the goods at the Remarkables Image: Remarkables
Local Knowledge
If you can afford it, get in a helicopter ASAP, it is really good snow out there… if not, you could look into a splitboard or touring skis.. its well worth the investment and guarantees more powder days… its looking like there will be a lot of hiking to be done once the mountains close at the end of the month! Speaking of splitboarding, splitfest is on at Temple Basin this weekend, a chance for people interested in trying it to give it a go and for the split enthusiast to link up with new riding buddies and do some exploring! As I've been saying throughout this weeks blog, there is some epic snow out there at the moment people, its come late but more importantly it has finally come.. use up those sick days, book a last minute ski holiday, now is the time to be up the hill as much as you can!!
Let it snow… MORE!!
The Remarkables forecasts,
snow reports and
live snow cams.
Treble Cone forecasts,
snow reports and
live snow cams.
Snow Park forecasts,
snow reports and
live snow cams.
Cardrona forecasts,
snow reports and
live snow cams.
Turoa forecasts,
snow reports and
live snow cams.
Coronet Peak forecasts,
snow reports and
live snow cams.
Whakapapa forecasts,
snow reports and
live snow cams.
Mount Hutt forecasts,
snow reports and
live snow cams.