NZ Weekly Weather Blog – The Countdown has Begun
September 26th, 2011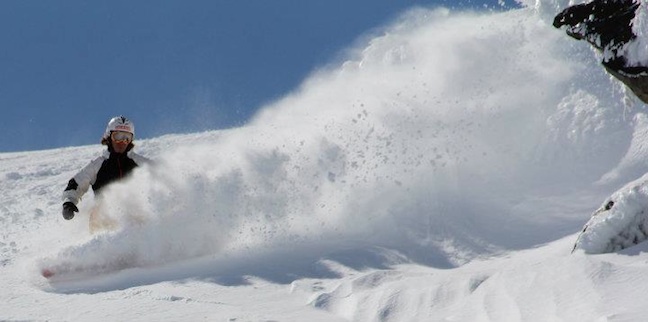 Mt Ruapehu late September snow-spray. Image:: Mt Ruapehu
Snow Journal | Matt White
Kia Ora everyone, well another week has flown by and it's getting ever so close to the end of the season, for a few this time has already come… Ohau, Mt Dobson, Fox Peak and Roundhill have joined Mt lyford, Hamner Springs and Queenstown Snowcats on the list of closed fields with more to follow this weekend. For how late in the season it is the snow is still really good and there is more coverage than at the same time in previous years and now with daylight savings in effect you can ride till last lift and still have a few hours in the sun drinking cold ones!
I was lucky enough to spend the weekend up at Lake Ohau lodge for their last weekend, which was celebrated in style with a retro day theme and a great show put on by Soul System that night. If you're looking for somewhere a little out of the way with a beautiful backdrop then Ohau is the place for you, epic food and reasonably priced accommodation and half price lift tickets if you stay the night. It maybe too late this season but put it on your list of 'to dos' for next season for sure!
Let's take a look at the weather for the upcoming week..
We have been pretty lucky this season with very little rain falling on our precious snow! For this week we may see a few little showers across the country but it shouldn't affect the snowpack too much. Wind looks to play its part for the week with gale force warnings for later in the week. There could be the odd inconvenience but it doesn't look like the weather will have too much impact on your skiing/boarding for the week!!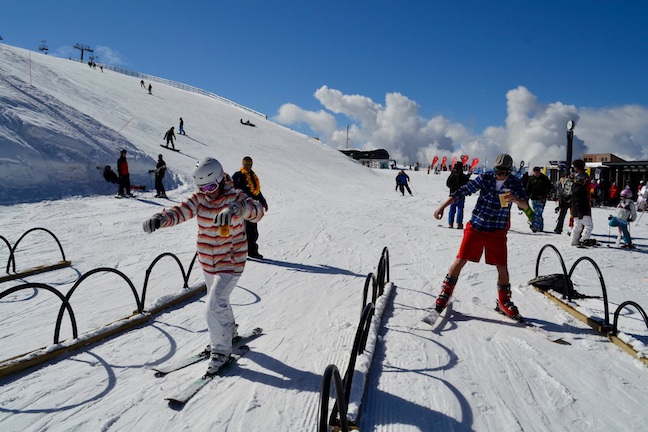 The start of the mocktail relay at Coronet Peak's Summer Daze!
North Island
Whakapapa/Turoa/Tukino – The week takes off to a fine start with a few scattered clouds around for Tuesday/Wednesday, a chance of a few isolated showers on Thursday but otherwise fine. Showers forecast for the weekend but there should be some sunny patches in there as well.
Maunganui– Cloudy with some light showers on Tuesday, clearing to a nice clear and sunny rest of the week, with a few light NE breezes.
South Island

Rainbow – Fine with scattered clouds and light SW winds that will turn to N late Thursday and could reach to gale N winds on Friday. A cloudy weekend ahead with showers late Saturday afternoon through until mid Sunday morning.

Temple Basin, Broken River, Cragieburn, Cheeseman, Mt Hutt, Porter Heights, Mt Olympus – Forecast for fine and sunny conditions with light-moderate W winds that will change to N on Thursday and may rise in strength to gale force on Friday. For the weekend its looking like there will be a few little showers but otherwise overcast with warm NW winds

Treble Cone, Cardrona, Snow Park/Snow Farm, Remarkables, Coronet Peak – Relatively fine with moderate to strong W winds, a possibility of snow down to 1300m on Wednesday but returning to sunny conditions on Thursday with moderate NW winds. Friday looks as though it could be rather windy with gale NW winds, bringing showers for Saturday but clearing up again for a lovely sunny Sunday.
Here's how the resorts are shaping up snow-wise
Snow Bases across the country (cm)
Whakapapa 209
Turoa 326
Tukino 320
Manganui 257
Rainbow 105
Hamner Springs Closed for season
Mt Lyford Closed for season
Mt Hutt 97
Porters 85
Mt Cheeseman 120
Mt Olympus 152
Cragieburn 117
Temple Basin 231
Broken River 125
Fox Peak Closed for season
Mt Dobson Closed for season
Roundhill Closed for season
Ohau Closed for season
Treble Cone 121
Cardrona 80
Snow Park 75
Snow Farm 75
Coronet Peak 134
Remarkables 92
Queenstown Snowcats Closed for season
Looking ahead this week… we have the closing days for Snowpark, Cardrona, Treble Cone, Mt Cheeseman and Coronet Peak coming up this weekend, sure to be plenty of fun activities and events going on at all these mountains, get your last fix before it's too late!!
If it is your last week on the slopes I hope it provides enough fun to keep you content until next season… however if you're lucky enough to be near a mountain with a few more weeks up its sleeve then I shall see you back here next week!