NZ Weekly Weather Blog – The End May be Near but the Snow is Still Good!
September 19th, 2011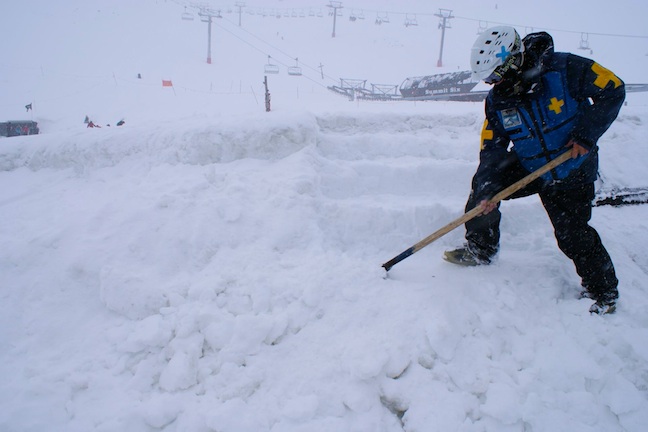 Mt Hutt on 19 September enjoying a winter resurgence. Image:: Mt Hutt
Snow Journal | Matt White
Kia Ora everyone, it may be mid September but this past week we were lucky to get some fresh snow, while it might not have been bottomless pow pow that dreams are made of it still brought smiles to all those who were up there… in most cases across the country the mountains were rather quiet on Thursday which was the day to be up there…great for the likes of myself.. where were you?!?!
Like they say, all good things must come to an end, it is fair to say this is true about the ski season.. With just a few weeks out from the major ski areas closing the lifts for the year we are already seeing a few of the smaller fields calling it a season. Mt Lyford, Hamner Springs and Fox Peak have all shut down now and over this week you can expect to see the likes of Roundhill, Mt Dobson and Ohau also calling it quits. This weekend is the closing weekend for Ohau and by the sounds of it it will be quite a shin-dig: retro day, hot dog races, live music and a big party down at the Lake Ohau Lodge are on the cards.. from past experiences the Ohau crew know how to put on a good time, check it out if you can!
The spring snow conditions are epic at the moment.. sleep in, get some late morning breakfast and get up the hill by mid-day and it will have softened up nicely.. get ready for some leg burners though as it is as physical as riding powder.. a pit stop for a beer in the sun is well recommended when your legs start turning to jelly!
Lets take a look at the weather for this week…
Its an interesting wee week, mostly fine but a few showers, even snow lurking around there too but all in all its looking reliable for another good week of spring shredding, the days are getting a-lot longer too!!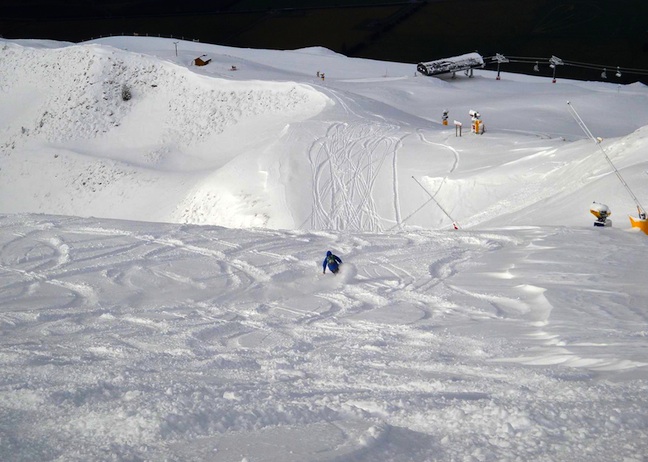 Coronet Peak freshies and almost no one to share them with, 15 September. Image:: Coronet Peak
North Island
+Whakapapa/Turoa/Tukino/Maunganui*- Snow down to 900m for Monday/Tuesday with strong to gale NW winds.. Looking to clear up and become fine with light winds for Wednesday-Friday, a chance of rain for Saturday but otherwise fine all weekend.
South Island

Rainbow– Snow down to 700m forecast for Monday and clearing by Tuesday morning. Fine weather with light/at times gusty S winds from Tuesday and gradually dying off by Friday. Showers forecast for Saturday and Sunday with light W winds.

Temple Basin, Broken River, Cragieburn, Cheeseman, Mt Hutt, Porter Heights, Mt Olympus– Snow showers down to 700m for Monday, by Tuesday this has cleared up and you can expect fine weather with moderate/sometimes gale SW winds.By Thursday the winds should drop but there may be a few patchy showers to follow. Friday looks fine with light NW winds, a few more shower patches for Saturday and sunny with some broken cloud for Sunday

Mt Dobson Round Hill, Ohau– Snow/hail showers, heavy at times for Monday and clearing by nightfall. Fine and sunny with light to moderate S winds for Tuesday/Wednesday, a few small showers may occur on Thursday.. otherwise fine with light NW winds through Friday/Saturday. Finishing the week out with a lovely sunny day on Sunday

Treble Cone, Cardrona, Snow Park/Snow Farm, Remarkables, Coronet Peak– A few light snow showers on Monday, sunny Tuesday with a moderate S wind- shifting to a light W by Wednesday. Northerlies and a few rain showers for Thursday then back to calm and sunny conditions on Friday. For the weekend we may see a few showers on Saturday and a chance of snowfall for Sunday.. fingers crossed!!
Here's how the resorts are shaping up snow-wise
Snow Bases across the country (cm)
Whakapapa 220
Turoa 323
Tukino 320
Manganui 252
Rainbow 105
Hamner Springs Closed for season
Mt Lyford Closed for season
Mt Hutt 91
Porters 85
Mt Cheeseman 120
Mt Olympus 150
Cragieburn 115
Temple Basin 258
Broken River 125
Fox Peak Closed for season
Mt Dobson 67
Roundhill 40
Ohau 105
Treble Cone 132
Cardrona 110
Snow Park 75
Snow Farm 75
Coronet Peak 134
Remarkables 82
Queenstown Snowcats Closed for season
Upcoming events:
"Man Day" – Friday 23 @ Snowpark – enough with all the ladies days.. this ones for the blokes.. beer, meat, shredding, whiskey and even wood chopping .. all that is manly! I guess if your female and want to get in on the fun all you've gotta do is dress up like your average kiwi bloke?
"Retro Day" -Sunday 25 @ Ohau.. Time to dust off your 80s ski/board attire and ride like its 1989!
Thanks for tuning in once again, see you all back here next week, same place, same time.. have an awesome week .. hopefully the Aussies can do better this week than their match against Ireland last week (har har har had to throw it in their somewhere!!!)
Matt White
The Remarkables forecasts,
snow reports and
live snow cams.
Treble Cone forecasts,
snow reports and
live snow cams.
Snow Park forecasts,
snow reports and
live snow cams.
Cardrona forecasts,
snow reports and
live snow cams.
Turoa forecasts,
snow reports and
live snow cams.
Coronet Peak forecasts,
snow reports and
live snow cams.
Whakapapa forecasts,
snow reports and
live snow cams.
Mount Hutt forecasts,
snow reports and
live snow cams.