Oakley's Prizm Powered Weekend Takes Over Thredbo – Recap
July 25th, 2016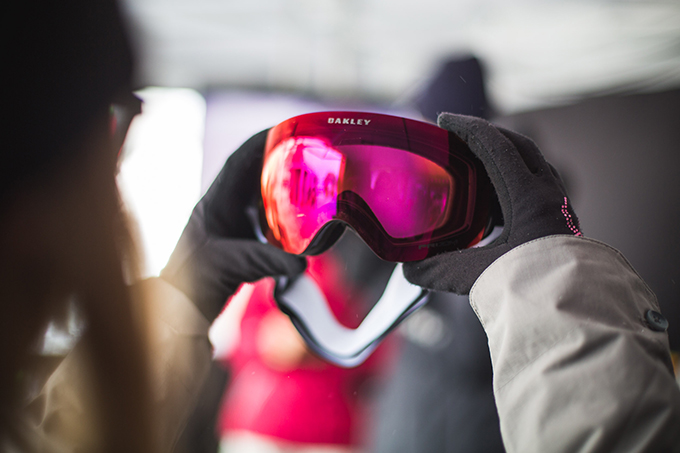 Beauty might be in the eye of the beholder, but will Oakley's Prizm lens technology make you a better snowboarder?
Transfer | Louis Macindoe
Olympic medalists, professional snowboarders, celebrities and pretty people were all present for the Oakley Prizm weekend at Thredbo, but was the hype worth it?
They say there's only two things certain in life: death and taxes. But if there's one thing I've learnt over time, it's that when Oakley decides to throw a party, good times are guaranteed. So when the invite was extended Transfer's way to attend their Prizm takeover weekend at Thredbo resort, acceptance was inevitable. This general notion of keenness to attend was obviously shared across the board. Upon arrival it was apparent that we'd be spending the weekend with some familiar company. Cruising the lobby was Sebastien Toutant – an Oakley athlete of seven years and one of snowboarding's most progressive riders. To his side was Oakley's latest addition, Olympic gold medalist and all-round ripper: Sage Kotsenberg. The six-foot-something X-games medalist and one of Australia's most successful Snowboard exports Scotty James was quickly sighted above the crowd, which consisted of Oakley ambassadors from all walks of life and generally good looking people.
Our out-of-placeless quickly dissipated when Ryan Tiene greeted us with one of the best handshakes in professional snowboarding. Ryan is a hell of a host and an even better rider – he's a straight up guy and I know I can trust his word. Shooting from the hip I asked him if this Prizm lens technology was really deserving of such an audience. He reassured me that in the morning I'd be able to see literally for myself if it was worth all this hype.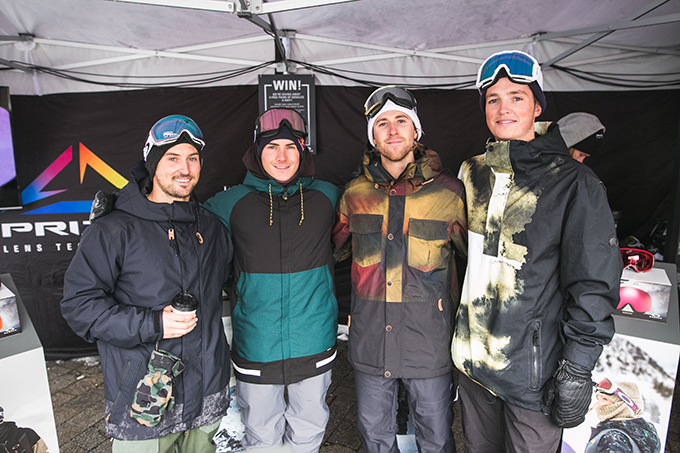 Oakley's athletes are genuinely passionate about the product. Ryan Tiene, Sebastien Toutant, Sage Kotsenberg and Scotty James all personally attested to their experiences with Oakley's new Prizm Technology. But we had to try if for ourselves.
For those like myself who aren't privy to what Oakley's latest technology consists of, a quick primer is in order. Basically Prizm is a lens technology that is built into the eyewear that's utilized by Oakley's athletes in all of their respective disciplines ranging from Golf to Snowboarding. Prizm lenses are individually tuned for each of these different applications with the underlying purpose to dramatically enhance contrast and visibility over a wide range of lighting conditions. On hand to explain how this is achieved was Hans Arnesen, who's the Product Line Manager back at the Oakley mother-ship in Foothill Ranch, California. Hans, who had set up a testing lab by Friday Flats on the Saturday performed a live demonstration on the effectiveness of the technology under different lighting conditions. On screen the workings of the technology was evident and a further Q&A saw the Oakley team attest to the real-life benefits of such tech, "When you're wearing the Oakley Prizm goggles, it almost feels like cheating," commented Sage Kotsenburg. "It's like having a super power, being able to see that level of detail in the snow when you're wearing Prizm lenses. You can clearly see any unexpected changes in terrain, which means you can be ready for anything."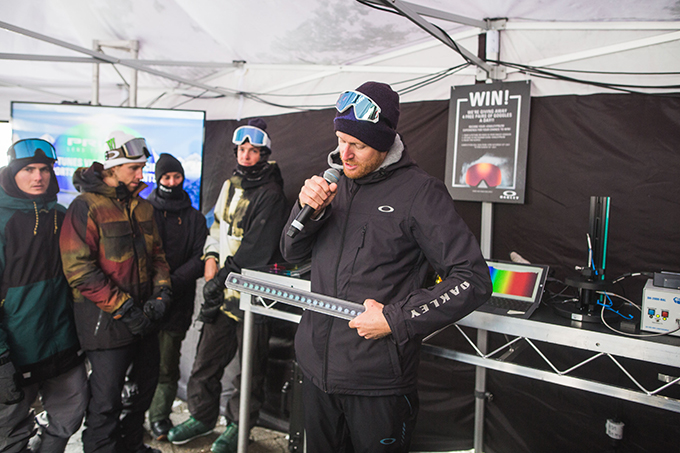 International Product Line Manager Hans Arnesen broke down the mechanics behind the Prizm technology to an understandable level.
I'll admit I tend to be a little dismissive of technologies in the realms of snowboarding. I've seen and dabbled in a fair share of pointless endeavours and hyped-out marketing ploys and am reluctant to accept anything as gospel unless I've given it a decent test. And while big names laid big claims while we sipped soup from coffee cups undercover, the truth would soon be discovered out in the elements. Mother nature didn't do Oakley any logistical favours over the duration of the weekend either. Friday saw the Alpine Way up to Thredbo flood and Saturday was plagued with high winds and blizzard conditions. While this hindered Oakley's efforts to hold their terrain park takeover, it allowed for some genuine testing of the Prizm technology.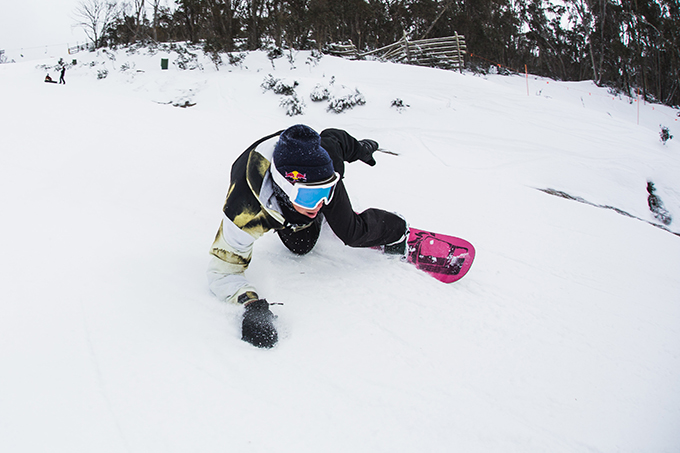 Whether he's a possessed pipe demon or 6 foot carving creature Scotty James relies on Prizm to keep him in the game no matter the conditions.
Over the duration of the following four hours, I tested out the best selling Sapphire Iridium lens. My initial reaction was a little underwhelming, I took a look around and wondered had I just been fed bunch of marketing B.S? The Flight Deck frames I had been gifted were lightweight, felt comfy on the face and the full framed design allowed my peripherals to wander. But I wasn't being sold the goggle, I was being sold this new lens technology.
Thredbo is my home mountain and having worked on the hill in some pretty testing conditions, I know the areas which are susceptible to the worst weather. I loaded Kosciuszko chair and begun my accent into the abyss, with the end destination being Karels T-Bar; Australia's highest lifted point and home to zero visibility in conditions like these. As the chair passed over mid-station and up into the weather I toyed back and forth with the goggles. On-off-on-off, then downloading and dropped skiers right. I pulled up above the Cornice that forms above The Bluff, below me on any given day lies some of the most moguled out terrain in all of Australia. Today is no different, the difference is that it's blizzard conditions. Contrast is king here. If I'm to navigate through this field of thigh burners I'm going to need this Prizm tech to take full effect. I drop. The snow which is a mix of unsuspecting ice patches and surprisingly light blower can be immediately distinguished. Impressive. I sight the chop, but I'm not caught off-guard like usual, there's definition between each of the jarring humps and I notice myself making light work of this unforgiving terrain. Dipping, dodging and most importantly ollieing off everything in sight. Visibility is no longer an issue and I'm noticing it in my riding, I feel much more agile and can attack the terrain without hesitation. I pull up, lift the goggles. On-off-on-off. Looking at the snow around my eyes have adjusted to the lens and the difference is unmistakable. Typically I'd wear a clear or light-yellow lens in these conditions and rely on my own perception of contrast, but this Prizm technology has heightened my senses, the goggle isn't just operating to keep snow away from my eyes in these conditions but elevating my experience and sense of awareness, in turn giving me more confidence to ride aggressively in these conditions.
I continued to ride into the afternoon, the weather persisting but I remain unfatigued. For myself, This is by far the most noticeable overall benefit of the Prizm technology; by being able to read terrain much more effectively due to a noticeable increase in contrast I was able to navigate the whooped out snow and keep the flow going.
I'm eating my words a little now, because behind all of this hype is a genuine benefit that is applicable to every snowboarder. That in itself is a big deal and something worth celebrating. Oakley was already two steps ahead here and decided that it would be fitting to throw a pool side Prizm party with the masters of 80's period correct synth-pop Client Liaison, whose electric performance and distribution of Foster's cans from the stage saw everyone sporting Prizm powered beer goggles. Cheers Oakley.
WRAP-UP VIDEO

Seb Toots might be renown for his big tricks, but he proved to all that he's a master of the mini-shred over the weekend.
Please enable Javascript to watch this video