RIP CURL FREERIDE PRO – Watkin, Pete, Wiki, Zoe Win Freeride Pro
August 16th, 2011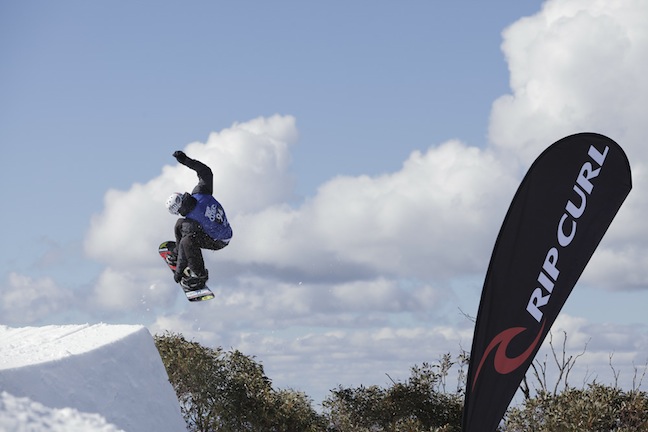 Mens open snowboard winner Pete Long
Rip Curl Freeride Pro
Sunshine when you expected rain is an auspicious beginning to any day, on this day, the day in which the 2011 Rip Curl Freeride Pro was to be 'run and won', it was glorious.
Diligent weather-study by The Grasshopper had us all too aware of the dastardly front baring down upon us, driving snow, rain and howling winds before it and so the decision was made on Monday to invoke the 'run and won' plan…
Run and Won – to streamline heats, finals, juniors, opens, womens and mens into one freeride extravaganza of a day. A long day, granted, a programme that, really, would justify the insertion of a port-a-loo at the course for anyone unable to leave their post for the duration, but thanks to the stellar efforts of the Rip Curl and Thredbo organisational team an almost seamless one.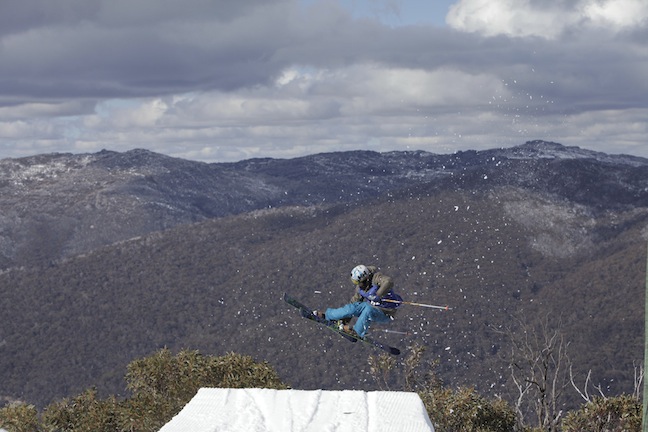 Mens open ski winner Watkin McLennan
Course
Charles Beckinsale and the Thredbo terrain park crew know how to do exciting things with logs. This year the hitching post was the star feature, no one's hitched a horse in Thredbo for many a year now but today plenty of riders got creative with the cross beamed log, the standout being Nate Johnstone who, failing to carry enough speed into the hitching post for whatever he had intended to do, demonstrated his year 7 PE skills by somersaulting over it instead.
The hitching post formed part of the freestyle section of the course; a collection of man-made features installed at the top of The Bluff challenged all the riders to demonstrate their jibbing skills before transitioning into the lower part of The Bluff where they could choose their own line through the natural features.
To fit in two runs for over 100 competitors, plus finals, the pace was swift so spectators had hardly a moment without something exciting to watch. In the rare dull moments though microphone master Reggae Elliss kept everyone entertain with his stream of consciousness style commentating. Who knew, for instance, that Rip Curl CEO Steve Kay was the inaugural winner of the Rip Curl Freeride Pro mens snowboard title, in 1974, or that he's now married to that year's women's ski champion – Annabel?
What that might say about the career prospects of this year's winners, who knows but the women's ski champion has already tied the knot so, Sorry Pete Long… on that note, yes, Pete Long is the winner of the mens snowboard and the other results: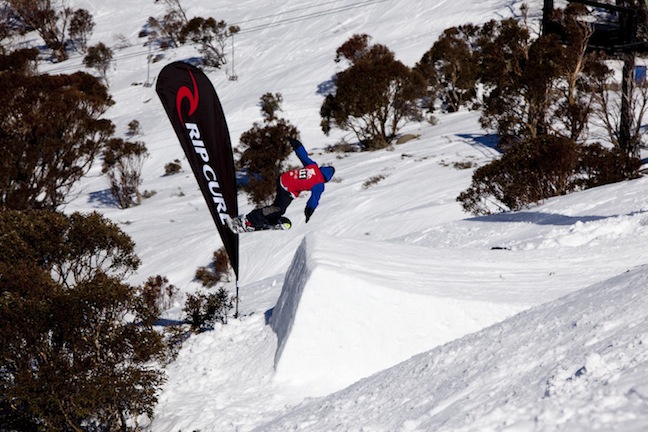 Second place Nate Johnstone
Results
In the mens ski Watkin McLennan (Mt Buller) successfully defended his 2010 title after skiing with a flawless run in the final.
Wiki Jones won the open women's snowboard for the second time and it's that old married lady Zoe Jaboor from Mount Buller, who won the open women's ski, for about the fifth time in a row.
"I loved it," said Zoe of the course. "I've done this course through the Bluff a fair few times and it looks very different when there's not as much snow, you can sort of get a bit creative hitting things in different ways."
But it was the juniors who down some of the most impressive runs. Once again local knowledge came to the fore, with Thredbo's Sam Tomasi winning the junior ski and Ben Alexis the junior snowboard. Biba Turnbull, Perisher, won the junior women's snowboard with Kasha Wojcik the junior ski.
A slight confusion at the presentation saw Ryan Tiene momentarily on the second place podium, only to be bumped off by reigning halfpipe World Champion Nate Johnstone. Ryan graciously accepted a box of Nature Valley muesli bars as consolation.
Open Mens ski
1 Watkin McLennan
2 Jordan Houghton
3 Chris Booth
Open Mens Snowboard
1 Pete Long
2 Nate Johnstone
3 Clint Allen
Open Women's snowboard
1 Wiki Jones
2 Pride Hasler
3 April Shannon
Open women's ski
1 Zoe Jaboor
2 Karinya Turnbull
Junior Men's ski
1 Sam Tomasi
2 Ryan Cooke
3 Ryley Lucas
Junior Men's snowboard
1 Ben Alexis
2 Henri Maxwell
3 Jackson Hasler
Junior girls ski
1 Kasha Wojcik
2 Georgia watts
3 Tegan Young
Junior girls snowboard
1 Biba Turnbull
2 Georgia Baff
3 Alexandra Fitch
ThrowDown to come
The skies are now starting to look ominous, but those who know Thredbo say there's nothing in them and we'll have a clear evening… because now it's ThrowDown time!!! The under-lights freestyle night event is kicking off at 5:30pm. The fun continues…
Thredbo forecasts,
snow reports and
live snow cams.