Rip Curl Snow Tour – Thredbo
July 18th, 2014

Canny timing, day one of the Tour just happened to be one of those Thredbo days.
In partnership with Rip Curl
Mountainwatch | Chris Booth
Last week there was 50cm of fresh pow in Thredbo, while just 2 hours away the surf in Tarthra was 4-6ft and perfect. There aren't many places on earth where that happens. This epic alignment of mother nature's gifts was the perfect set up for the Rip Curl Snow Tour – which follows Olympians Nate Johnstone and Katya Crema (and me, but I'm slightly less of an Olympian and slightly more of a skibum) on a road trip around the Aussie resorts.
The Rip Curl Snow Tour is about getting back to grassroots: it's about packing the car and heading to the mountains, watching the sun come up, shredding laps with the grommets, getting sweet sweet airtime, and living it up in the Aussie highcountry. It's also about meat pies, lots of meat pies.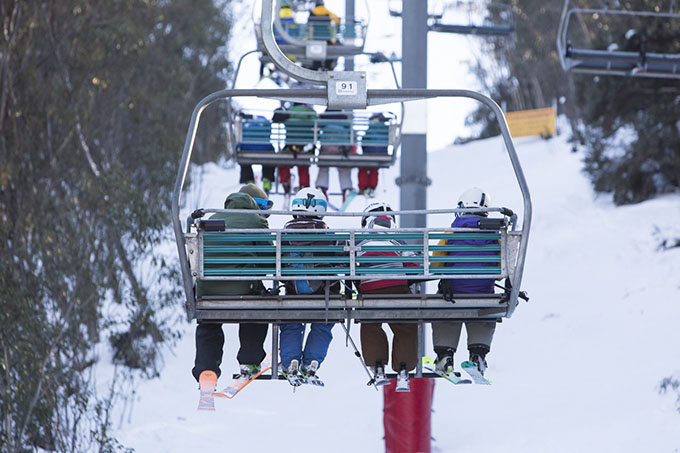 Spinning laps with young shredders – what it's all about.
Our first stop on the Tour was Thredbo, and being our first day on the hill together, we were pretty excited to get out there early.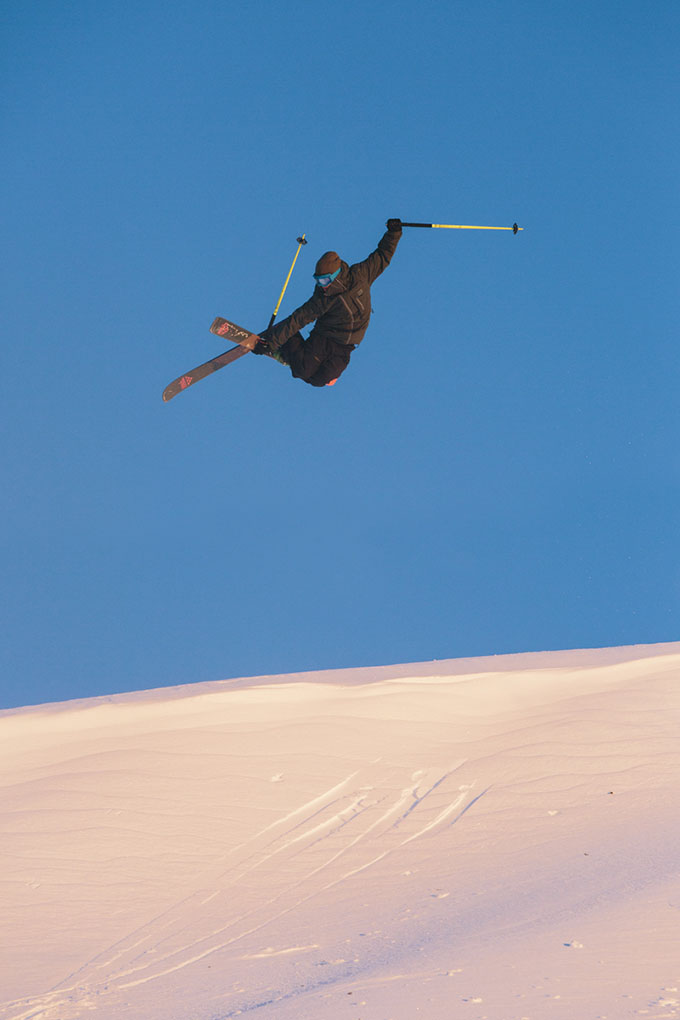 Fresh morning air and a nice little dose of fresh pow overnight, something to get excited over.
Rip Curl local shredders Sam Tomasi, Georgia Baff and Boen Ferguson joined us for a few morning burners down Powder Bowl to take advantage of some overnight freshies. Nate showed the crew what a snowboarder from Narabeen rides like, while Sam showed us how to get a faceshot at his home resort.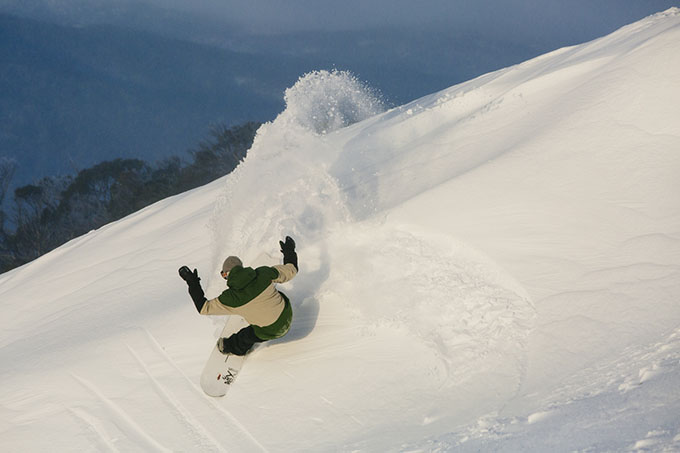 Nate with a frontside finner, I mean, slash.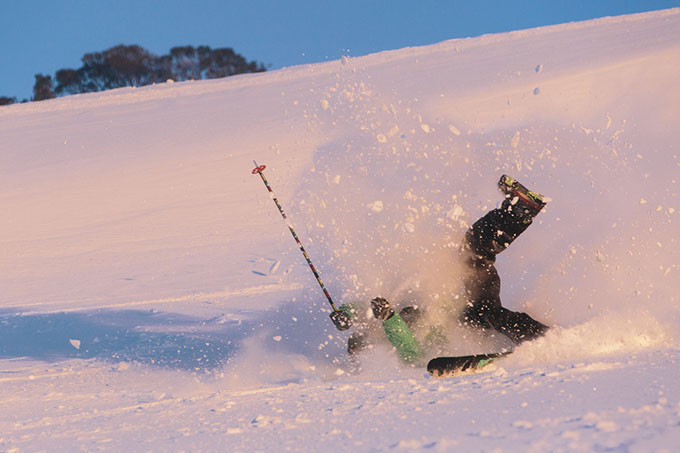 Sam getting deep.
Next the crew headed across to the High Noon terrain park for the Thredbo GromShred, where a posse of frothing, excited, turbo-pumped groms were waiting to ride the park with us. These kids were beyond psyched. So naturally, we were beyond psyched.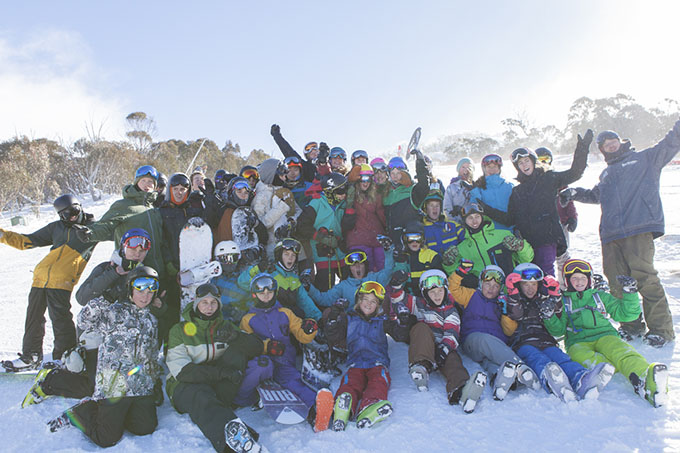 Psychadelic – kids ruling Thredbo
As the psych hit a crescendo it was time to ride. Nate and Georgia led the boarders while Boen, Sam and myself took off with the skiers. The vibe was immediate. The enthusiasm these kids brought with them to the hill was amazing, and, with a chance to follow the pros around getting instant feedback and tips, they stepped up their abilities in just a few runs, quickly discovering their next level.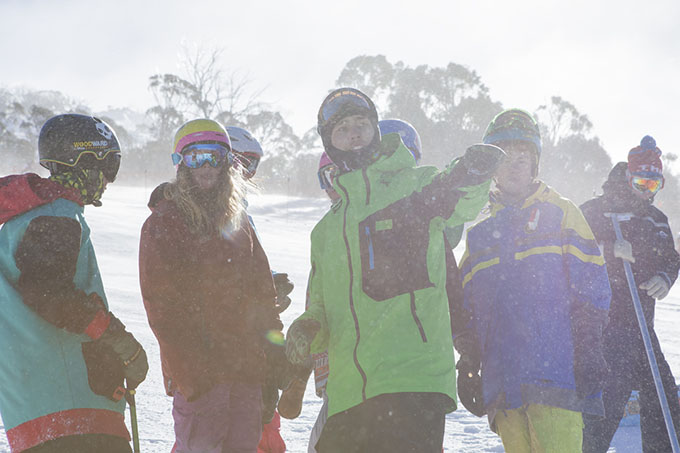 Sam gives the kids some tips on how to time the jumps on the first run.
But it wasn't just the instruction coming from the pros that was in motion, it was also the encouragement amongst the kids themselves, that really made the session work. I'm not sure what the word is for that, but it's a kind of infectious stoke that you can't help but be pulled into.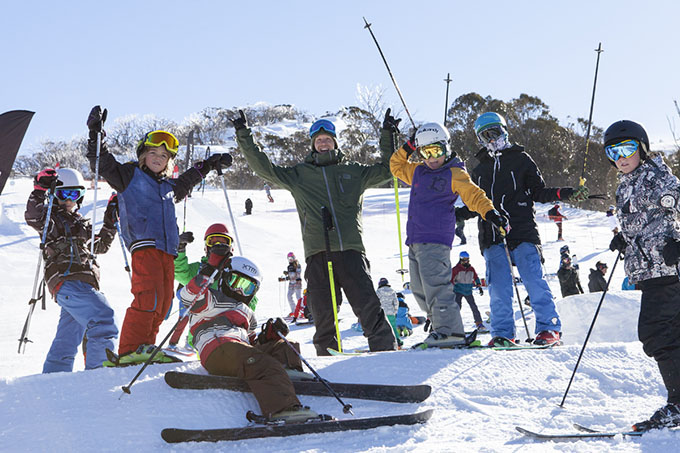 The size of the high noon jumps can be intimidating, but these grooms stepped right up to it.
Once the stoke caught fire our job was easy, needing only to shepherd them through the park safely while they vibed off each other, going trick for trick, cheering each other's progress, and making new friends.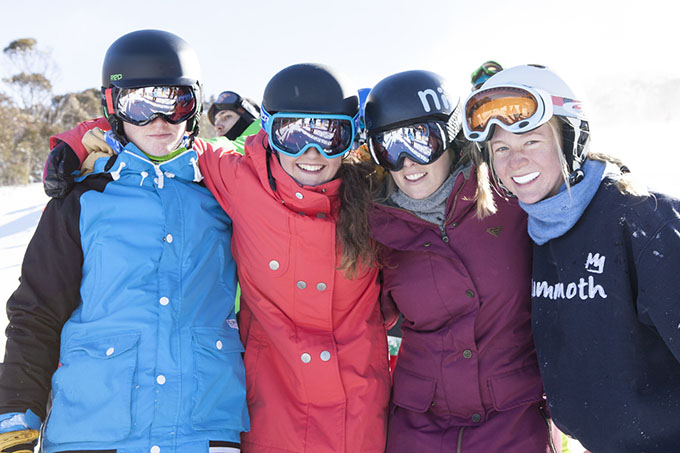 The girls put in a good showing, getting right into the mix and progressing more than pretty much anyone else.
Heaps of kids learned new tricks, a whole bunch of kids won prizes, and everyone had a good time.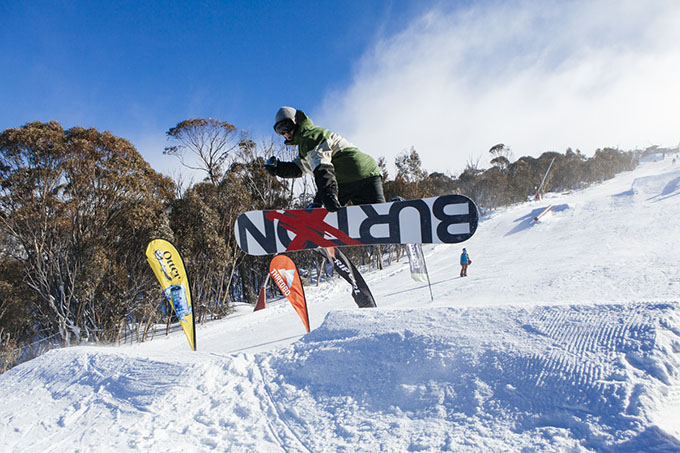 Big kid Nate Johnstone chucks a cheeky Go Pro Method. Notice he's not pointing that GoPro at himself – humble is the snowboarder.
Huge thanks to Thredbo for letting Rip Curl come and hang out.
Thredbo forecasts,
snow reports and
live snow cams.