Road Trippin' to Mammoth Mountain, Why Bigger is Better – Travel
January 27th, 2015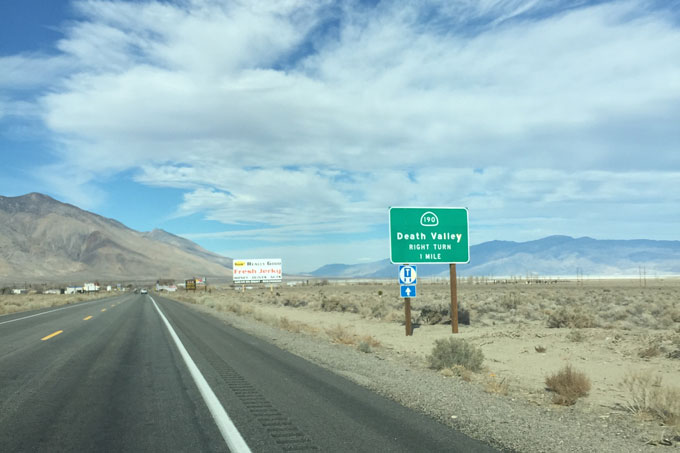 As you can see, the scenery off the highway is quite inviting Image:: Reggae
Chillfactor | Reggae Elliss
The drive up to Mammoth Mountain from Los Angeles is spectacular. The flat expanse of the Mojave desert is broken by the ghostly Joshua trees with the shadows of the White Mountain Range to the right and the spectacular Sierras to the left. Unfortunately I wasn't appreciating it, as I was more concerned by the fact that Mammoth hadn't had snow for a month and wondering how the conditions would be when we arrived.
After all, taking a family of four on an overseas ski trip isn't a cheap exercise. "Stop going on about the snow," said my eight-year-old son Joey. "Yeah," jumped in his sister Arkie. "Who cares if we don't get powder. We'll still have fun."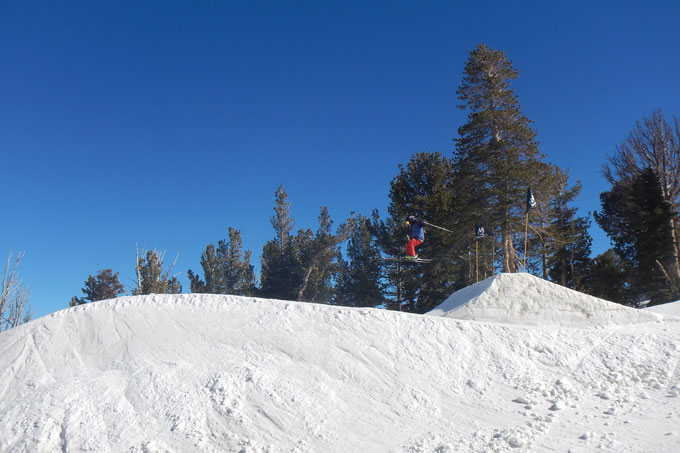 Eight-year-old Joey looking just as home on the Mammoth jumps as he does at home in Thredbo Image:: Reggae
A day later the wisdom of a couple of grommets rings true. The kids are on their first ever overseas trip and for them the whole thing is a big adventure. When we checked into our room at the Juniper's Spring Resort, just a stone's throw away from the Eagle Express, they couldn't contain their excitement. "Dad, the lift is right there … Look at how big our beds are … Oh my god, there's a pool." And then: "Look how big and steep the mountain is!"
And yes, Mammoth is a spectacular mountain. With a top elevation of 11,053ft and a base of 7953ft it is the highest resort in California and with 3100ft of vertical, Mammoth is big and one of North America's premier mountains. It has a huge variety of terrain from long buffed groomers, perfect beginner and intermediate runs, incredible tree skiing, a variety of parks and some seriously steep in-bounds terrain. It usually averages 400" of snow per year, but the last four years have seen well below average falls in December and January and at the moment the snow cover is, by Mammoth standards, pretty low tide.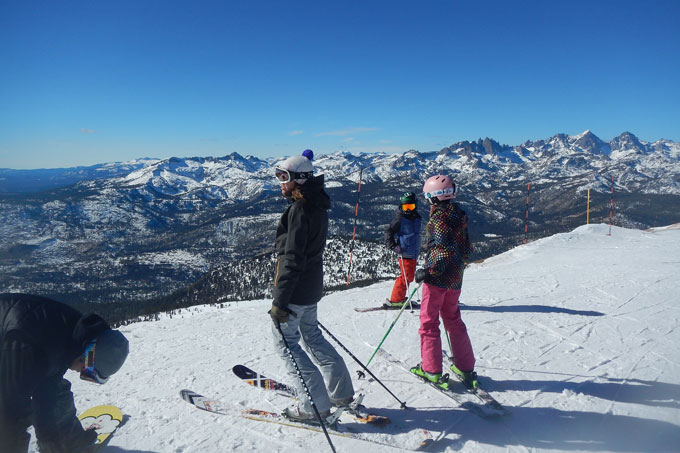 The life of a ski-journo's family is a tough one; Amanda, Joey and Arkie soak it up Image:: Reggae
However, there is still plenty of cover and a lot of top to bottom skiing available. While January has been mostly dry, there were good snow falls before Christmas with 195cm falling in November and December. Cold weather has helped maintain the snowpack and the big snowmaking system replenished the main runs after the busy Christmas/New Year holiday period. The result is Mammoth still has an average base of half-to-one metre, 105 open trails including 43 groomed groomed runs, the Main Park and Forest Trail park are in full swing and there is even some of the renowned steep terrain open, accessed from the top of the Panorama Gondola.
So, the result of all that: today was one of the best day's skiing I can remember in a long while and there wasn't even a powder turn in sight. It was cold and sunny all day and just a heap of fun from first chair at 8.30, up until the legs gave way at 3.30 in the arvo. The mountain is amazing; the variety of terrain here leaves most resorts that Australians typically choose for an overseas ski holiday for dead. While some of that renowned terrain isn't open right now, you can definitely see what it'd be like on a normal year and no doubt it is mind-blowing when the place is in full swing with 50cm of fresh powder.

We got a taste of that today – the terrain, not the powder – when we ventured to the top. Mammoth set us up with Gabe Taylor as a guide, a former pro-snowboarder who now works in marketing and oversees the resort's renowned "Unbound" terrain parks. Gabe gave us the full tour of the resort including a few steep off-piste runs off the top of the gondola that will definitely be logged as "runs to remember". The nerves were there as I dropped in and this type of terrain is just what you want on an overseas trip – steep, challenging and fun.
Today was the perfect start to a week in Mammoth, and if this is what we're in for over the next few days, it's going to be something special – even without fresh snow.
Mammoth forecasts,
snow reports and
live snow cams.