Sam 'Reddog' Neumann wins the 11th Annual Burton Cattleman's Rail Jam – Video and Recap
July 10th, 2016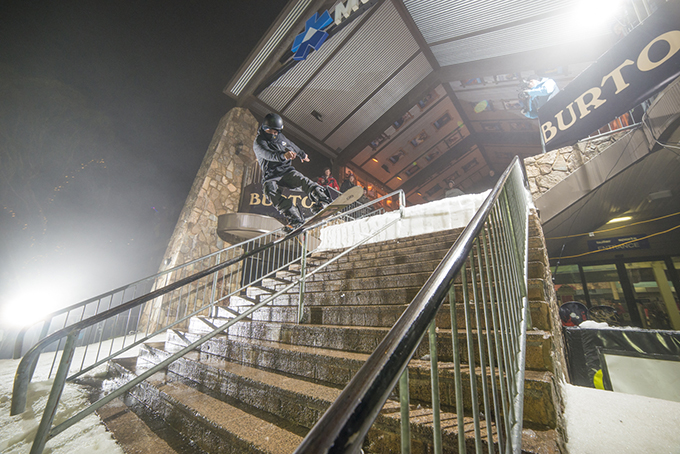 Winner of best trick, Birdman – whose name still remains anonymous – took to the stair set like a seasoned vet, despite it being his first time entering the event. Image :: Matt Hull
Transfer x Burton | Cattleman's 2016
Please enable Javascript to watch this video
Under bright lights, clear skies and in front of one of the biggest crowds Cattleman's has ever seen, Sam 'Reddog' Neumann has edged past 15 of Australia's best snowboarders to claim his first Burton Cattleman's Rail Jam title and a $4000 pay cheque.
Sam finished ahead of close rival and good friend, four-time Cattleman's champion Jye Kearney in second place, and Jindabyne local Troy Sturrock in third.
Having podiumed in second place at the 2015 event, Sam Neumann from Byron Bay was certainly hungry for a win, coming out firing from the get-go with an impressive display of high technical spins on and off and the rail. His creativity and use of the entire stair set, including a series of never-been-done tricks, like his 50-50 to backside 360 out from the top close-out rail and switch backside 360 to 50-50 over the gap, landed him top spot on the podium and a $4000 pay cheque.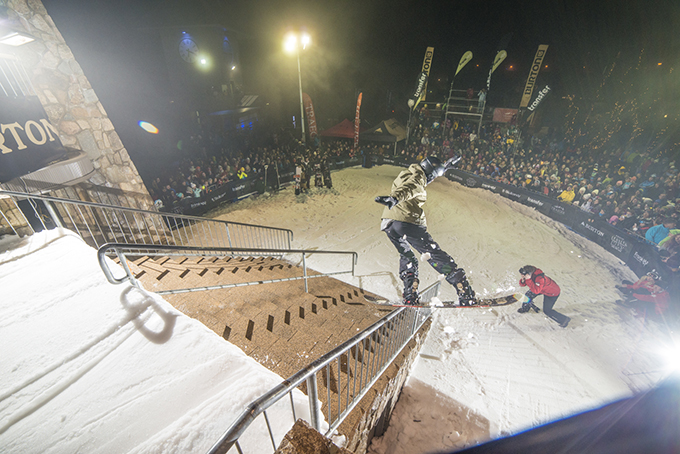 Last year's winner of best trick and Tokyo Rail Days rider Luke Staveley backed up his previous performance with a whole bunch of unique approaches and polished trickery. Image:: Matt Hull
As one of the veterans of the Cattleman's Rail Jam, Jye Kearney's clinical approach to the event, consistently made tricks and famously casual style solidified his second place spot and $2000 cash.
Third place went to a frequent competitor at Cattleman's Troy Sturrock, whose silky smooth style and utilization of the entire stair-set landed him of tricks landed him third place and a $1000 pay cheque to carry with him back to Jindabyne.
Best trick was awarded to Mt Buller local and park-crew member the Birdman, who nailed a highly technical, never-been-done maneuver on the top close out rail. Birdman landed a switch frontside lipslide on the close-out, transfer to frontside boardslide on the lower rail, a super high consequence trick which earned him a Traeger Grill valued at $1000.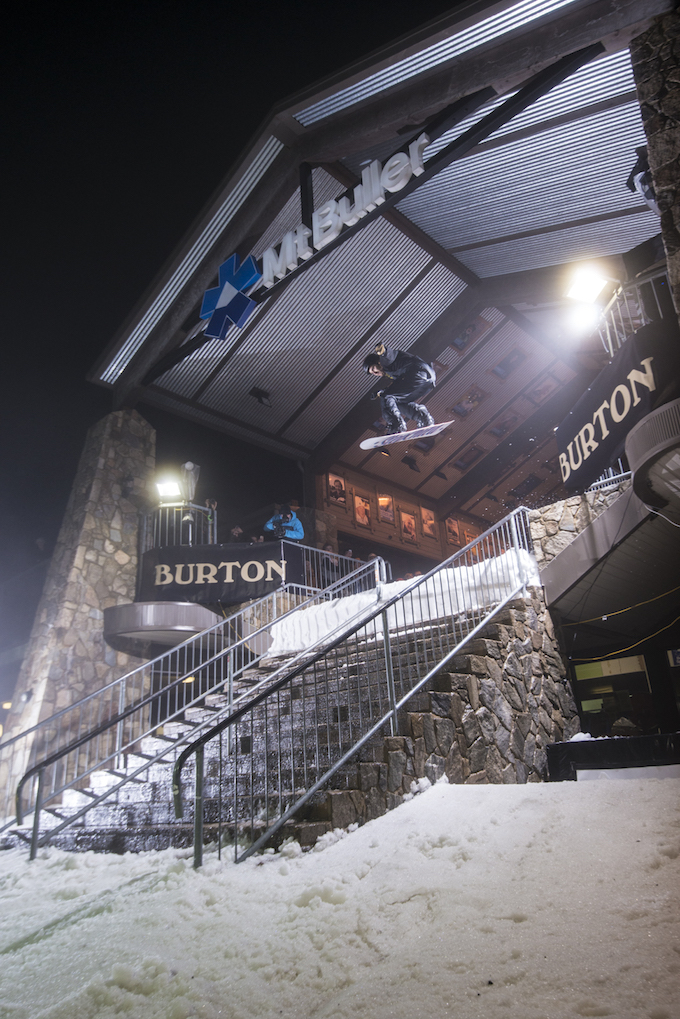 With a four grand novelty cheque up for grabs, it was a matter of not holding back for riders, Rocco Rachiele unleashed over the duration of the night and spared nothing to impress the crowd and judges. Image:: Matt Hull
For the first time, the 2016 Cattleman's Rail Jam offered the chance for riders to qualify on the actual stair set itself, rather than an on-hill set up. Two elimination heats took place during the day, resulting in a 15-man final to decide the ultimate champion. "Running the qualifiers on the actual rail was a natural progression for us to make the event bigger and better, and we were really pleased to give some younger, up and coming riders a chance to hit Australia's most infamous stair set" said Paul Colby, Burton Australian Marketing and Brand Manager.
As in years past, the official after party at the Kooroora Hotel did not disappoint with long time Burton friend and mix up extraordinaire Mucci igniting the Back Bar, providing a fitting finish to one of the biggest parties on the Australian snow calendar.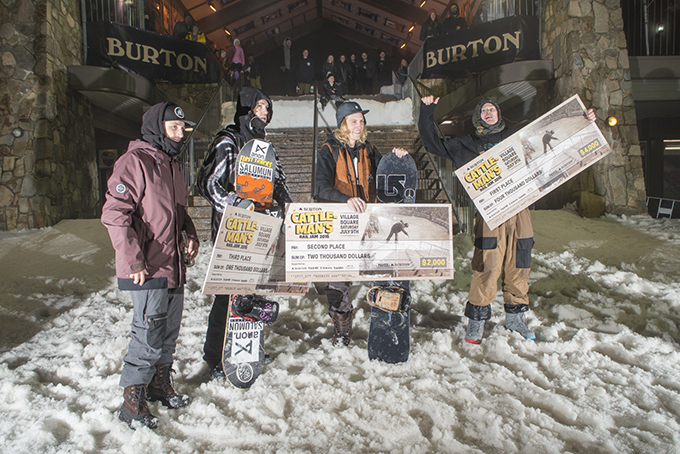 Left to right, Troy Sturrock (3rd Place), Jye Kearney (2nd Place) and Sam 'Reddog' Neumann (1st Place) Image:: Matt Hull
Results
1st Place – $4000 – Sam 'Reddog' Neumann
2nd Place – $2000 – Jye Kearney
3rd Place – $1000 – Troy Sturrock
Best Trick – Traeger Grills – Birdman
Burton Cattleman's Rail Jam partners include the Frank MBP Terrain Park, Skullcandy, Traeger Grills, Transfer Snowboard Magazine and Mt Buller.