Season Outlook 2014 – August Update – Australia
August 4th, 2014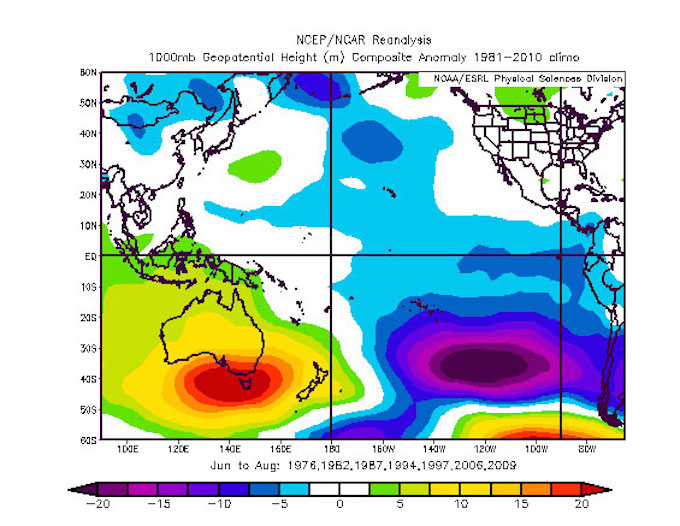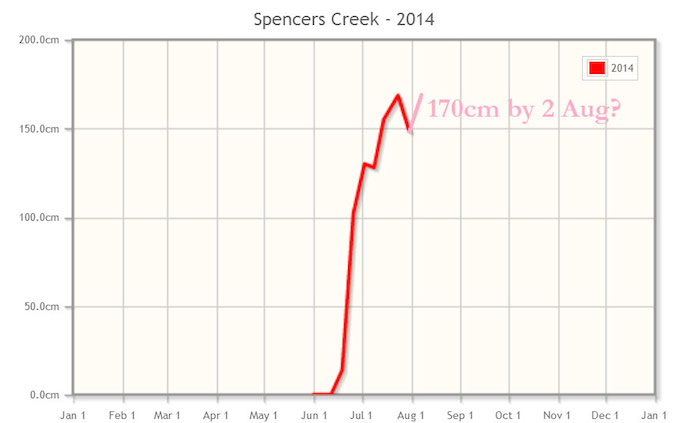 While they don't bring snow, high pressure systems ain't all bad. A groomer scores the sunrise over Thredbo Valley Image:: Thredbo
Australian Seasonal Snow Outlook | The Grasshopper
Brought to you by ESS Boardstores
All right, bring it in tight. We're at the halfway point in the season, but there's only another five weeks of genuine winter weather where we would hope to add significant base, before the hair drier turns on in September. So what's happening right now, and where are we heading by 1 September?
Dude, where's my base?
First things first, here's the latest snow depth measurement at Spencer's Creek, with my guess at the increase we're going to get from the snow hitting on 1 August. The interesting thing to note here is that despite frequent snow events during July, totalling more than a metre, the snow depth has only increased by about 20cm. That doesn't sound right, right? The missing link here is the fact that the snow which fell in June was still pretty fresh on 1 July and still had a lot of compacting to do, as did the snow that fell throughout July. Combined with some windy and fairly warm conditions over the last few days, that compaction has had a big effect in tempering further rises in the snow base.

Looking pretty good. Image:: Snowy Hydro
Taking a wider look, we can also note that the El Nino event that was so widely trumpeted by most of the world's forecasting agencies and media a few months ago is now in danger of fizzling entirely. We got lucky in June and July when the developing event resembled a Wrong'un El Nino far more than it did a Classic El Nino.

The classic El Nino pattern Image:: BoM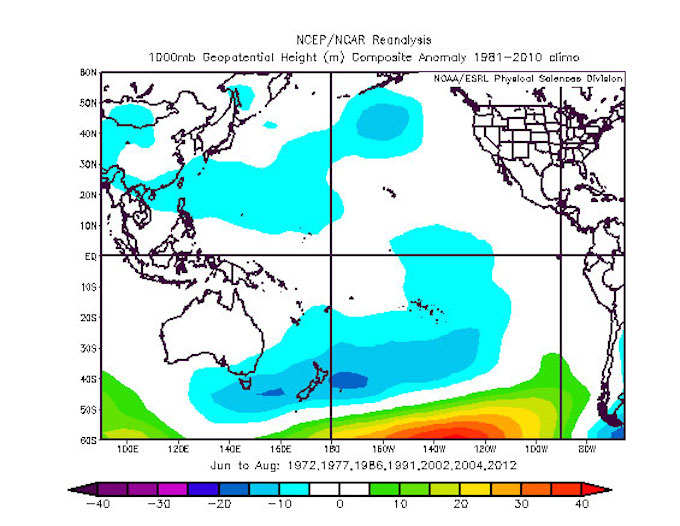 The wrong'un Image:: BoM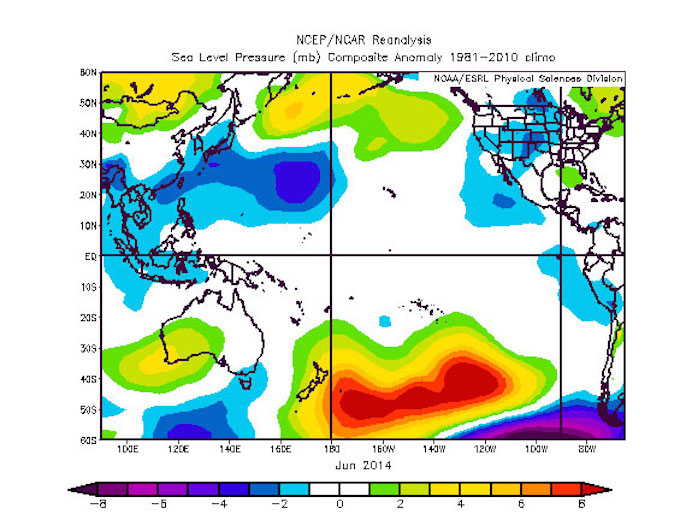 June  2014. Where it counts, over south-east Australia, the pattern for June was much closer to a wrong'un than a classic. Image:: BoM
But in the last few weeks sea-surface temperatures in the Pacific have cooled considerably and there is serious doubt that an event will develop at all. The Bureau is now calling it a 50/50 shot at a weak event. I reckon that's a fair call, and I also reckon that by the time the climate decides what it's going to do that winter is going to be over.
If anything, there's still a slight El Nino flavour to things, and it's starting to resemble a more classic situation. What matters at this stage is the general trend we are seeing in the movement of highs and lows over the next few weeks, and that's something we can say something about.
Over the top
In the last week or so we've begun to see high pressure systems become more pushy over the continent. Unfortunately for those holding out for the big August dumps that we've seen the last two years, the data I'm seeing points to those highs remaining the dominant force. It looks like we'll see another cold front make a play around 7 August, but I think we're going to continue to see an arm wrestle, with the highs doing their level best to defend the Alps.
The next opportunity for a cold front that I can see is about a week later, around 13 August, but I can imagine the high winning a points decision and then it could easily be 20 August before we get another shot.
Either one of these tickets could pay off, or we could end up relying on something turning up in the last week of the month to ensure August isn't a total loss. I would tend to budget around 30 to 60cm of snowfall over these first three features, with a mystery 20cm possible towards the end of the month. Or about 50 to 80cm of snowfall for the month as a whole.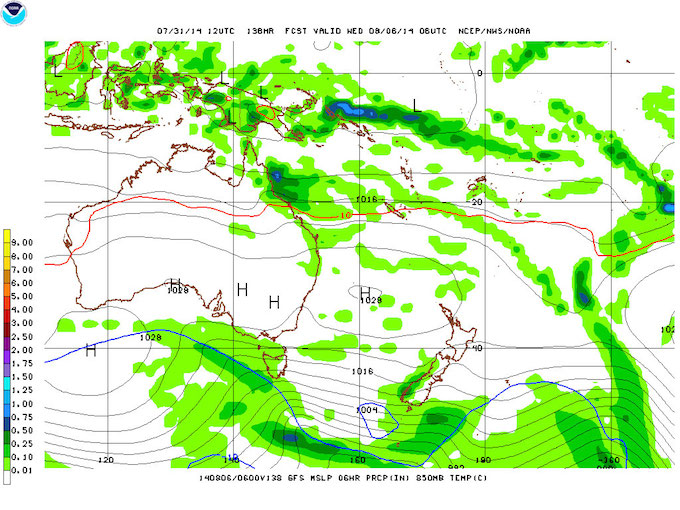 The next cold front will do battle with the highs on August 7 Image:: NOAA
Back to the future
We can also look back at history to try to untangle what to expect during an August like this one. To do so, we first need to recognise that, whether we end up with an El Nino or not, the predicted weather pattern has got at least a passing resemblance to a classic El Nino. And when I look back on Classic El Ninos since 1972 the peak season snow depth at Spencers Creek has tended to be about 30cm higher on average than the August 1 depth.
By the numbers
Assume for now that the snow hitting around 1 August takes the snow base back up to about 170cm. Then assume we pick up another 50 to 80cm of snowfall, but at the same time we lose 20 to 50cm of snow base to further compaction and snippets of rain. That would see us putting on another 30cm *of base*, taking the peak snow depth for the year to 200cm at some stage. This to me is as good as any other number I could pick. It's a little higher than the 172cm I predicted at the start of the season, but less than the 220cm I plumped for last month.
The good news is that I'm also seeing fairly cold temperatures throughout August, and high pressure systems mean clear skies and cold nights. So if the slopes need freshening up and the resorts choose to flick the switch on the snow guns, they should get plenty of opportunity to keep the groomers in good nick.
That's all from the Grasshopper. We'll update this outlook in early September when we'll plot the demise of the snow base for this season. If you've got a different theory on what's going to happen this winter, or just want to provide feedback, then please join in the discussion below, or hit me up at grasshoppermw@gmail.com or join the discussion in the comments below.

Perisher forecasts,
snow reports and
live snow cams.
Falls Creek forecasts,
snow reports and
live snow cams.
Mount Buller forecasts,
snow reports and
live snow cams.
Charlotte Pass forecasts,
snow reports and
live snow cams.
Thredbo forecasts,
snow reports and
live snow cams.
Mount Baw Baw forecasts,
snow reports and
live snow cams.