Season Outlook 2014 – August Update – New Zealand
August 5th, 2014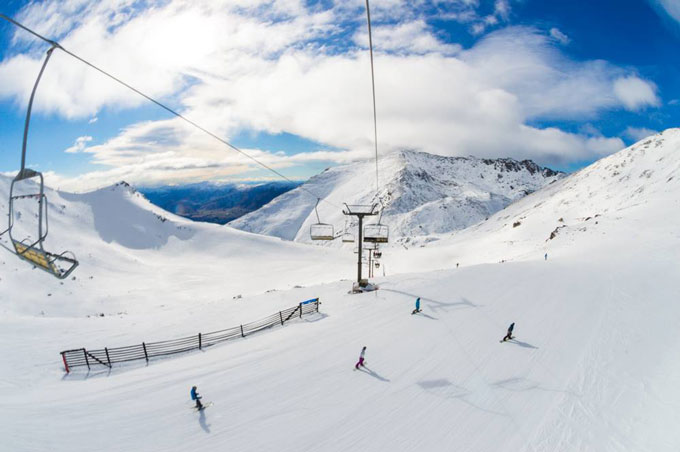 The South Island received a healthy 25cm top-up over the weekend, this week is shaping up well, too. Could this be the turning point of the season? Image:: NZSki
New Zealand Snow Outlook | The Grasshopper
We're nearly at the halfway point in the New Zealand season, so why does it feel like we're yet to achieve full lift off? Are things really that bad? And are they going to get better? It's time for an update on our prospects during August.
Until last week came along, things weren't tracking too badly. July had seen solid, if not spectacular gains in snow depth. When it wasn't snowing, it was at least mostly cold, so snowmaking was also helping things out.
But a massive few days of strong winds and warm rain last week took their toll, so that we've started August with roughly the same modest amount of snow we had at the start of July. Ski fields are talking up some recent snow that arrived up high, but it's hard to hide the fact that that things look a little grim lower down. I sense a vibe of mild disappointment from many of the people contacting me for advice, but maybe that's not a true sample of how people are feeling out there.
If we try to take an objective look with the image below, you can see that compared to previous years the South Island in 2014 (the dark green line) is tracking along fairly middle of the road. It's certainly not the worst year on record.
On the other hand, you can see that 2013 towered above the pack for both the Remarkables and Mt Hutt and I think comparisons to last year have people feeling a little short-changed. To make matters worse, a lot of Australian's who booked ski holidays in New Zealand are seeing their homeland have one of its best starts to August, so there's a feeling among those with the most $$$ at stake of luck not flowing the right way.
Up north, it appears to me that Whakapapa is having its worst year of the decade, and Turoa is battling with 2012 for the privilege. If you humour me for a second and assume for the sake of argument that things aren't really all that bad in the South Island, and I accept that Ruapehu is looking a bit desperate, then we can move forward and have a look at what August might bring.



At face value, the South Island situation right now appears to be fairly middle of the road, at least on the upper mountain. Image:: NZSki.com.
Wide angle lens
Firstly, we should briefly cover the fact that the El Nino event which has been so widely discussed is currently in danger of fizzling out in spectacular fashion. Key indicators through the Pacific have swung back to neutral and there's now only a 50/50 chance at best that an El Nino will develop.
The last two months have not resembled a developing El Nino event in the slightest anyway, which was something we've been pointing out as a possibility since that start of the year. For all intents and purposes, we can basically assume that we'll have neutral climate conditions during August.
Zoom
About the New Zealand region there are definitely some things we can say about the next few weeks. Firstly, it looks as though the strong westerlies we have been experiencing for a week or more are going to continue. For the next week the high pressures are going to hang over Australia so we'll continue to see cold fronts running across NZ from west to east. The Southern Lakes especially are going to see some healthy falls out of this up until about 12 August, and there will be frequent activity for Ruapehu, too.
Then, it looks as though we'll see a high dig down into the southern Tasman. This means we're likely to see a week of winds cycling between westerly and southerly. Depending on the fronts embedded in that flow, there's potential for further decent snowfall for both the Southern Lakes and Canterbury, but if it's not snowing it should at least be cold, which will help with snowmaking and keeping the snow base we do have in good condition.
From about 18 August until the end of the month we can expect the highs to become a bit more smothering, possibly spending an extended period sitting directly over the South Island. This doesn't bode well for snowfall, but probably means we'll be in for cold nights and more snowmaking.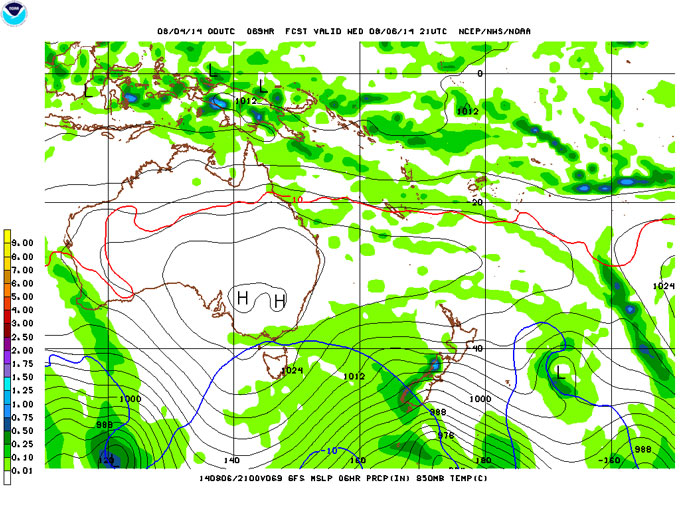 Cold fronts like this one on 7 August bring snow, but we'll see less of this sort of situation as the month wears on and the highs migrate closer and closer to NZ. Image:: NOAA.
In summary, I don't think we're going to see any miracles over the next few weeks. But I think we'll see enough snow to keep ticking over, and that might just have to do.
That's all from the Grasshopper. We'll update this outlook in early August to discuss how we're going to round out the season. If you've got a different theory on what's going to happen this winter, or just want to provide feedback, then please hit me up at grasshoppermw@gmail.com or join the discussion by commenting below.
The Remarkables forecasts,
snow reports and
live snow cams.
Treble Cone forecasts,
snow reports and
live snow cams.
Snow Park forecasts,
snow reports and
live snow cams.
Cardrona forecasts,
snow reports and
live snow cams.
Turoa forecasts,
snow reports and
live snow cams.
Coronet Peak forecasts,
snow reports and
live snow cams.
Whakapapa forecasts,
snow reports and
live snow cams.
Mount Hutt forecasts,
snow reports and
live snow cams.