Season Outlook 2014 – July Update – New Zealand
July 4th, 2014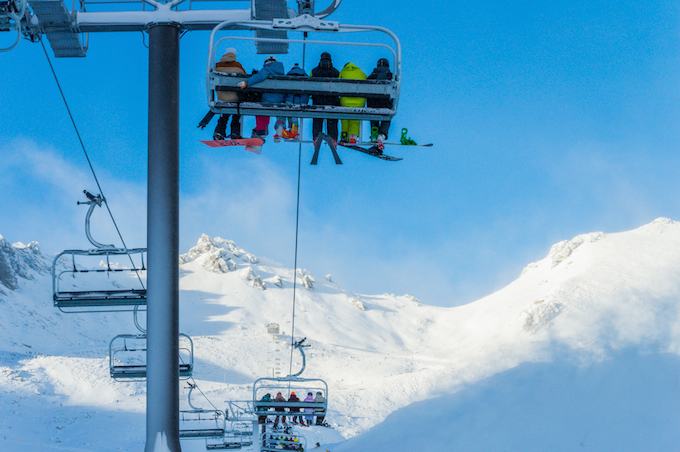 Opening day at The Remarkables yesterday saw blue sky, a new chairlift and some fresh snow. Not bad, right? Image:: The Remarkables
New Zealand Snow Outlook | The Grasshopper
A few days ago this seasonal would have been a lot harder to write. Things were starting to look a bit grim after a couple of heavy rain events and several weeks without any decent snow. But the cold snap of the last few days has got things looking a lot more wintery and should buy us a bit more time as we wait for even more to arrive.
After several years of snow outlooks for New Zealand, if I've learned anything it's that things are less predictable than in Australia. This is to be expected, because New Zealand sits further from the tropics, and so should be less sensitive to climate swings such as El Nino and more sensitive to the randomness of the southern oceans.
This means that if you get a real humdinger of an El Nino or La Nina there's probably going to be some useful stuff you can say about its effects. But when you wind up with a half-assed El Nino like the one we've got right now the situation is a little different. We need to pull things in a bit tighter and just consider what seasonal and short term models are suggesting about the local pressure patterns to see what useful information we can squeeze out.
Wide angle lens
With this in mind, let's start with the seasonal models. Over the next few months they are generally suggesting that we're going to move from the current situation where low pressure systems are dominating the Tasman Sea (like the wrong'un El Nino discussed in previous outlooks), into a situation where high pressure systems start to take control by September, in a more classic El Nino style (also discussed here).
I think this means it's important we do ok over the next six weeks, because after that we might find our opportunities for snow become a little thin on the ground (excuse the pun). So what do the next few weeks hold? Well the short answer is I believe it's going to be a slightly colder version of what we saw in June. There are going to be plenty of disorganised weather systems about, but I'm yet to see any with major snowmaking potential.
Zoom
Next week is likely to initially see some rain for both the North and South Islands from a low in the Tasman, but as the week turns into the weekend and that low pressure system crosses east of the country we will also see several opportunities for bursts of 5 to 15cm of snow from cold fronts embedded in westerlies (much like we have seen this week). The good news is that the deeper we get into winter the colder things get (well duh!) and so if the systems keep arriving in the same fashion then each one has a better chance of bearing snow than the last.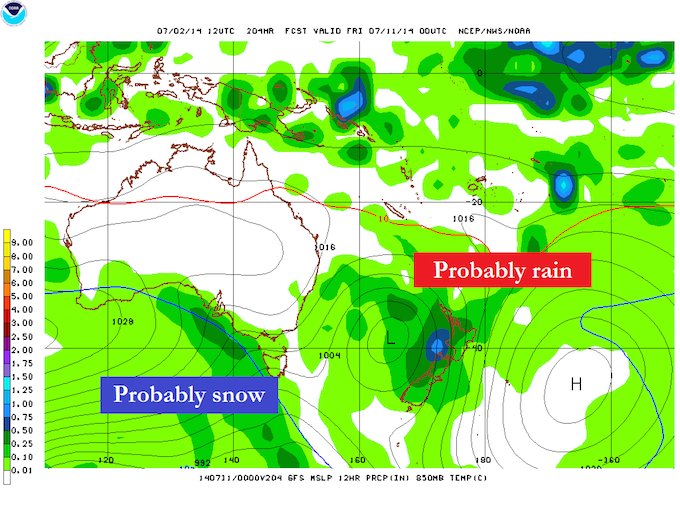 This situation late next week is fairly typical of what July might hold. Some rain, followed by some snow. Source:: NOAA.
What I'm trying to say is that while I think we're still in for some ups and downs, rain then snow, the good bits should start to outweigh the bad bits and I think we're going to see gradual improvement during July. There's always an outside chance of a massive system turning up and taking the perfect track across New Zealand, but there are no signs of that puppy just yet. Now that this season is getting up off its knees, it just needs to put one foot in front of the other.
One last thought. If those higher pressures do become more dominant in the Tasman during late August and September it's not all bad. There might be less opportunity for snow bearing systems, but it would get colder, and the situation also comes with a lottery ticket: If one of those highs can drape itself across central New Zealand it creates potential for a large north-westerly rain event along the Alps that would see those close to the divide do quite well. There's always an upside.
That's all from the Grasshopper. We'll update this outlook in early August to discuss how we're going to round out the season. If you've got a different theory on what's going to happen this winter, or just want to provide feedback, then please hit me up at grasshoppermw@gmail.com or facebook.
The Remarkables forecasts,
snow reports and
live snow cams.
Treble Cone forecasts,
snow reports and
live snow cams.
Snow Park forecasts,
snow reports and
live snow cams.
Cardrona forecasts,
snow reports and
live snow cams.
Turoa forecasts,
snow reports and
live snow cams.
Coronet Peak forecasts,
snow reports and
live snow cams.
Whakapapa forecasts,
snow reports and
live snow cams.
Mount Hutt forecasts,
snow reports and
live snow cams.