Send Nat to the Heli Challenge
July 13th, 2011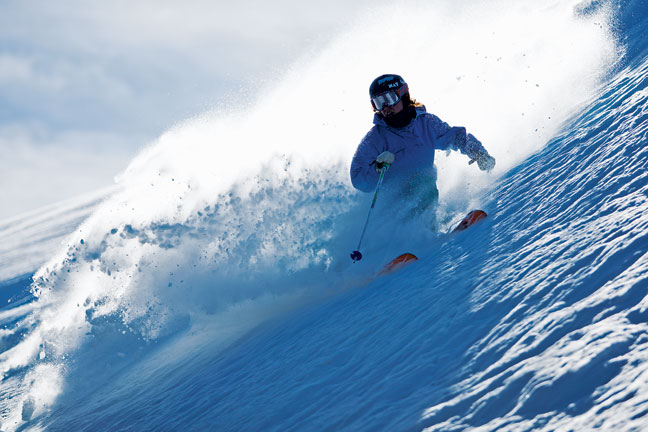 Nat, serious big mountain talent! Image:: Harro
World Heli Challenge | Nat Segal
'Send me to the Heli Challenge' is a status that has frequented Facebook over the last few weeks, well at least on my news feed. The Heli Challenge is not an off the wall battle of aircrafts, but rather a ski and snowboard event based out of Wanaka, NZ that I personally have wanted to be involved in since I got off my bump skis.
It's a progressive event, that combines a heli-accessed competition with adventures such as surfing, bungy jumping and everything else that is awesomely fun! With 60 international riders and two sweet days of competition (extreme and freestyle) it's definitely a once in a lifetime experience. Other than this being a great experience for me, I also see the Heli Challenge as an awesome competition for us southerners to be hosting. It supports local talent and aims to bring freeskiing to our backyard, beats buying a ticket to America!
This year I am going to be in NZ during the Heli Challenge and I have received an invitation to compete. Despite being the hardworking ski bum I am (bit of an oxymoron), I'm still struggling to raise the money for the $1,600 entry fee. It's steeper than normal as competitions go but usually you don't get to ride in a heli!
But there is hope. With the help of Liberty Skis Australia I have been fundraising for my entry fee and so far I have raised $1,100. Generous considering the amount of ski bums who donated money instead of partaking in another beer. Coaches from Team Buller Riders went to the point of donating their dim sim money to the cause. I call that friendship. I think Murray Bartram (my fellow Liberty team rider) put it best. "The Aussie Ski industry sometimes gets a bad wrap because of over priced everything but, when you sit down and tell people what your plans are, and what you are working towards, everyone is keen to chip in and help out where they can."
And that's what's up.
The fundraising is still rocking on until the end of this week (Sunday July 17th), there is still $500 to be raised and some celebrations to be had. So if you want to jump in and support, the details are below. Boen Ferguson, local NSW shredder and Liberty Skis rider is also fundraising in NSW for his own chance to get there. You can get involved either at Larry Adler or Wilderness Sports.
The Deal:
For each $5 donation your name will go in the draw to win.
Prize: LTE Liberty Skis 164 cm and the genuine feeling of happiness for helping out a friend
Where to make a donation: I'm based out of Mt Buller and Melbourne. If want to you can donate online by emailing me natjsegal@gmail.com.
When do you win?: The prizes will be drawn just before the Heli Challenge, on the 17th of June, so there will be plenty of time to play on your new skis on Australian snow.
Any support is great support so if you have got an extra $5 in your back pocket, be a legend and donate to support the local freestyle community, you know what tastes better than coffee………….a chance to win a new pair of skis.