Shiga Kogen – Honshu, Japan – The Definitive Guide
September 3rd, 2015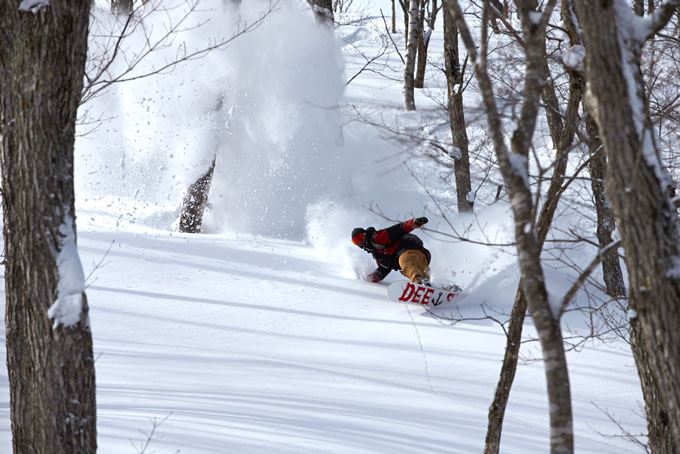 Charles Beckinsale lays out a huge pow turn on the backside of Shiga's main face. Image:: Andrew Fawcett
Transfer | Words by Richie Carroll
It's safe to say that the average Aussie or Kiwi snowboarder is well and truly acquainted with Hokkaido and its offerings. These days, droves of antipodean tourists flock there year after year – crowds are actually beginning to turn some people off. As a result, many riders who travel to Japan are keen to explore destinations that have remained relatively under the radar up until now.
The island of Honshu is no secret, but a trip there certainly involves slightly more research and preparation than the better-travelled routes up in Hokkaido. Back in February of 2015, Transfer received an invite to check out the Hakuba Valley, as well as some of the more off-the-beaten-path resorts in and around Nagano and Niigata prefecture. What we found was a uniquely Japanese cultural experience with plenty of powder and some of the best terrain to be found in Japan. For most of our crew, it wasn't our first visit, and what stood out most was the unmistakeable indication that the wheels of change are turning. Australian owned businesses are setting up shop and the crowds are beginning to descend on resorts where just five years ago you'd be lucky to spot another westerner. So take a chance on your next trip and step away from the more run-of-the-mill destinations, you'll be surprised what you might find.
Check out the first in a four part series covering our pick of the best resorts in Nagano and Niigata prefectures.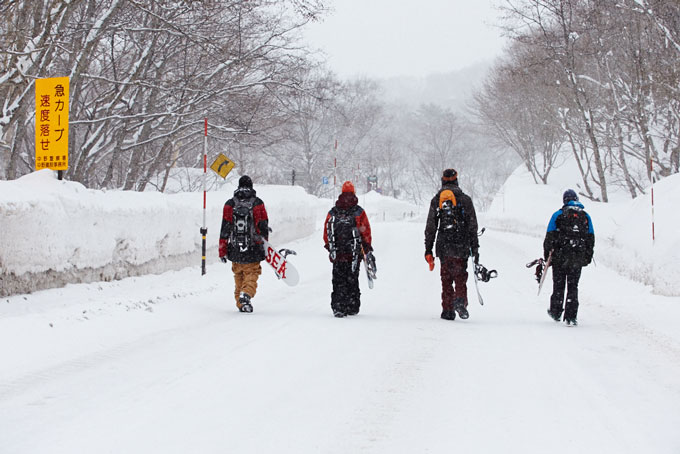 You can ride sidecountry right off the top lift, and then get back to the resort with a short five minute walk back Image:: Andrew Fawcett
Shiga Kogen
Shiga Kogen is the largest ski area in Honshu, made up of 21 different resorts that can be all accessed on the one lift pass. Located approximately 50 kilometres northeast of downtown Nagano, Shiga Kogen is within the boundaries of the Joshinetsu National Park. Shiga put itself on the international powder map when it hosted various events during the 1988 Nagano Winter Olympics. The terrain on offer is definitely not for those in pursuit of extreme lines and 'Steep 'n' Deep' turns. Instead, Shiga offers fun and playful terrain, great for those intermediate riders looking to build their powder riding skills and stoke.
Location
50km northeast of Nagano city and 250km northwest of Tokyo.
How To Get There
The most convenient way to get to Shiga Kogen is from Narita Airport. Get a 90-minute bullet train to Nagano, from there, jump on a direct bus to Shiga Kogen which takes roughly one hour.
Where To Stay
Shiga Kogen has a variety of accommodation options, with the most common being ski-in/ski-out hotels. The hotels offer a wide range of options depending on your budget, with Japanese and Western options.
Where to Party
Shiga Kogen is quite a traditional Japanese ski resort where most visitors stay, eat and socialise in the comforts of their own hotel. Ichinose is definitely the most vibrant area in Shiga Kogen offering several restaurants and bars. Try the locally brewed beer.
Pow Rating
5/10. Although the snow falls heavily throughout winter and offers some of the driest snow on Honshu, the resort does not have the desired pitch to have yourself an all-time powder day.
Insider Tips
If you're a beginner to intermediate snowboarder this is the resort for you. It offers forgiving terrain to develop and refine your powder riding skills. Watch out for the ski-only chairlifts. You may have to get the chairlift back down to the bottom like we did.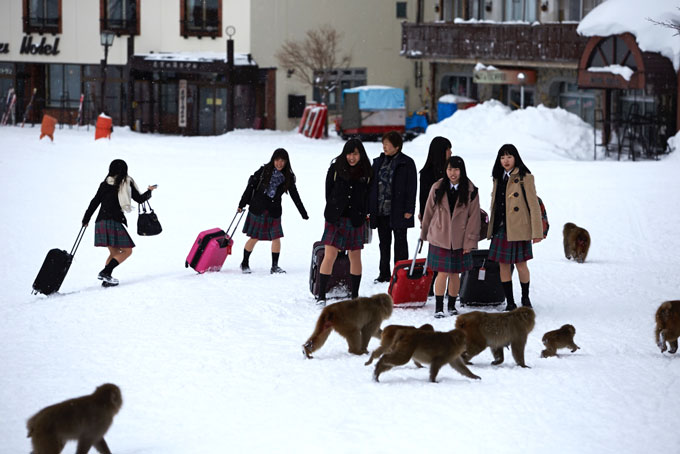 Some Shiga locals making friends with some visitors Image:: Andrew Fawcett
STATS:
Coordinates: 36.7057° N, 138.5079° E
Island: Honshu
Closest City: Nagano
Number of Resorts: 21
Elevation:  2307m
Vertical Drop: 980m
Ski Patrol / Mountain Safety: Yes.
Avalanche Control: Yes
Terrain: Fun and Forgiving
Terrain Parks: 2
Touring: Good access from the resorts, but lacking in steep terrain.
Pow Rating: 2/5
Other Activities: Snow Monkeys