Snow Alert NZ – Consistent top-ups on the way down south
September 15th, 2014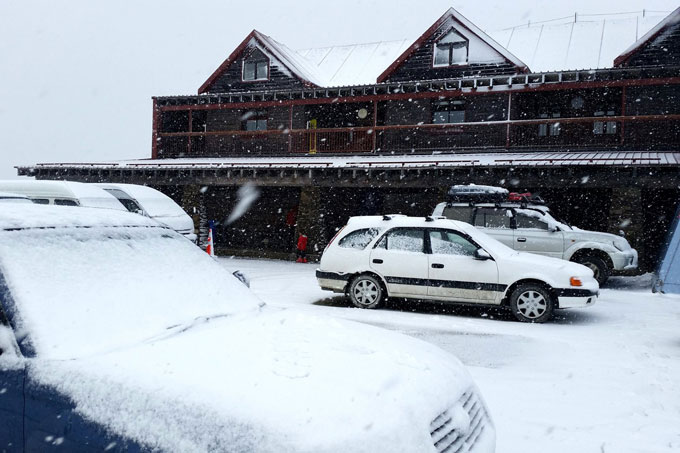 Cardrona's carpark this afternoon. Reports indicate about 7cm has fallen through the day. Image:: Cardrona
SNOW ALERT
 The force is strong.
Filed:September 15, 2014
It's been a slow winter in New Zealand. Sure, there's been snow, and there's been some powder days, but it kinda feels like it never actually hit full pace. When it gets like that, we get excited by even the smallest snowfalls, particularly when they line up over a whole week.
So what's in store for this week? It's not going to be anything huge, but at this stage of September any snow fall we do get will help to prolong spring just that little bit further. In today's forecast, The Grasshopper said: " There's a low pressure system speedily approaching Fiordland and from this afternoon it will be lobbing snow showers over to the Southern Lakes, with Canterbury in line for the same treatment tonight. We're only talking about 5cm." Then things slow down for a few days, before the next few fronts hit on Thursday.
Thursday is still four days away, which is a long time in weather forecasting, but>The Grasshopperseems optimistic in his extended outlook: "We can expect more of these small features to keep on rocking past and delivering little bites of snow, which is really going to help extend the season."
Keep your eye on The Grasshopper's daily forecast over the next few days to see how this one tracks. And don't forget to jump onto that email database to get the Weekend Forecast delivered straight to your inbox.
The Breakdown:
About 5-8cm today and flurries tomorrow. Then a 5-10cm top-up from Thursday to Friday.Alert level: It's currently snowing)
Are you in the mountains this week? Tag a#mountainwatch>on your photos on FacebookandInstagramor email your shots toalexh@mountainwatch.com.