SNOW DEALS – Australian Resorts Packages, Bargains and Specials 2012
April 17th, 2012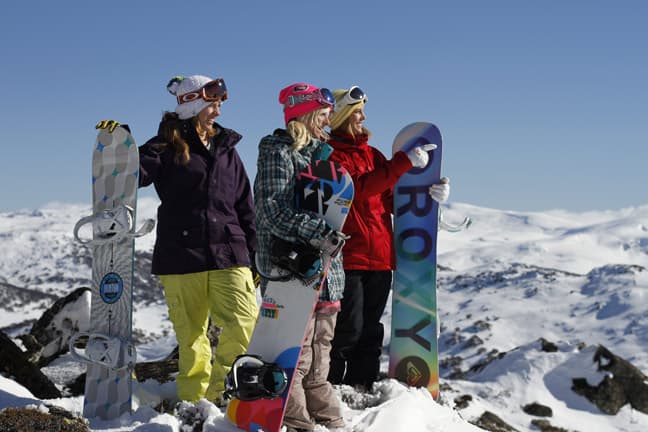 Plenty of ways to get your friends or family together for a snow trip. Image:: Perisher
2012 deals | Tessa Cook
Here's a rundown of the best deals and packages the Australian resorts are offering in 2012. Remember, this is just a sample of the packages on offer, and the resorts will be rolling out last minute specials, of-the-moment hot deals and plenty of enticing packages throughout the season.
Perisher
Purchase your lift and lesson tickets online before 31 May and you can save up to 30%.
Here's a great one – midweek 3 and 4 day tickets during July and August, so you can save on ticket costs even during the peak season if you ski mid week.
A nice nod to flexibility – the 5 in 7 day ticket, from $295, no more trying to decide if you should buy the better value 7 day pass and run the risk of wanting a day off skiing.
Plus more flexibility in lift and lesson and beginner lift and lesson packages. For example you can package a 5 day lift ticket with 3 days of lessons if that's all you're after.
Thredbo
Buy early and you can save more at the eStore (yes, we made that rhyme, not Thredbo). This applies to Thredbo's most popular ticket products like multi-day lift passes, lift and lesson passes and Thredbo Starter Packages. Buy 28 or more days in advance and save 15%,7 or more days in advance and save 10%.
Another mid week deal! In selected weeks in July and August you get 15% off the 3 day and 5 day mid week passes. Valid on lift and lift & lesson tickets.
An old favourite, the kids stay and ski free deal. For 3, 5 or 7 nights in June and September. 3 days from $ 1,282 per family, 5 days from $ 2,044 per family, 7 days from $ 2,902 per family. Family is two adults and two children under 14.
And a new favourite, the super saver peak season packages for 3 or 5 nights including accommodation, breakfast and tickets. Particularly liking the quad share option so you can go with mates to make it better value! From $646 per person twin share and from $601 per person quad share for 3 nights. From $1036 per person twin share and from $741 per person quad share for 5 nights.
Falls Creek
Ok here's big news: many 3 day or greater lift, lift & lesson or lift, lesson & rental passes have been discounted and ARE NOW CHEAPER than they were in 2011. A 5 day lift ticket cost $482 in 2011, this year it will be $424!
And to be different, weekend lift pass specials. Valid for use on Saturday & Sunday only the peak season two day pass will be $185 per adult, $157 per youth & $93 per child and the value season will be $146 per adult, $124 per youth & $73 per child. Does not have to be pre purchased and can be purchased from 3pm Friday afternoon – we hear last-minute powder dashes happening!
And some other good news – a peak season kids-free package. 3 Nights Lodge Style Accommodation at Viking Lodge, lift passes and rentals for two adults and two kids under 14 from $789 per Adult. Valid 27 July – 11 August 2012. So a weekend family trip… nice.
Hotham
A personal favourite: lecture free Fridays – Full-time tertiary students get 50% off adult one day lift pass prices EVERY Friday of the season. As if anyone needs an excuse to miss uni on Fridays…
Add this weekend only deal and you've got a long, study-free weekend -a 2 day weekend pass for Saturday and Sunday in peak season for only $185 for adults and $93 for kids. Value season 2 day weekend pass only $146 for adults and $73 for kids.
New savings on multiday lift passes – a 3 day lift pass for only $270 and $85 per day for adults and $43 for kids with a 5 day lift pass.
Kids ski FREE – during Value Season when accompanied by a paying adult and pre-booked with a 3 night or more accommodation package.
Plus under 5s and over 70s ski FREE every day of the season!
Mt Buller
Here's an exciting proposition: "Buller Ski Lifts and participating accommodation houses have teamed up to offer a money-back guarantee on pre-paid accommodation packages when there is insufficient snow cover for our Ski Guarantee lifts to run. Covering a wide range of beginner and intermediate ski areas, the Ski Guarantee offers peace of mind when people pre-pay their accommodation, lift ticket and lesson packages."
For the snowboarders in July and August, 2 day unlimited adult lift ticket, and 2 day snowboard & boots hire, weekend from $471 per person and midweek from $431 per person – plus tertiary students with appropriate ID will save up to 20% off full adult lift ticket & hire.
And for everyone, a deal that makes the mates trip seem totally doable: 2 nights' midweek hotel style accommodation, full cooked breakfast daily, welcome drink, 2 day ski hire and 2 day clothing hiref rom just $350 per person (based on four people) plus, upgrade to 5 nights for $610, in value season.
Plus Buller is the most generous resort when it comes to students. Child rates extend to all school-aged kids, right up to year 12. Then Uni students get 20% off tickets and hire, including lessons EVERY DAY – and on Tuesdays it's half price. Thanks Buller.
Perisher forecasts,
snow reports and
live snow cams.
Falls Creek forecasts,
snow reports and
live snow cams.
Mount Buller forecasts,
snow reports and
live snow cams.
Charlotte Pass forecasts,
snow reports and
live snow cams.
Hotham forecasts,
snow reports and
live snow cams.
Thredbo forecasts,
snow reports and
live snow cams.