Snow Season Outlook 2015 – Australia – El Nino Dos Awaits
March 31st, 2015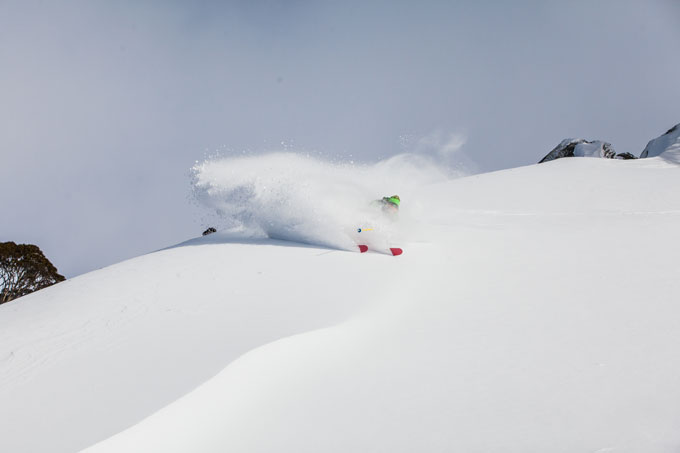 It was the 'Wrong'un' of last year that delivered the epic falls of late June and early July. As you'll read below, it could possibly happen again Image:: Thredbo Resort
Australian Seasonal Snow Outlook | The Grasshopper
If this were a movie I guess they'd be calling it El Nino Dos. Saddle up and pack some heat, because this is going to be more action-horror than rom-com.
It's a real struggle to fight the fact that we're on our way to a full blown El Nino event this winter. With last year's borderline event, I was prepared to sit on the fence a few months longer to let the atmosphere show its hand. This year, I'm searching for reasons not to trust the extreme weight of evidence leaning towards El Nino. The only argument I can come up with is the old "it's too early to call" defence, which is always a valid point during March and April. But even if I allow for some uncertainty, the odds are still two out of three that we'll get there, and even if we don't we'll have some sort of El Nino flavour. So in this outlook we're going to talk about what sort of El Nino we're likely to experience and what that means for the coming winter.
The rules of El Nino
I'm going to lean heavily of last year's analysis of the "almost" El Nino that defined the Australian winter.
1) The first rule is you do not talk about El Nino:
Nah, just kidding. Just don't let know-nothing-morons talk to you about El Nino. Same way I try not to give guys called Mitchell advice on how to bowl fast.
2) The second rule of El Nino is that you have to ask "what sort of El Nino?"
1982 was an El Nino and it sucked. 1991 was an El Nino and Reggae Ellis is still talking about how good that August was. Turns out we can roughly divide El Ninos into two groups: Classics and Wrong'uns (my term, cause they spin the wrong way).
The "Classics" are what you read about on Wikipedia. Big fat highs sit down on south-eastern Australia, suppressing cloud and holding the fronts and rain from the southern oceans at bay. The areas of red/orange in the image below shows where pressures are higher during these events.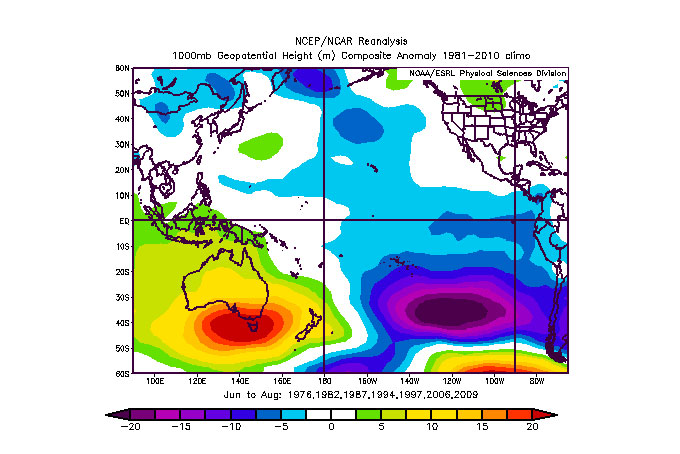 A Classic El Nino pressure anomaly: You strike one of these suckers and you'll be struggling to clear a peak snow depth of 1.5 metres.
The "Wrong-uns" are the embarrassing cousin of the climate forecasting world. Not talked about much and never living up to expectations. But they're often extremely good news for Australian snow lovers. When these turn up the higher pressures don't eventuate and the lower pressures move north to encroach upon Australia. This is going to mean more frequent and/or stronger westerly winds, and the air in those westerlies is going to be sourced from the southern oceans. We won't necessarily get more precipitation, but when it does arrive it should be colder, and so more likely to fall as snow.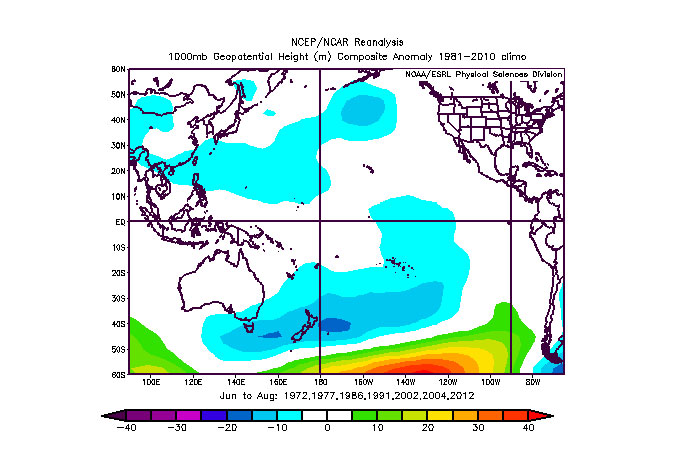 A Wrong'un El Nino pressure anomaly: Hit a pattern like this and you'll be scoring fresh turns before Warney can see his next hand of poker. 2 metres is on the cards if you can score a full winter of this situation.
3) The third rule of El Nino is that they can change their stripes mid-winter.
Last year, given the weak strength of the El Nino signal, I really struggled to make a call: Classic or Wrong'un? The fascinating thing was that in the end we got a bit of both. From late June to late July we got a golden run of deep lows delivering multiple cold fronts and we put on 150cm of snowbase in a month (the reported snow was much much more – but it quickly packed down). Then the climate flipped and we hit a period of more Classic El Nino conditions. The snow base at Spencer's Creek never went higher than its peak of 168cm in late July and the pattern for the winter as a whole was more Classic than Wrong'un.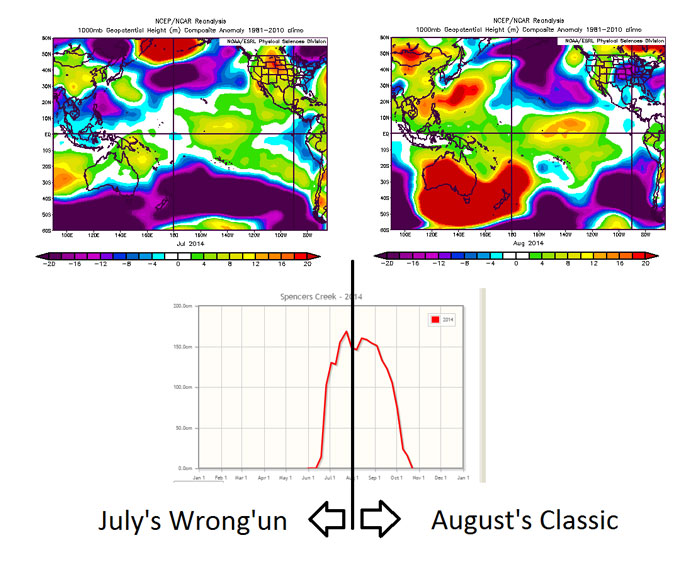 The moment we switched from the Wrong'un in July (negative anomalies) to the Classic in August (positive anomalies) last winter the big storms dried up.
It's coming back around again
We're heading for an El Nino and it's got a good chance of being a strong one. Those of you who have been paying attention are wondering whether it's a Wrong'un or a Classic. The less patient among you are now telling me to hurry up and spill. I'm delaying as long as possible because, all things considered, it looks more likely than not that the dreaded Classic El Nino situation will have the upper hand this winter.
While this is not set in stone, it's going to take several climate models being quite wrong (wouldn't be the first time) for this to turn the other way. We can hope, but in the meantime my forecast of peak snow depth at Spencers Creek this winter is a paltry, pathetic and potentially petrifying 140cm, with the first 50cm storm waiting until late July to pay a visit. That would make it the worst year since 2006, another Classic El Nino through June/July/August that only managed 85cm peak snow depth at Spencers Creek.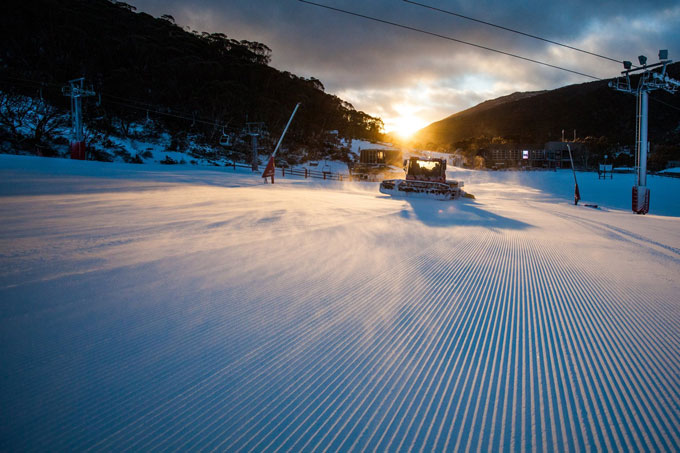 Alpine sunrises like this are just around the corner, hopefully they'll be accompanied by plenty of Alpine Powder Days, too Image:: Thredbo Resort
Get out of jail free?
No matter what happens during June/July, we'll always have a roll of the dice that a couple of big storms will turn up during August.
In addition, one or two models are indicating that we might see the unusual spectacle of the Indian Ocean Dipole turning negative like it did in 2012. This would mean warmer waters north-west of Australia, which pump moisture into the atmosphere that can be dragged down over Australia, meeting up with cold fronts to produce snow.
This leaves us with a couple of opportunities for getting out of this sticky situation, and reinforces the fact that seasonal forecasting is an evil beast, where a hit rate of even 70% makes you a superstar.
Finally, those of you who read the Bureau outlooks will be reading about some wetter conditions that will be hanging around for the next three months. This is potentially confusing, but just accept that the BOM forecast is generally an April/May thing, and forget about it with respect to snow.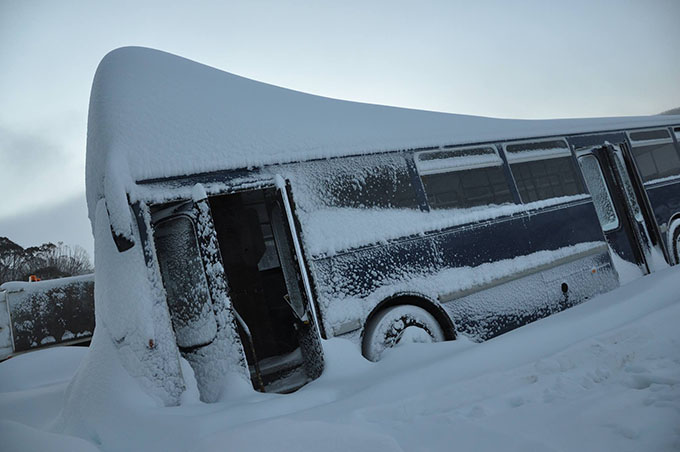 Remember this? Maybe it's time to start sacrificing skis to the snow gods in the hope it will happen again? Image:: Perisher
Given all of the above, am I still buying that season pass as early and as cheaply as possible? Hell yes. For three reasons personally:
I might be wrong about the below average snowfall, and I just couldn't stomach the idea of being wrong with my forecast and missing out on a good season at the same time.
The companion of big high pressure systems and a lack of fronts is cold, dry, clear nights and copious amounts of snow-making. If the climate goes the way the forecast is suggesting then groomed areas will get a leg up anyway.
The forecast conditions, combined with the possibility that some people will stay away, leave me anticipating plenty of free space and winter sunburn. Bring it on.
The only caveat to all this is that, with temperatures also looking a bit warmer than normal, I'll be favouring those resorts with more elevation to play with. That's partly seasonal forecast, and partly the growing reality we're faced with year to year due to the warming climate.
So, I'll see you out there. Just find your happy place and slide.
We'll update this outlook in early May. If you've got a different theory on what's going to happen this winter, or just want to provide feedback, then please hit me up on the discussion below. Or you can follow me on facebook.
Perisher forecasts,
snow reports and
live snow cams.
Falls Creek forecasts,
snow reports and
live snow cams.
Mount Buller forecasts,
snow reports and
live snow cams.
Charlotte Pass forecasts,
snow reports and
live snow cams.
Thredbo forecasts,
snow reports and
live snow cams.
Mount Baw Baw forecasts,
snow reports and
live snow cams.