Snow Season Outlook 2015 – July Update – Australia – El Nino's Iron Grip
June 29th, 2015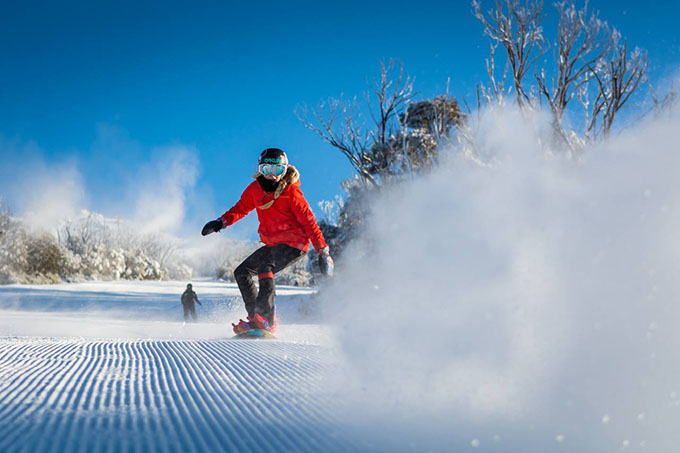 There may not be much natural snow, but there's definitely snow. Zahra Kell rip through some man-made pow Image:: Thredbo
Australian Seasonal Snow Outlook – July update | The Grasshopper
Brought to you by ESS Boardstores
We've been Nino'ed. June started with a rush of cold air, but that was followed by four straight weeks of dominant high pressure. Can we break the iron grip of those highs during July?
By now you'll know that this year's seasonal outlook came down to one question. Were we going to be crushed by the dastardly high pressures of a "Classic" El Nino event, or would we find ourselves dancing to the wild westerlies brought on by a "Wrong'un" El Nino. For a refresher, check out this explainer for the full rundown
If you've been paying attention, you'll also know that June was very much, totally, absolutely, well and truly, characterised by Classic El Nino conditions. No doubt. The image below presents a selection of days during June, each 5 days apart, illustrating how dominant those highs were.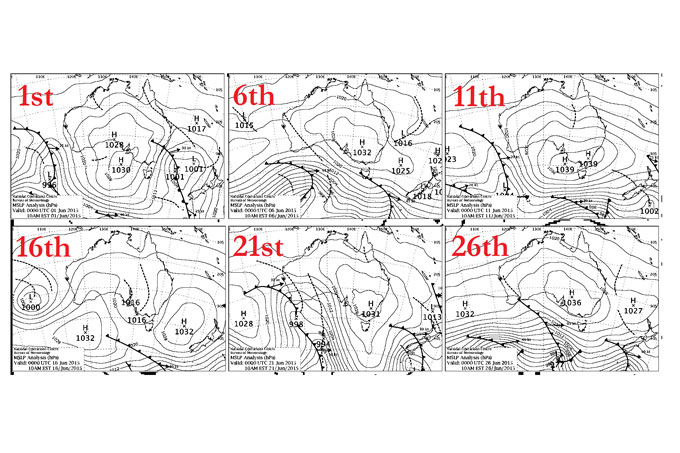 High after high after high. Image:: BOM
Now we find ourselves in early July, and if it weren't for snowmaking I doubt we'd be skiing at all. But I need to stress that there is still plenty of time for things to come good, and it's not unusual for the base to still be a little thin at this time of year. The image below compares snow depths at Spencers Creek this year to those in 1997, the last time a really big intense El Nino rolled around. That year we still saw some decent snow turn up in July/August.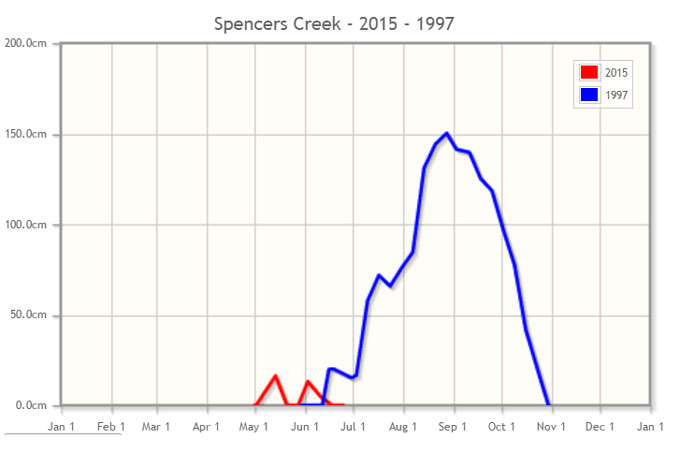 There's still time. Image:: Snowy Hydro
And casting back to two other strong El Nino years that I've referred to frequently, in the next image you can see that 1982 and 1991 were both still struggling by early July. 1982 topped out at a measly 91cm snow depth at Spencers Creek in mid-August, but 1991 went on to reach 281cm by early September.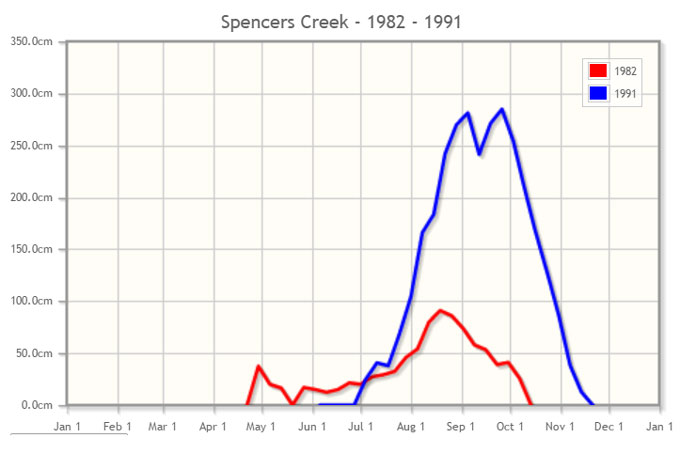 Flop or fly? Image:: Snowy Hydro
This says to me that what happens during June cannot always be taken as a reliable predictor of what will happen during July and August. It's still up in the air, and could still come good, if by some miracle we could loosen the grip of the higher pressures that have been strangling the life out of any cold front that so much as winks at us.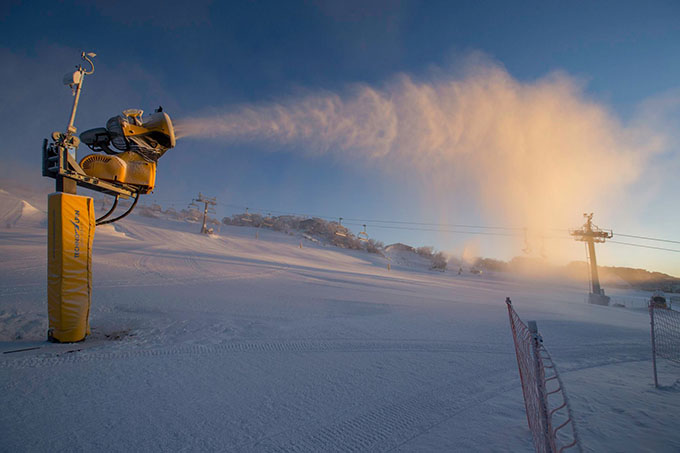 All the resort's efforts with snow making are to be commended. No doubt they'll keep us skiing until Ullr delivers Image:: Perisher
Looking forward
The odds of this happening during July, unfortunately, seem pretty slim at the moment (that's why we call it a miracle). This week is going to see a couple of fronts have a crack at the Aussie Alps, but they are expected to skate through pretty quickly, leaving behind maybe 5 to 20cm of snow, which will fade pretty quickly if we don't see any follow up soon after. The second week of July looks pretty similar, dominated by highs, with a couple of low pressure features that will add some snow, but probably not a huge amount. In the second half of July I see a sliver of hope that low pressure and colder air might be able to push further north and get something more significant done, but it's a long shot.
Before we know it, it's going to be August, and the odds are we'll be starting that month with snow depths at Spencers Creek of less than 70cm. The highs are forecast to continue their dominance, but because it's the depth of winter it's our best chance for any precipitation to fall as snow. So I'd expect we'd add between 50cm and 100cm of base during August, and this should see the peak snow depth for 2015 at Spencers Creek top out around 130cm, compared to a long term median of around 176cm, that's a tough year.
That's all from the Grasshopper. We'll update this outlook in early August. If you've got a different theory on what's going to happen this winter, or just want to provide feedback, then please hit me up on the discussion below. Or you can follow me on facebook.
NOW WATCH:
SIGN UP TO THE GRASSHOPPER'S AUS/NZ WEEKEND FORECAST:

Perisher forecasts,
snow reports and
live snow cams.
Falls Creek forecasts,
snow reports and
live snow cams.
Mount Buller forecasts,
snow reports and
live snow cams.
Charlotte Pass forecasts,
snow reports and
live snow cams.
Thredbo forecasts,
snow reports and
live snow cams.
Mount Baw Baw forecasts,
snow reports and
live snow cams.