Snow Season Outlook 2015 – July Update – New Zealand
June 30th, 2015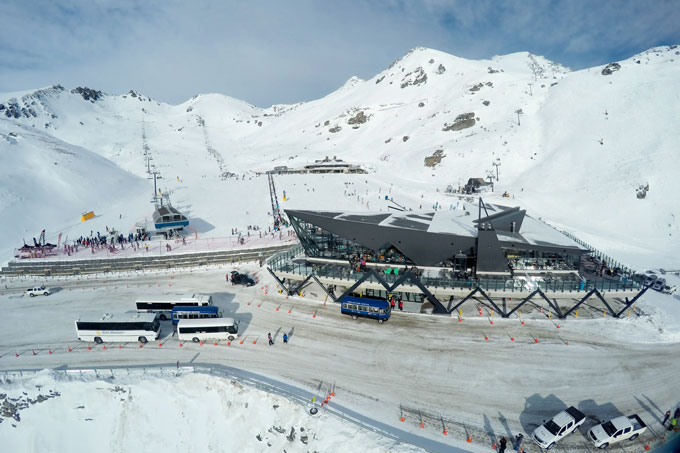 The Remarkables delayed their opening due to ongoing construction of their new base building. Once they did kick things off, both the building and the mountain were looking spectacular Image:: NZSki
New Zealand Seasonal Snow Outlook | The Grasshopper
Brought to you by ESS Boardstores
The South Island's ski season is off to a memorable start. The North Island is starting the way it often does, with very limited terrain open. All signs still point to gradual improvement…
It's early July and South Island ski fields find themselves in a wonderful position, with plenty of snow already on the ground and a ready supply of westerlies and cold fronts emerging out of the southern oceans to the south-west. Things are also now getting cold enough for Ruapehu, so that snow is falling to lower levels and bases are starting to build.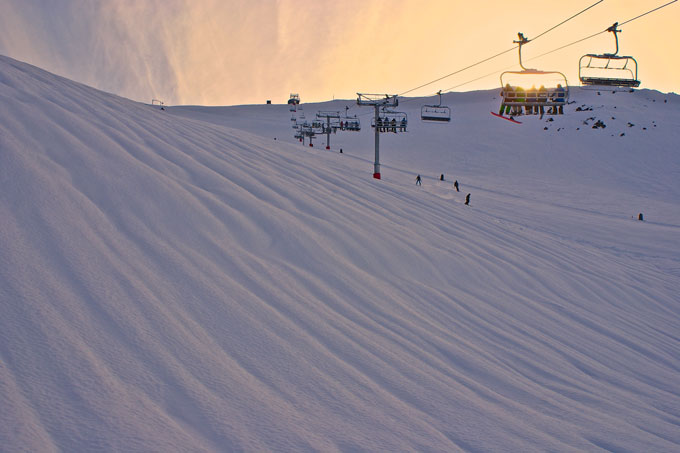 Some Canterbury perfection on Mt Hutt's opening day. Image:: NZSki
The Westerly Wind-up
None of this should be a huge surprise if you've been following these outlooks over the last few months. Because of the stronger and more frequent westerly flow associated with strong El Nino conditions we've been expecting regular cold fronts and gradual improvement. The one exception to this general pattern occurred a couple of weeks ago, when a very unique and random set of circumstances (that had nothing to do with El Nino) allowed a cold southerly to undercut a very wet north-westerly flow, leading to a quickfire metre of snow for many places.
Because of that one event, South Island bases are definitely tracking ahead of where I thought they would be, but that's the joy of seasonal forecasting; one event can make all the difference.
What's ahead?
Looking ahead, there's no huge change to expectations over the next couple of months. We still expect high pressures to dominate over Australia and lower pressures to run the show south of New Zealand. That will keep the westerlies coming, and if anything we might just see a bit more south-west and southerly flow during July and August, consistent with El Nino in the depths of winter. That will keep things cold, helping the groomers maintain the snowpack in tip-top conditions, but also slightly reduce the amount of moisture available.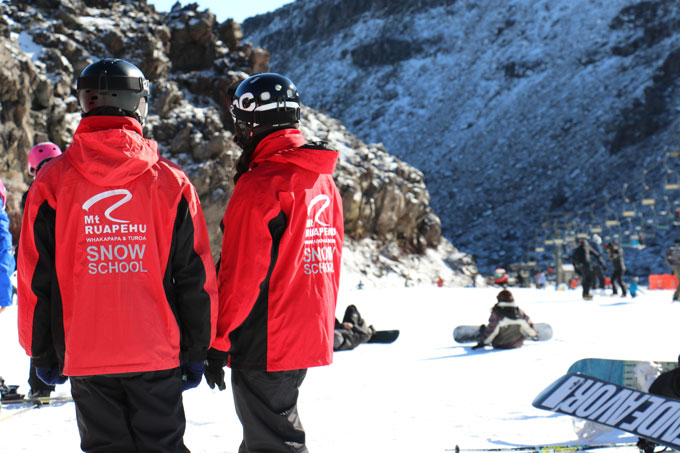 North Island resorts will be looking forward to more snow, but did manage to open on schedule over the weekend Image:: Mt Ruapehu
In summary, we were always expecting a solid year for the South Island, but that event of a couple of weeks ago was a huge bonus, which means we'll probably ride through the season with a good base, and frequent additions of powder. My one warning is that we've already seen an example of the disruption those westerly winds can have to lift operations. If you've booked for a good five days or so, then be ready to give up at least one of those to wind hold.
For the North Island, it's a case of "steady as she goes". By the end of July things will be bearable and by the end of August we'll be humming. Just have faith.
That's all from the Grasshopper. We'll update this outlook in early-August. If you've got a different theory on what's going to happen this winter, or just want to provide feedback, then please hit me up on the discussion below. Or you can follow me on facebook.
SIGN UP TO THE GRASSHOPPER'S AUS/NZ WEEKEND FORECAST:
>

The Remarkables forecasts,
snow reports and
live snow cams.
Treble Cone forecasts,
snow reports and
live snow cams.
Cardrona forecasts,
snow reports and
live snow cams.
Turoa forecasts,
snow reports and
live snow cams.
Coronet Peak forecasts,
snow reports and
live snow cams.
Whakapapa forecasts,
snow reports and
live snow cams.
Mount Hutt forecasts,
snow reports and
live snow cams.