Snow Season Outlook 2015 – June Update – Australia – Welcome to Winter
June 1st, 2015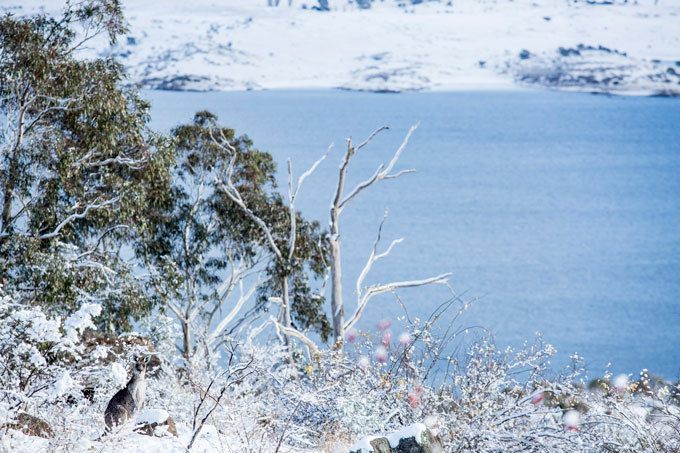 Welcome to Winter. Lake Jindabyne, June 1, 2015 Image:: Lucas Wilkinson
Australian Seasonal Snow Outlook – June update | The Grasshopper
Brought to you by ESS Boardstores
El Nino is here and for the next six months it's going to get blamed for anything weird that happens with the weather. But here at Mountainwatch we believe in innocent until proven guilty. All rise for Judge Grasshopper…
For the last couple of months I've been framing this Winter's outlook as a battle between good and evil. Are we going to be crushed by the dastardly high pressures of a "Classic" El Nino event, or will we find ourselves dancing to the wild westerlies brought on by a "Wrong'un".
If you're new to this narrative and want to know the difference between a Classic and a Wrong'un, or need a refresher on what we mean by El Nino, then check out this explainer for the full rundown.
For those of you who have been following closely, I don't want to subject you to yet another explanation of the different flavours of El Nino, so this month I'm getting straight down to business.

Will El Nino please take the stand. Source::BOM
The Verdict
We're already in the midst of a declared El Nino, and the overwhelming evidence from observations in the Pacific and computer model forecasts is that the event is going to strengthen further during the winter, peaking during the spring.
Unfortunately, from my analysis of the models, we're now facing a 75% chance of an El Nino that more closely resembles a Classic than a Wrong'un. The evidence is pointing ever more strongly towards a large area of higher than average pressures affecting South-eastern Australia from June to August.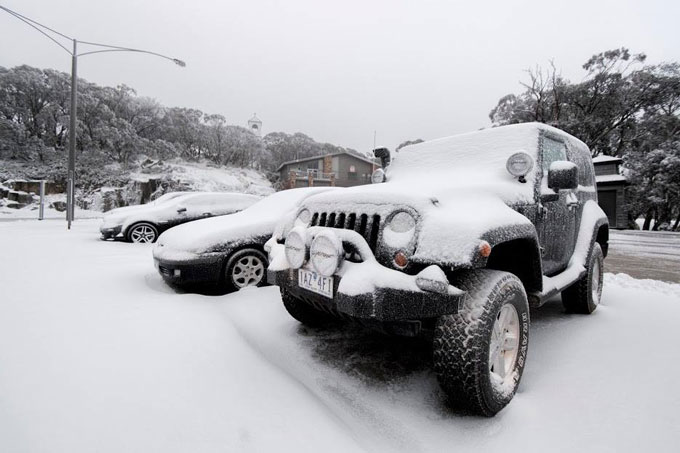 Obviously Ullr is excited about Winter, too. June 1 2015 Image:: Mt Buller
There is some disagreement about exactly where this high pressure anomaly may centre itself – in the Bight, over Australia, or in the Tasman – but the unavoidable conclusion is that, compared to an average year, high pressure systems are probably going to get in the way of cold fronts more often, reducing the potential for snowfall across the Alps.
This does not mean that every front is going to be turned away like a drunk on George Street. It does not mean we won't get a couple of really decent storms. But when you add them all up, the tendency will be towards a bit less snow than an average winter, and that means that I'm now forecasting a peak snow depth of 150cm at Spencer's Creek – compared to a long term median of around 176cm.
Guilty as charged. Take him away.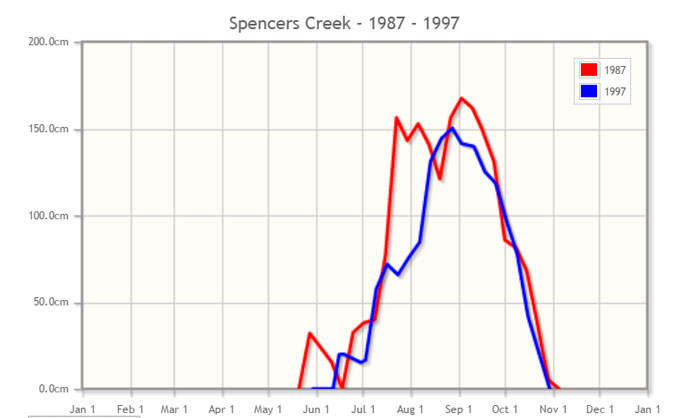 Two recent Classics dominated by high pressure. Source:: Snowy Hydro
Early parole for good behaviour
There are still some get out of jail free cards:
• The models could be wrong about the Classic, and a Wrong'un might make an appearance, if only for a month.
• One big storm could secure the entire winter (a la Snowmageddon last year).
• Higher pressures will mean clearer, colder, drier nights, with lots of opportunities to snowmaking. Possibly record breaking amounts.
To prove my point about not getting too down in the dumps about this forecast, by the time this outlook is published the Alps will have picked up 10 to 30cm of fresh on the last day of May, and we're cruising toward a little more snow later in the week, which is really going to give opening weekend a wintry feel.
Beyond that, we'll see another cold front mid-to-late next week. Get used to a constant battle between the highs to the north and fairly frequent lows and fronts to the south. We've just got to get lucky a couple of times and we'll be right.
We'll update this outlook in early July. If you've got a different theory on what's going to happen this winter, or just want to provide feedback, then please hit me up on the discussion below. Or you can follow me on facebook.
SIGN UP TO THE GRASSHOPPER'S AUS/NZ WEEKEND FORECAST:

Perisher forecasts,
snow reports and
live snow cams.
Falls Creek forecasts,
snow reports and
live snow cams.
Mount Buller forecasts,
snow reports and
live snow cams.
Charlotte Pass forecasts,
snow reports and
live snow cams.
Thredbo forecasts,
snow reports and
live snow cams.
Mount Baw Baw forecasts,
snow reports and
live snow cams.