Snow Season Outlook 2015 – May Update – New Zealand
May 5th, 2015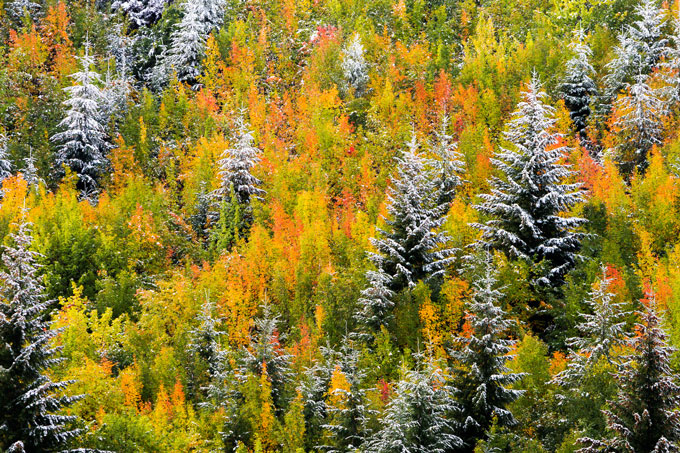 Autumn snow on Autumn trees in Arrowtown, New Zealand Image:: Vaughan Brookfield
New Zealand Seasonal Snow Outlook | The Grasshopper
Brought to you by ESS Boardstores
April's snow has come and gone, like we knew it would. But now we're in May and we're allowed to hope that soon something might stick…
I threw the main theory at you in last month's NZ outlook: Although El Nino is a highly variable commodity for the Australian snow industry, it's less so for New Zealand. The message I was trying to sell was that stronger westerlies than normal would ensure a regular supply of small to medium sized events to ensure a solid season with fairly average snow depths for most fields.
Not much has changed in the last four weeks. El Nino is still building strength like a Sith Lord in the background, and will be cranking over winter. The one difference is that while last month's forecast was also throwing in a consistent southerly anomaly over New Zealand (in addition to the westerly), the latest data suggests that we may also see periods when northerlies dominate for a while. This means that we'd see a bit less of the cold and dry, small to medium sized stuff, and a bit more warm and wet stuff from the north-west. It will come down to luck whether this means more snow or just more rain, so it adds a bit more uncertainty to the outlook.
My gut feeling is still leaning heavily towards a run-of-the-mill type year. I think most areas are going to do fine. South Island, I'd place my money on somewhere with good elevation about the Southern Lakes exposed to the south-west, but if you've booked for Canterbury I certainly wouldn't be worried. North Island, I can envisage a good solid 2 to 3 metres across Ruapehu by late-August. Just be patient and don't blow your funds with too many days sliding over tussock or rocks in June.
With that out of the way, what hope do we have of any early season snowfall to get things heading in the right direction? Well we're in for a buttload of warm rain from Tuesday night into Wednesday (5/6 May) that is going to see most slopes licked clean as a whistle. But then from Thursday we're going to enter a 7 to 10 day period of very strong westerlies that's going to see conditions across South Island mountains swinging from rain to snow to rain to snow and back again. Not sure exactly what all that's going to mean yet (give me a few days) but I've got a feeling that by mid-May we'll have a nice little blanket lying above 1500m in the South Island; enough to get us all excited and thinking that winter's nearly here.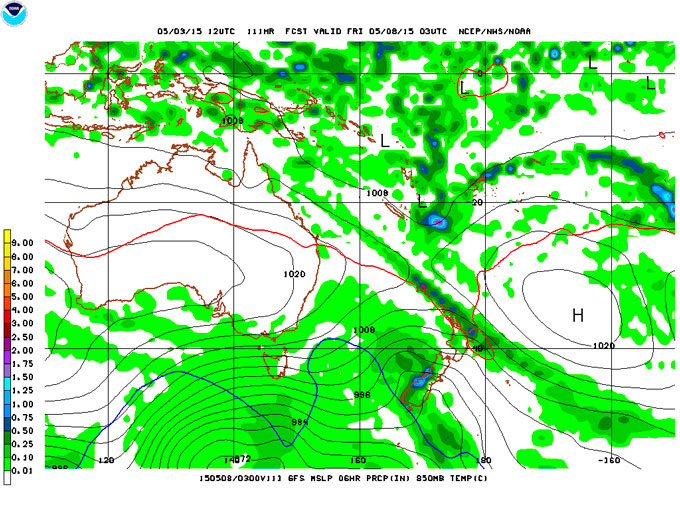 The westerlies are going to take control and feed frequent fronts onto New Zealand over the next fortnight. This is just one map, for Friday, but this theme continues until mid-May.
I'm ready now. Let me at it.
We'll update this outlook in early June. If you've got a different theory on what's going to happen this winter, or just want to provide feedback, then please hit me up on the discussion below. Or you can follow me on facebook.
SIGN UP TO THE GRASSHOPPER'S AUS/NZ WEEKEND FORECAST:

The Remarkables forecasts,
snow reports and
live snow cams.
Treble Cone forecasts,
snow reports and
live snow cams.
Cardrona forecasts,
snow reports and
live snow cams.
Turoa forecasts,
snow reports and
live snow cams.
Coronet Peak forecasts,
snow reports and
live snow cams.
Whakapapa forecasts,
snow reports and
live snow cams.
Mount Hutt forecasts,
snow reports and
live snow cams.