Snow Season Outlook 2016 – September Update – Australia – Settling for Bronze
August 31st, 2016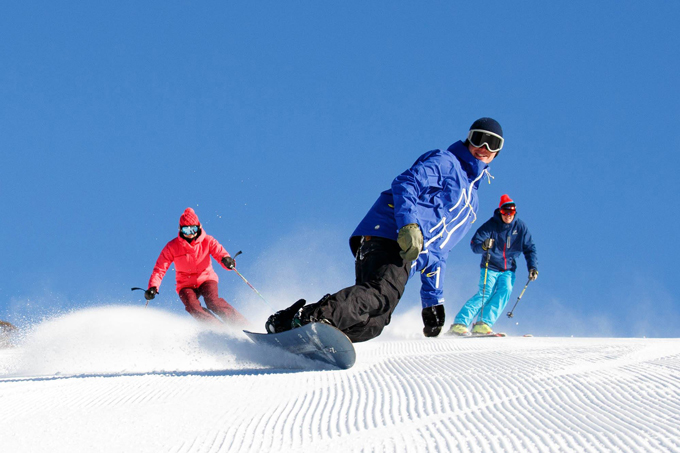 Spring's almost here which means sunny days and groomed corduroy ahead. Image:: Thredbo
Australian Seasonal Snow Outlook | The Grasshopper
Brought to you by ESS Boardstores
With stores in, Erina, Jindabyne and Parramatta
The days are starting to lengthen, the temperatures are on the up and the birds are singing. That can only mean one thing – it's time for the final outlook of the season. It won't be long before we head back to the hustle and bustle of the city, renew our gym subscriptions and start working on that perfect beach bod – yeah right! Please, take a seat and join me as we get all nostalgic over what has been quite an eventful season.
Almost but Not Quite
For me, 2016 was a promising season which never quite fulfilled its potential. It was a bit like the A-grade student that decides to skip university to backpack around the World and subsequently ends up in some dead end job. That's not to say that we haven't had our fair share of epic days this year – cause we have. All of the basic ingredients were there but someone forgot to add the yeast and we ended up with flatbread. We had a record IOD, a Neutral ENSO state and we still ended up with a below average season in terms of peak snow depth. A shy La Nina didn't quite rear its head after all and it looks like she's still gonna be in hiding next month.
The season started off slowly. In fact, I was worried that we wouldn't even be able to ski at all. The resorts opened as planned but terrain was extremely limited and we were heavily reliant on snowmaking. Tension was riding high, heavy rain made an unwanted appearance during the first half of the month and underneath their slick veneer of optimism the resort managers were just about ready to hit the panic button.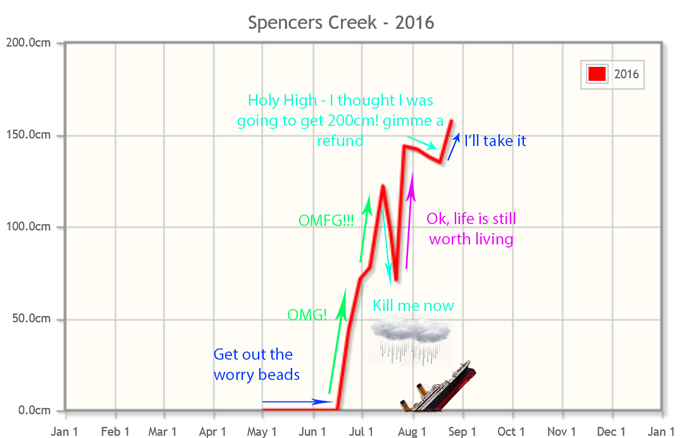 This graph pretty much sums up how I feel about the season so far. Image:: Snowy Hydro.
But, as we all know, the Aussie Alps like to keep us in suspense for shits and giggles. Luckily for us, the 'Season-Starter Solstice Storm' rolled in from the 21-25th of June with impeccable timing – just as we were about to give up all hope. Reggae Ellis reported that this storm gave some of the heaviest snowfall rates he'd seen in years. With spirits high we were taken by surprise that Ullr was going to give us second helpings. A second storm rocked up from 12 to 13th July delivering up to 70cm of dry snow which gave us some of the best conditions experienced in years. At this point optimism was sky high, conditions were ace and it seemed almost unbelievable that we were heading for an above average season after so many disappointing years. Well… it was unbelievable! The dark forces of the World decided to seek revenge. 148mm of rain fell in Perisher Valley on the 22-23rd of July. The base took a massive hit and it was a slightly traumatic event for me – insects and water just don't mix well!
Just as we had hit rock bottom a third steroid-pumped snowstorm came to the rescue and dropped up to 70cm of snow from the 25th -27th. This had us skiing to the end of July in style. August was due to start with another huge storm. Our models were forecasting up to a metre of snow from a cut-off low forecast to spin off the NSW coast. Unfortunately, a day before the event everything shifted east into the Tasman. We then pulled the meteorological short straw as a prolonged period of high pressure settled in until the 18th of August. The light had well and truly been switched off. However, it wasn't super warm and the skiing was OK with plenty of snowmaking on offer to freshen up the slopes. We only lost 8-10cm of base which really, is not bad for such a long dry spell.
A less juicy but still welcome low gave a modest dose of snow from the 19th to 21st of August delivering us our peak snow depth of the season so far – a modest 157.5cm. Even so, this is higher than last year's peak snow depth of 148.8cm. August ended on a sour note as rain moved in from the west starting to erode away our base and reminding us that all good things come to an end.
What is Normal After All?
Typical September conditions see the heat turned onto high at some point which means which we can lose 30-40cm in per week. What we really need are cold west/south-westerly winds, a high out west and a low down to the south/south-east. This would keep it cool and give us a sprinkling of spring snow helping to maintain the base that we already have in place. Not all Septembers are the same, we have seen a few outliers over the years. 2012, 2003 and 1996 saw the peak snow depth actually increase! Other years have seen us lose almost all cover before the start of October, notably 2006, 1999 and 1998 which closed on 9.2cm – does that even count as skiable! In an average year we see a week or two of colder conditions followed by a significant warm up which causes us to sweat off our snow cover like fat b****ard in Austin Powers.
Why does it Always Rain on Me?
Rain is forecast for NSW on the 2nd – 3rd September before a fat high builds in from the west. The high is a stubborn beast, it looks like it'll dominate the scene out until around the 9th/10th when couple of cold fronts take a crack at it. We have a fair chance of some rain followed by spring snow during the mid-month period. The odds then swing in favour of high pressure settling in giving us typical spring conditions until the end of the season.
The Final Say
Taking the recent rain and warm temperatures into account it will come as no surprise that I think that we have already reached our peak snow depth of the season of 157.5cm… unless something spectacular and out of the ordinary happens later in September. This falls short of my original forecast peak snow depth of 170cm. We could have seen much more, if the storm forecast for early August would have hit, or even if we had average snowfall last month but ifs are not good enough. We will have to be content that this season did deliver some epic days to remember in late June and July. I envisage the base as being on the low side this month compared to a typical September. Quintessentially sunny spring conditions will dominate with the chance of a top up mid-month. So, get out there while you still can and cross your fingers that it is still skiable by the last week of the season!
That's our final seasonal outlook this year, but you can follow my daily forecasts until October 2, when I'll say sayonara until next season. If you've got a different idea on what's going to happen during spring, or just want to provide feedback, then please join in the discussion below, or hit me up at grasshoppermw@gmail.com or join the discussion below.
Perisher forecasts,
snow reports and
live snow cams.
Falls Creek forecasts,
snow reports and
live snow cams.
Mount Buller forecasts,
snow reports and
live snow cams.
Charlotte Pass forecasts,
snow reports and
live snow cams.
Hotham forecasts,
snow reports and
live snow cams.
Thredbo forecasts,
snow reports and
live snow cams.
Mount Baw Baw forecasts,
snow reports and
live snow cams.