Snow Season Outlook 2017 – May Update – New Zealand – Party like it's 2013
May 2nd, 2017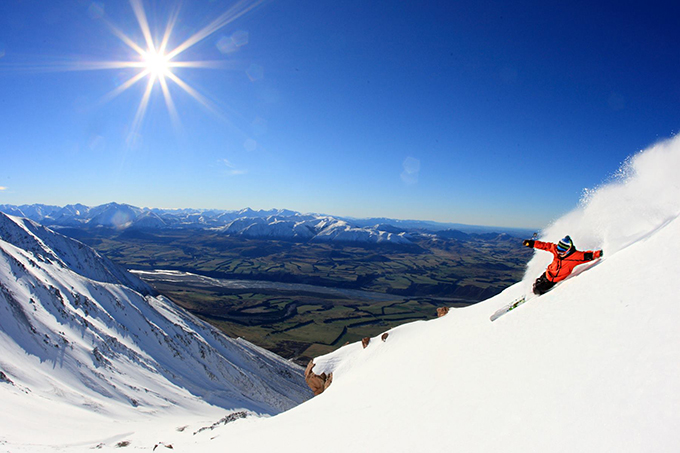 Across the ditch, 2017 is looking a little something like this. Image:: Provided
New Zealand Seasonal Snow Outlook | The Grasshopper
And so it begins, the nights are drawing in and there is a promising chill in the air. It won't be long until we leave Middle Earth to make our annual pilgrimage to the mountains. We still have a long way to go until the start gate is opened but the signs are promising. In this outlook I get all soppy and nostalgic drooling over some of the biggest snowstorms of the last few years before updating you on ENSO (El Nino Southern Oscillation). I'm pretty stoked about the upcoming Kiwi season and I hope you are too!
Facing the Chill Wind.
Ok, so I admit it…New Zealand is a more challenging to forecast when compared to Australia. Its terrain is more diverse, the NE – SW orientation of the mountains that traverse the country create interesting local effects on incoming weather systems. Numerical weather models (NWPs) don't perform as well here as in other parts of the World. For example, when it snows in the Aussie Alps it often snows in all ski resorts while In New Zealand the same weather front could leave up to a metre of snow in one ski field while a 100km away a resort with a different orientation may come away empty handed.
To complicate matters, there is no publicly available and reliable historical snow record that I am aware of like Spencer's Creek in Australia. Sure, there are individual (and questionable) resort snow depth records going back a few years but it is much harder to get a grip on longer term trends and to make generalisations for the whole country. As if that was not irksome enough it's not just short term forecasts that are a bit off here – long term forecasts are also trickier in this part of the World. ENSO and the Indian Dipole have less of an influence than in Australia. It sounds like I am making excuses… and I am, well at least partly! It is precisely the difficulty of predicting the weather both at a short and long term time-scales here that makes forecasting for New Zealand uniquely challenging.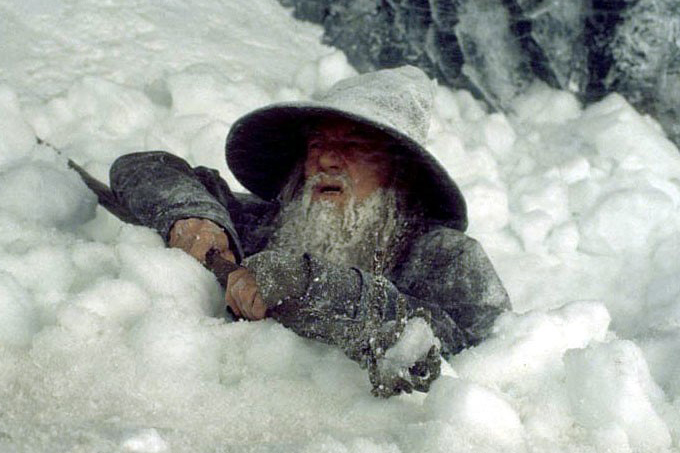 It may be bad news for Gandalf but its good news for us. If only Saruman really controlled the weather. Source:: Pierre Vinet/New Line Cinema
The Glory Days
The snow is occasionally so deep in New Zealand that it is difficult for hobbits to travel but that doesn't stop the likes of a friendly grasshopper – I can hop over the drifts. I've been having fun reminiscing about some of the biggest snowstorms that have affected the country in recent years.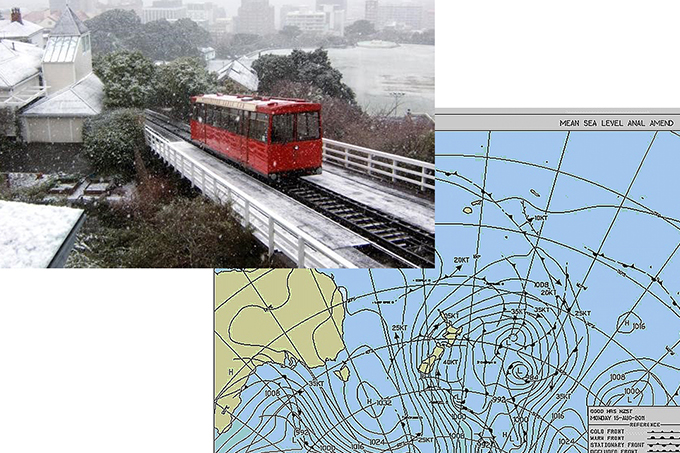 Proof of that is snowed in Wellington in 2011. The dreamy synoptic chart above shows a fat high south of Tasmania with a deep low out east. The net result was a push of Antarctic air northwards which saw some of the most severe winter conditions in living memory. Source:: MetServiceNZ
Late July and August 2011 is the stuff of legends. The cold was so intense that snow fell in suburban Wellington and flurries were seen in Auckland. Flights were grounded in Christchurch which was hit with 15-25cm of snow with the Banks Peninsula getting almost 1 metre! Dunedin and Queenstown were winter wonderlands and many of the ski resorts were closed.
Who can forget the 2013 season?! From the 20th to the 22nd of June the mother of all southerlies swept across the country leaving Mt. Hutt with almost 3 metres of snow. In fact, there was too much snow. Resort closures were commonplace due to an increased avalanche risk and difficulty in clearing access roads. A triple chair got KO'ed from a human triggered Avalanche in Mt Hutt. check out this report we did back then for all of the eye watering photos. Cardrona had 120cm in a week giving them one of the best opening days in living memory.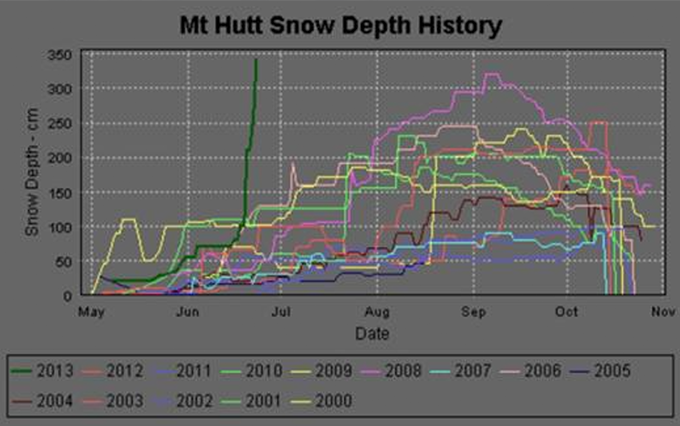 2013 really stands out as an anomaly – can you imagine a similar storm in the Aussie Alps, it would be off the scale. Source:: SkiNZ.com
It may have felt like Canterbury missed out on a lot of the snow last year but it has a good track record. It was hammered again in June 2015 from the 18-23rd, another big southerly storm gave Mt. Hutt more than 1.2m of snow . Mount Hutt has come up a few times here. That is because when we get an Antarctic outbreak it is directly in the firing line for a plastering of snow if the wind is directly from the south – there is no blocking from other mountains It tends to miss out on the action from fronts coming in from the west. This is when resorts closer to the divide (e.g. Treble Cone) will get the most snow – but in these cases of westerly snow there is still a degree of blocking from mountains on the other side of the divide and the air is not as cold as in a southerly.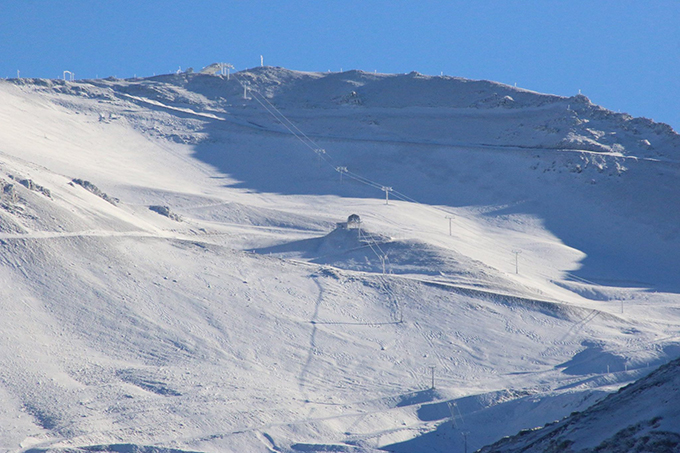 Mt Hutt is again looking good for opening weekend, this photo was taken April 1. Source:: Provided
Back to the Here and Now.
ENSO (El Nino Southern Oscillation) is still in a neutral state. In my first seasonal outlook I outlined how we are likely to slide towards an El Nino as the winter progresses – international climate models are still supporting this hypothesis. El Nino's are good news for New Zealand as they increase the likelihood of outbreaks of cold south-westerly winds compared to La Nina's which increase the likelihood of warm northerly winds. However, I've said it before and I will say it again, ENSO explains less than 25% of variance in inter-annual snowfall depths. So, we can expect variable conditions with a slight tendency towards more west/south-westerly outbreaks than normal. We are likely to see this pattern start to develop this month with a few significant snowfalls on the cards. Sea surface temperatures are slightly above average at the moment but climate models have them dropping back to average values over the course of the winter – this is good news for maintaining snow cover.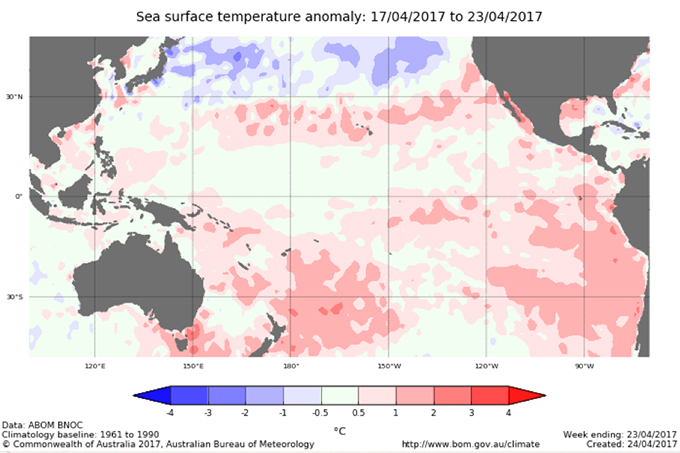 Sea Surface Temperature (SST) anomalies are near average across the central Pacific Ocean but above average in the Western Pacific. Source:: BOM
Summary
Signs are positive for this year for a slightly above average season. We have a moderate probability of a developing El Nino and sea surface temperatures look to be close to normal. I'd expect to see a predominance of westerlies with occasional cold southerly outbreaks. I think that the season will start off normally and steadily improve. If I were a betting critter I'd say that the Southern Lakes and the Canterbury High Country will be where the action is at this year with a few epic powder days likely. Ruapehu will start off slowly as always but build steadily as we move towards August and September. Wanaka resorts should put in a solid performance throughout the season with the base building from more moderate but regular falls.
Anyways, please check back towards the end of the month when my bug eyes will be scanning the horizon as we start to think about opening week. As this outlook has focussed on joy that snow can bring I thought I would leave you with video from Auckland in 2011. Enjoy and peace!

The Remarkables forecasts,
snow reports and
live snow cams.
Treble Cone forecasts,
snow reports and
live snow cams.
Cardrona forecasts,
snow reports and
live snow cams.
Turoa forecasts,
snow reports and
live snow cams.
Coronet Peak forecasts,
snow reports and
live snow cams.
Whakapapa forecasts,
snow reports and
live snow cams.
Mount Hutt forecasts,
snow reports and
live snow cams.