Snow Season Outlook 2017 – New Zealand – Well Oiled and Raring to Go
April 5th, 2017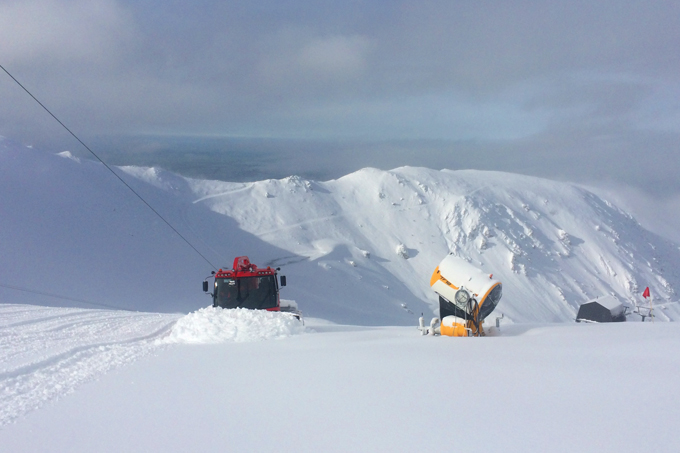 The gears are already turning on the NZ snow machine. A potent low off the east coast of the South Island is expected to deliver 20cm-50cm in the Canterbury region today, good news for Mt Hutt. Image:: Provided
New Zealand Seasonal Snow Outlook | The Grasshopper
Last year's neutral ENSO (El Nino Southern Oscillation) conditions and warm sea surface temperatures in Tasman led me to issue a forecast for a below average season in New Zealand. Luckily, I was proven wrong and the season matured like a fine wine giving us average conditions overall with a few epic weeks sprinkled in for good measure. ENSO is still set to neutral but there is a whiff of change in the air. In this, the first outlook of the season, we will get a flavour of the mish-mash of conditions that go into making the Kiwi 'climatic' pavlova that we all know and love.
The most important thing to know about this upcoming season is that the international climate models are indicating that we have a moderate chance of an El Nino developing. El Nino may mean bad news for Australia but it is generally good news for New Zealand…which makes it all the sweeter. It increases the likelihood of higher than normal pressures over South East Australia and lower than normal pressure to our east. This is excellent news for ski fields which typically score off a cold southerly or south-westerly such as the Queenstown resorts or even Mt. Ruapehu.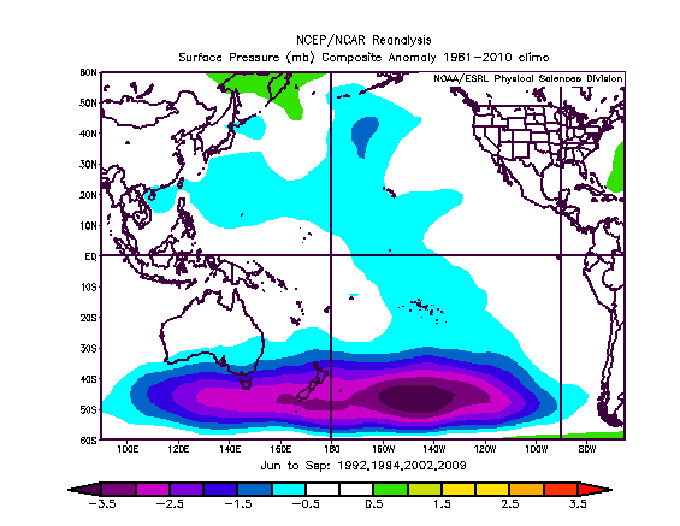 1991, 2002, 2004, 2009 are years in which a weak El Nino developed during the winter, there were plenty of juicy lows passing by the South Island. On the whole those years were not bad for Australia either which goes to show that no two El Nino's are the same. Image:: NCEP
Although it is likely that we will reach the El Nino threshold at some point during the winter it is unlikely to be a strong event. I've said it before and I will say it again – ENSO only accounts for roughly 25% of New Zealand's climatic variability, that leaves huge room for natural variation and the daily hop, skip and dance of weather systems which strongly influence the Kiwi season. It is possible that the neutral conditions we will see over the next couple of months will continue throughout the entire winter. In neutral years, there is a tendency for pressure to be higher to the south of New Zealand and lower to the north-west. This gives us a greater likelihood of dry easterlies and less probability of seeing the big north-westerly snow/rain events swing onto The Divide which we experienced on several occasions last year.
Some more good news is that the sea surface temperatures (SSTs) around New Zealand are around about normal for the time of the year and look set to stay this way as we slide into winter. Although warmer than average SSTs inject extra juice into incoming weather fronts they also raise the freezing level and can cause more mixing.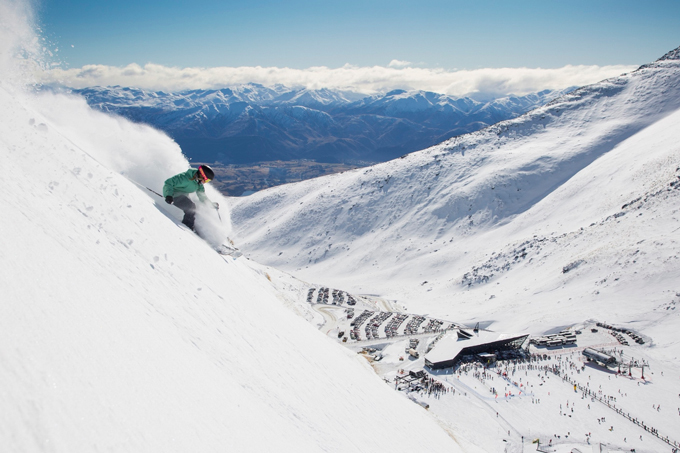 More mixing means more of this. Image:: Neil Kerr
Location Location Location
Those of you who have ever had the pleasure of buying a property will know that location is everything. The same goes for ski fields and this is more apparent in New Zealand than in the Aussie Alps. The unique orientation of different mountains relative to the wind direction can make or break the season. Treble Cone, for example, is close enough to The Divide to pick up snow off a westerly and tends to get plenty of moderate falls from passing fronts. Mount Hutt often misses out on these westerly systems and struggles through gale force winds. It comes into its own off a pure southerly when a big storm system moves into the east. The legendary Ruapehu can get dumped on in a west/south-westerly but is prone to rain and warmer temperatures early on in the season due to its more northerly location. Regardless of the weather that we get in a given week there will always be winners and losers in New Zealand and everyone has their favourite haunt.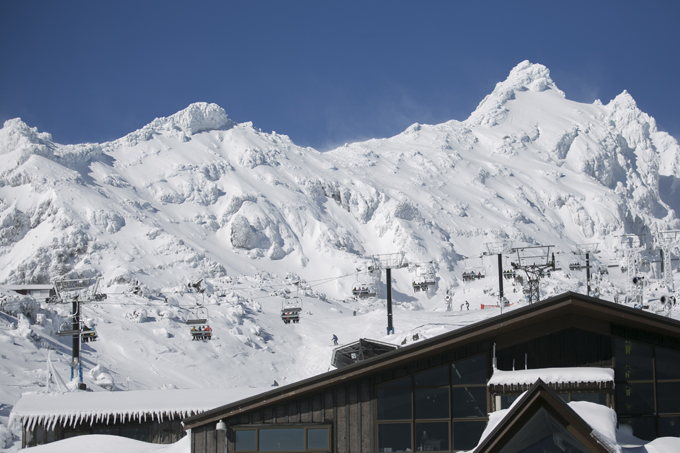 Horses for courses, wind direction is a major player in determining what NZ resort scores or falls when it comes to storms. A westerly might make Whakapapa look like this again. Image:: Provided
Summary
I think this season will be average to slightly above average overall. The climate models are unreliable this far out but the signs are in place that we may leave our boring zombie like 'neutral ENSO' state and slide towards an El Nino one…which is good news. The SSTs are looking good. I would expect a slow start to the season with a steadily building base and a strong end to the season. If I were a betting critter I'd say that the Queenstown resorts and Mt. Ruapehu (especially later in the season) will be sure bets this year. With developing El Nino conditions and possible incursions of colder air I'd also expect the snow making teams to be working overtime during those clear cold nights. Be sure to hop by next month to check up on how those sea surface temps are looking in the Pacific and to speculate on our first snowfall of the season. Peace.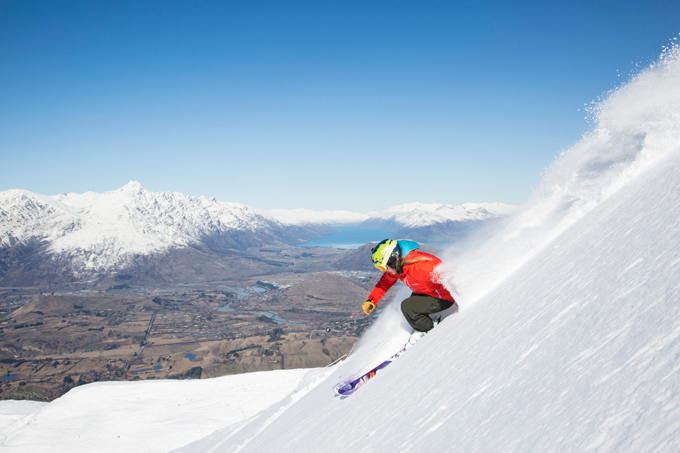 Queenstown resorts are a pretty sure bet this season for receiving better than average conditions – that makes Coronet Peak a mighty enticing option in 2017. Image:: Neil Kerr
CONDITION UPDATE! THE FIRST STORM 05/05/17
It looks like a potent low off the east coast of the South Island in New Zealand is going to give the first significant snowfall of the season to the Canterbury High Country today. The snow will get going this afternoon and carry on overnight into tomorrow. Mt Hutt looks like it is going to get about 20-50cm depending on the source. Strong winds and blizzard conditions will prevail, and snow will make its way down to 1000m. This is all expected to melt away from Friday onwards, but it's certainly a taste of what's to come.
We'll update this outlook in early May. If you've got a different theory on what's going to happen this winter, or just want to provide feedback, then please hit me up on the discussion below. Or you can follow me on facebook.
The Remarkables forecasts,
snow reports and
live snow cams.
Treble Cone forecasts,
snow reports and
live snow cams.
Cardrona forecasts,
snow reports and
live snow cams.
Turoa forecasts,
snow reports and
live snow cams.
Coronet Peak forecasts,
snow reports and
live snow cams.
Whakapapa forecasts,
snow reports and
live snow cams.
Mount Hutt forecasts,
snow reports and
live snow cams.