STEVE LEE REVIEWS – Women's Skis
July 20th, 2011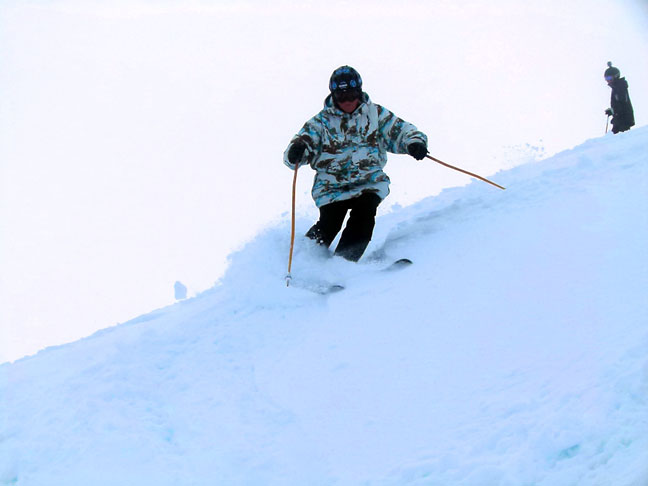 Kerry testing the flex
Equipment Review | Steve Lee
Overview
There is plenty going on in the world of women's skis and rightly so with the sport being enjoyed by the fairer half as much as by us blokes. To capture that important sector, manufactures work hard on the look and fashion aspect of women's skis with groovy top sheets that catch the eye and very importantly match the boots and outfits. However when you get right down to it, it's the performance of equipment that will keep buyers both happy and loyal. Lots of work has been done to build skis specific to the requirements of women, and they work. However I tend to notice that when you get to the top end of the performance range, both men and women end up on the same gear.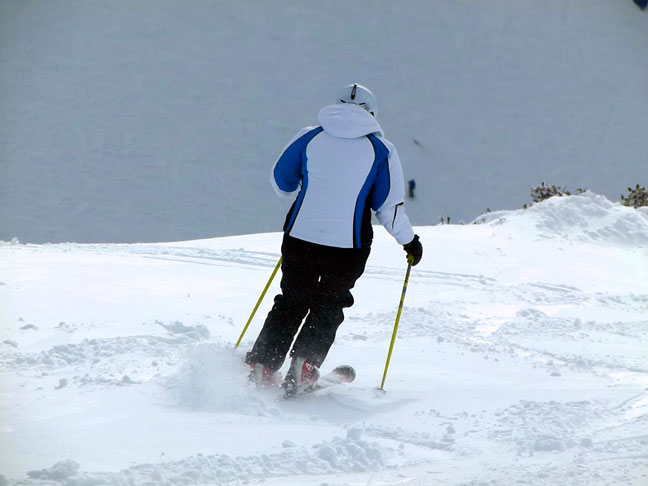 Tracy in the dry snow
I am fortunate to have some very qualified female skiers to help me with this week's blog, my two sisters Kerry and Tracy. Both have skied all their lives like me. Tracy, my younger sis, competed successfully in both alpine and moguls but retired from the competitive aspect of the sport pretty early, nowadays she spends about a month of each season in Falls with her family. Kerry was never competitive in the racing sense, but very much so in the advancement of the sport. She pursued a ski instructor's career at a young age, working in ski schools at home in Falls Creek and Austria then later in the States. She has made it all way to being a ski school director and also doing a long stint as president of the APSI (Australian Professional Snowsports Instructors) body. Both can certainly speak with pretty good authority on gear, we had a fun day out just after a nice dump and skied around the resort and village to several shops trying a bunch of women's skis.
A decent range of gear was sampled with skis from Rossignol, Nordica, Salomon, K2 and Volkl. You'll get plenty of good advice from both in the video, so watch the video below for the Lee's clan take on the women's ski sector.

Name of Ski: Rossignol Zenith
Category: All mountain
Tested by: Kerry and Tracy
Most suitable for: Mid to upper level range of skier.

 Name of Ski: Rossignol Attraxion
Category: All mountain
Tested by: Kerry and Tracy
Most suitable for: Mid to upper level range of skier.

Name of ski: Nordica drive
Category: Mid range all mountian
Tested by: Kerry and Tracy
Most suitable for: Mid range intermediates

Name of ski: Salomon Lady
Category: All mountain and park and pow
Tested by: Kerry and Tracy

Name of ski: K2 Super Free
Category: All mountain performance ski
Tested by: Kerry

Name of ski: Volkl Estrella
Category: Mid range all mountain
Tested by: Trac