Taking The Piste – Braggers Need Only Apply
July 20th, 2009
With Rachael Oakes-Ash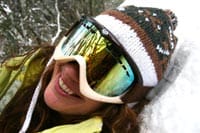 The ski and snowboard world loves to boast and why not, what's the point of getting the first turns on pristine snow if you can't post your footage on Facebook , Twitter your pics or impress your mates with your ski war stories. But they had better be good, with all the ski movies on offer from Teton Gravity Research, Warren Miller and Matchstick Productions you're competing with some pretty hefty athletes skiing some seriously deadly lines.
So if you're going to take your handy cam out at least take it to one of these destinations, even if your camera gets lost in transit, mention these babies at your next Friday night drinks and watch your friends turn green, with fear and maybe some envy.
Heli Skiing Greenland . Kevin Boekholt is a mad keen skier. In the southern winter he runs and guides Methven Heli Ski, touring the magnificent Arrowsmiths. In the northern winter he is a private guide for Canadian Mountain Holidays heli ski operation before taking clients for two weeks skiing with polar bears in Greenland skiing and riding from boats and helicopters from mountain peaks to sea level.
Gulmarg , India. Take a flack jacket and an avalanche transceiver. This Himalayan ski resort is in the volatile Kashmir Region of India. They say the army patrols the border but we like to think they're looking for powder poachers. Not that you need to steal someone else's lines, with metre upon metre of Himalayan powder and a mere two hundred odd international skiers per season there is more than enough to go around. Avalanches are prevalent so make sure you know what you're doing or take a guide. Word on the street is heli skiing will be available this northern winter.
Asahidake , Japan. The highest mountain in Hokkaido is a lift accessed backcountry Mecca. Take the cable car to the world's driest powder with glade runs and steeps and deeps. There are a mere four groomed runs and the rest is untouched off piste waiting for your tracks and with fourteen metres of powder every season it's not long till they are covered over. Expect to share the mountain with no more than thirty other skiers daily.
Haines , Alaska. The snow sticks here and it sticks in April when the days are longer and heli skiers descend upon these steep, and we mean steep, peaks. If you're scared of heights stay home because the choppers here know how to land on a knife's edge, and they do.
La Grave, France. The home of ski mountaineering with steep steep couloirs and hundreds of descents from the off piste mountain. Some descents require abseiling skills just to get into.
Silverton Colorado. One lift to heaven with limited numbers of skiers and boarders allowed up per day and acre after acre of Colorado's famous powder snow. Not a groomer in a site on this backcountry mountain and plenty of hairy lines to have you hoping your affairs are in order. It's not all terror inducing though, plenty of fun powder runs but you will need to take a Silverton guide and be fit, it's all about hiking for the good stuff.
Kamchatka in Russia. Ski tour the volcanoes of Kamchatka or take a helicopter and ski descents down to the water line, across craters or into hot springs. Enough said.
Haute Route in Europe. Twenty three glaciers, ninety miles and ten thousand metres of climbs and descents from Chamonix in France to Zermatt in Switzerland. Staying in backcountry huts along the ski touring route, expect to skin up hill and utilise ice axes where required. Views are breathtaking from the Matterhorn and beyond.
Las Lenas , Argentina. The best lift accessed off piste skiing in South America with 1200 metres of vertical and legendary nightlife that starts at midnight, at the earliest. Deep in the Andes Mountain Range, Las Lenas challenges the hardiest steep skier.
Of course there are many more but try these for a start. If you survive we'll talk further.